By Raul de Frutos
Base metals are bouncing off lows in February, helped by a weaker dollar. Although the long-term view for the dollar remains bullish, the currency is suffering some setbacks.
Last week, the US dollar index fell to its lowest level in three months.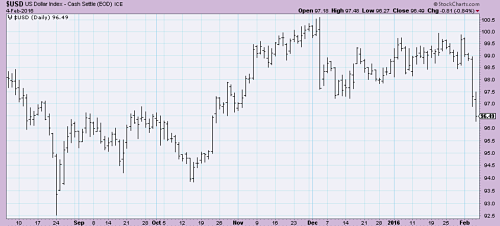 US dollar index hits a 3-month low. Source: @StockCharts.com
Last Wednesday, the dollar logged its largest one-day drop versus the euro since early December on a lower-than-expected reading of U.S. service sector activity.
The Institute of Supply Management non-manufacturing index fell to 53.5% from 55.8% in December, the slowest pace in almost two years. Some investors now fear a softer-than-expected US economy, potentially making the Federal Reserve put interest rate increases on hold.
Higher rates make currencies more attractive for yield-seeking investors. The market had expected the Fed to raise rates for a second time in March, and investors had probably priced in those hikes. The indication that the Fed might hold off on increasing rates is having a depressing effect on the dollar.
Also in February, crude oil prices gained some ground. This helped commodity currencies, including the Russian ruble and Canadian dollar, to recoup some losses against the US dollar. Longer term, the currency should hold its value well, especially while the rest of the world's central banks keep up with their stimulus measures.
But in the short term, a turbulent dollar is giving a boost to metal prices. Zinc, lead are tin were particularly strong as February started. So far, the moves seem like normal price reactions after previous declines. Whether the upward moves will continue or not will significantly depend on the fate of the dollar.