Introduction
Unlike some other authors in Seeking Alpha, I appreciate small and hidden gems as well as writing about them. Larger merger funds are usually not interested in these opportunities and, in general, novice retail investors do not want to read articles about small companies. Therefore, this article will not attract a lot of visitors. However, as per my opinion, quality and total return should be more important than the total amount of visitors that an article receives.
The merger between VTech Holdings Limited (OTCPK:VTKLY) ("VTech") and LeapFrog Enterprises, Inc (NYSE:LF) ("LeapFrog") is one of such cases. LeapFrog, the target company, is a tiny toys producer delivering products in the United States and worldwide. The buyer is quite big. VTech produces and distributes consumer electronic products in North America and internationally. It also provides learning products for children. I think, it is a great combination. Merger analysts did not really study it. In this article, I will explain my reasoning.
Buyer
First of all, I think reading this article written by Lutz Muller can be very beneficial. In this write-up, remarkable comparison has been presented between the two companies and its products. I do not think I would do a better job, so I suggest you to read it. In this article, I am going to focus on the merger agreement and the financial numbers of both companies.
I can see here the following figures that I have noted down just to give you an idea (These are the numbers of the whole group):
- Market Capitalization: $2.53 billion

- P/E: 12.95

- ROA: 13.84%

- ROE: 39.17%

- Revenue: $1.91 billion
It is evident that the group is quite big. It has a lot of financial resources. Moreover, the revenues are diversified internationally.

In addition, the company has an expertise in the industry, which is very important in any business combination like this one: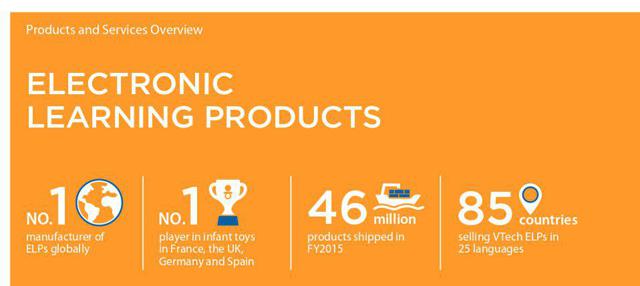 Source
The results of the learning products division are good. It declined a little bit in 2015. As per my opinion, the new entrants (tablets, smartphones...) are increasing the competition in this sector. This new threat is very well explained in the work of Lutz Muller.

Overall, the group is very big. It is a profitable business. It exactly knows how the business of the target works. Furthermore, the learning products division is not suffering so much (although 2015 was a bad year). The new merger will create a new player, more competitive and profitable to resist the new entrants in the industry.
The target
I would read the following article written by William Bias. In this piece, there is a good analysis of the financial performance of LeapFrog. In addition, this respected author comprehensively explains the decline of the company. I agree with the following statements included in that article:
"LeapFrog's fundamentals suffer from lack of demand due to competition from other technologies."

"Leapfrog's plans for product innovation may be too little too late."
As per my opinion, the merger is a good move and it may be the last chance of this company. The stock price has dramatically collapsed in 2014 and 2013 due to the bad results: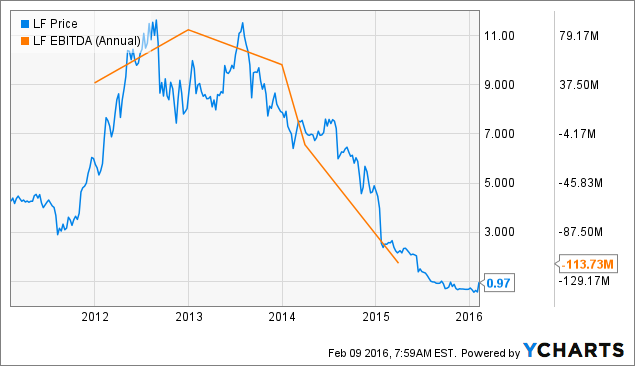 I do not think the company restructured the business correctly. This merger will be a good opportunity to adapt to the new context.
The financial figures are very ugly (check them here):
- Market Capitalization: $68.85 million

- ROA: -19.39%

- ROE: -94.42%

- Revenue: $284.45 million
To cut a long story short, LeapFrog is a very small company with a lot of problems. It is too small to innovate in this context. The new market participants have much more cash on hand to compete. Shareholders should accept this last chance and tender their shares. Maybe, the price paid is not very competitive, but I do not know whether they will have more opportunities or not.
The merger agreement
The buyer will pay an amount of $1 per share in cash to the shareholders of LeapFrog. VTech will pay with cash in hand.
I identified the following conditions in this merger:
- there having been tendered and not validly withdrawn Shares which (when added to any Company Shares beneficially owned by Parent and Acquisition Sub) would represent at least a majority of the aggregate voting power of the number of Class A Shares outstanding immediately after the consummation of the Offer (assuming for this purpose that Class B Shares validly tendered (and not validly withdrawn) will convert to Class A Shares at the time of the consummation of the Offer)

- expiration or termination of any applicable waiting period under the Hart-Scott-Rodino Antitrust Improvements Act of 1976, as amended,

- obtaining any other significant required government approvals,

- the Net Cash Balance (as defined in the Merger Agreement) of the Company being at least $25 million as of March 31, 2016.
As per my opinion, in this kind of mergers between strategic players, the most important conditions are the antitrust conditions. In this case, the target is so tiny that I do not expect any problem. The regulators know that the target needs the merger and they will not pose any hurdle.
The termination fees are the same for both parties: US $2,900,000. I do not think this is small.
Conclusion
As per my opinion, this merger was announced on 5th February 2016, and not many analysts studied it. The bid price on 8th February 2016 was $0.94, which represents an incredible opportunity.
If the merger closes in two months, the total annualized return of this operation can be around 38%. A few small money managers and savvy investors will profit from this opportunity. Thanks to Seeking Alpha, you can be part of this elite group.
Disclosure: I/we have no positions in any stocks mentioned, and no plans to initiate any positions within the next 72 hours.
I wrote this article myself, and it expresses my own opinions. I am not receiving compensation for it (other than from Seeking Alpha). I have no business relationship with any company whose stock is mentioned in this article.
Additional disclosure: I may initiate a position soon.
Editor's Note: This article covers one or more stocks trading at less than $1 per share and/or with less than a $100 million market cap. Please be aware of the risks associated with these stocks.