The following articles discuss my approach to investing in BDCs as well as why I believe higher quality companies will rebound in February, as they continue to report calendar Q4 2015 results:
The following chart is similar to ones from my previous articles and shows the average BDC performance including recent lows that are tightly correlated to lower relative strength index ("RSI") and higher S&P 500 Volatility Index ("VIX"). My last purchases were on January 20, 2016, as the RSI for most BDCs hit a 12-month low and the VIX was over 32 and well above 20, which is usually when I make purchases. I will be watching these charts closely over the next two weeks.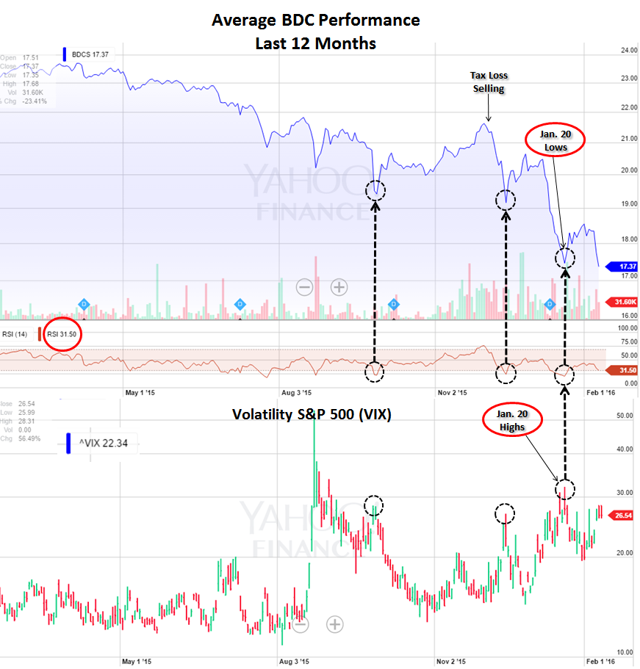 Updated BDC Performance 2015 & 2016 YTD
The following table shows that stock price performance for each BDC for 2015 and 2016 year-to-date. I have also identified which companies are trading near or above net asset value ("NAV") per share or at a 35% or larger discount.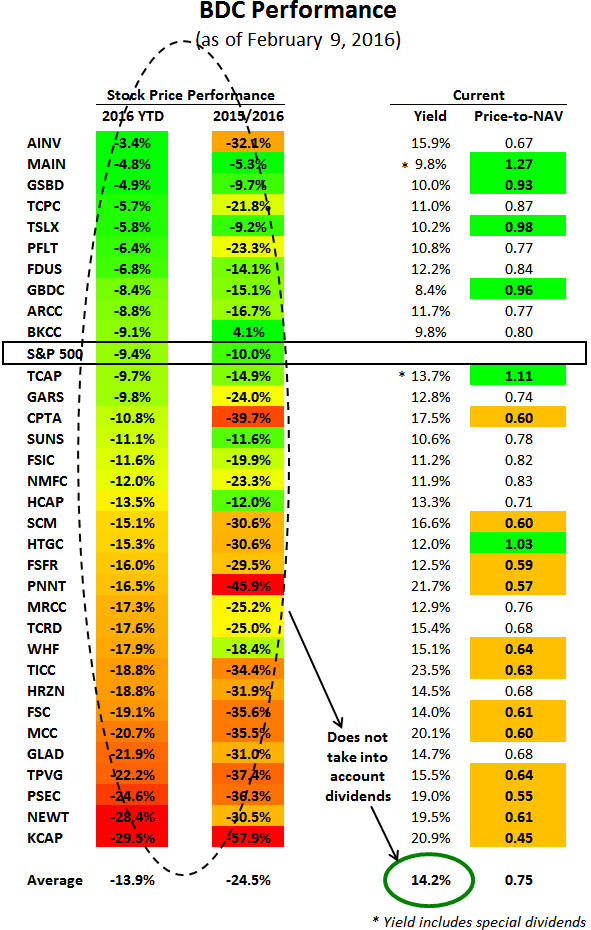 BDCs Outperforming the S&P 500
BDCs have had a rough start to 2016 but so has the general market and there are now 10 companies outperforming the S&P 500 as compared to only 3 in my previous update. I am expecting more BDCs to join the outperforming group this year.
Apollo Investment (NASDAQ:AINV) is clearly doing better this year even though it has higher oil related exposure. This management team is a good example of "doing the right thing" which is why it is outperforming. The company has been actively repurchasing shares with a current total of almost 10.6 million shares including some in 2016 that will be accretive to the upcoming results for the quarter ended March 31, 2016. These repurchases were likely responsible for less NAV per share decline as compared to many of its oil heavy peers such as Gladstone Capital (NASDAQ:GLAD) and PennantPark Investment (NASDAQ:PNNT).
The other outperformers are the standard higher quality BDCs such as Main Street Capital (NYSE:MAIN), Goldman Sachs BDC (NYSE:GSBD), TCP Capital (NASDAQ:TCPC), TPG Specialty Lending (NYSE:TSLX), PennantPark Floating Rate Capital (NASDAQ:PFLT), Fidus Investment (NASDAQ:FDUS), Golub Capital BDC (NASDAQ:GBDC), Ares Capital (NASDAQ:ARCC) and BlackRock Capital Investment (NASDAQ:BKCC). After including dividends Triangle Capital (NYSE:TCAP) and Garrison Capital (NASDAQ:GARS) are likely outperforming the general markets as well.
Underperformers
There are plenty of BDCs that I consider higher quality that are currently underperforming but most of them have not reported December 31, 2015, results. This could include BDCs that lend to VC tech backed companies such as Hercules Technology Growth Capital (NYSE:HTGC), TriplePoint Venture Growth (NYSE:TPVG) and Horizon Technology Finance (NASDAQ:HRZN).
Newtek Business Services (NASDAQ:NEWT) has had dismal performance this year but I do not follow as closely as the others due to having a business model that does not cover dividends with recurring net investment income.
Important: The rest of this article is mostly opinion related and includes my preliminary analysis of the PSEC results, so please do not read if you were only looking for a "just the facts" review. If you are interested in more opinions on BDCs including target pricing charts and valuations, individual dividend coverage potential, rankings (risk, return, pricing, dividend potential), my recent purchases and current positions, and suggest BDC portfolios, please see my "BDC Research Page" and for information on specific BDC pricing, total returns, operating expenses and dividend coverage, please visit my "BDC Pages".
Poorly managed BDCs such as Fifth Street Finance (NASDAQ:FSC), Fifth Street Senior Floating Rate (NASDAQ:FSFR), Medley Capital (NYSE:MCC), Prospect Capital (NASDAQ:PSEC), KCAP Financial (NASDAQ:KCAP)and TICC Capital (NASDAQ:TICC) are continual underperformers for this year and longer term. Many of these BDCs have had larger than average declines in NAV per share as well as dividend cuts or coverage issues. More importantly was the lack of share repurchases for PSEC, FSC and MCC during the calendar Q4 2015 and YTD 2016 periods. This should be seen as a fundamental issue with management of not doing the right thing and will likely continue as these companies have not received the message from investors that they are disappointed with how these companies are being managed implied with a stock price trading at a 40% or larger discount to NAV. I firmly suggest that investors sell on rallies for these BDCs if meaningful amounts of share repurchase do not materialize in calendar Q1 2016. Again, AINV is a great example of a management team taking their fiduciary responsibility seriously and fully utilized their old repurchase program and then adopted a new program that they have already started to use.
FSC Update
As predicted in "FSC: When to Sell?", the price of FSC crested at $6 and then continued back down (see chart below). This is definitely a "sell the rally" BDC with plenty of downside without an investor activist.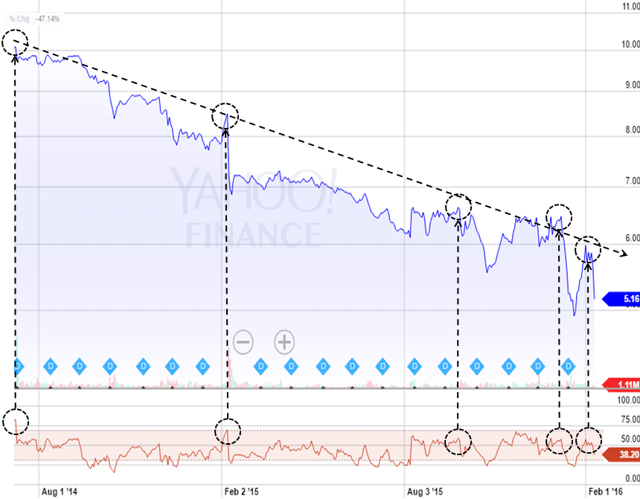 PSEC Update
Obviously there will be an avalanche of positive articles praising PSEC for beating estimates and covering its dividends. My preliminary analysis of the results was littered with red flags including investments that are marked above market levels and dangerously close to asset coverage ratios as well as a lack of share repurchases through February 9, 2016. Keep in mind that the company issues almost 200,000 new shares per month related to its DRIP program. However, since the company is capital constrained due to the leverage and coverage ratios, the company would need to use proceeds from repayments/sales to repurchase shares rather than new originations. Obviously this will be discussed on the call.
I believe that the rumors of the potential SEC query is only the beginning of new set of headaches for the company that could be followed by lawsuits related to overstated assets driving higher fees to management. I am hoping I am wrong as drama with BDC management seems to bring down multiples for the entire sector and PSEC is the most visible.
Plenty of BDCs beat quarterly analyst estimates especially with lumpy non-recurring fee and dividend income and investors usually shrug it off as onetime. As you can see in the table below, the recent quarter had much larger amounts of dividend and fee income this quarter but declining recurring interest income. Also, my prelim vintage assessment is that the company continues to have a riskier than average portfolio for the reasons discussed in my other "PSEC Articles".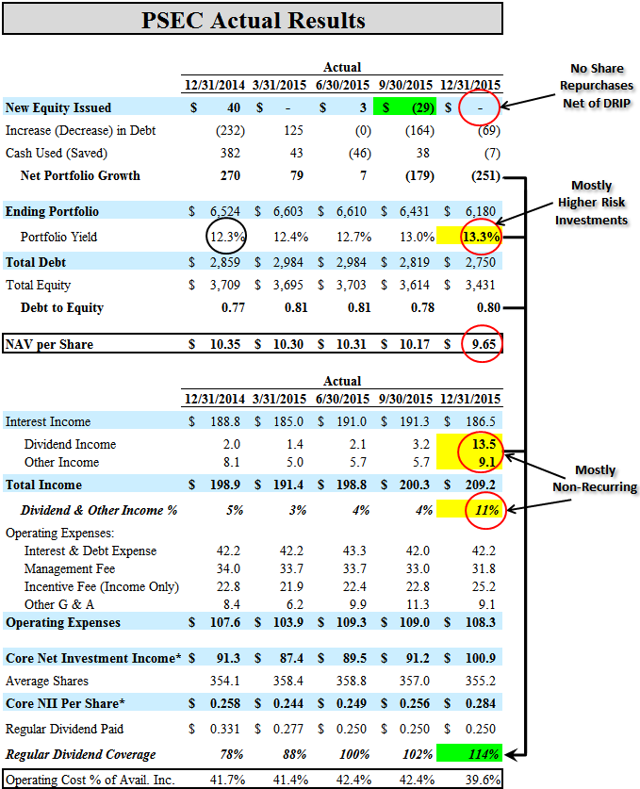 Personal note: I have updated my positions to reflect changes in my holdings, but please keep in mind that some of the positions are very small and mostly for research purposes.
Disclosure: I am/we are long ABDC, AINV, ARCC, BKCC, FDUS, FSC, FSFR, FSIC, GAIN, GARS, GBDC, GLAD, GSBD, HTGC, MAIN, MCC, MRCC, NMFC, PFLT, PNNT, PSEC, TCAP, TCPC, TICC, TPVG, TSLX.
I wrote this article myself, and it expresses my own opinions. I am not receiving compensation for it (other than from Seeking Alpha). I have no business relationship with any company whose stock is mentioned in this article.