Over the course of the next five weeks there are four dates that should be of primary concern to investors. What happens on these dates will weigh heavily on whether or not the Federal Reserve moves forward with another short-term interest rate increase at its next meeting on March 15-16. While I don't think the Fed can alter the current downtrend in the S&P 500 (NYSEARCA:SPY), an additional rate hike would be ill-advised at this juncture, because it would both hasten and steepen the decline in stock prices already underway. Additionally, the greater the magnitude of the decline, the further it will retard the rate of economic growth that is already slowing rapidly.
The first of these dates is today. Fed Chair Janet Yellen will be speaking to members of Congress this morning at 10am in what is the Fed's semi-annual update on the state of the economy. You can be certain that the stock market will be hanging on every word, looking for clues that lean dovish, as in no more rate hikes, or hawkish, as in further rises in rates remain on track. My suspicion is that Yellen will do her best to ease what Fed officials like to call "tightening financial conditions," otherwise known as plunging stock prices.
This address will be followed by the Consumer Price Index report on February 19, which will help Fed officials determine if they are moving closer to their mandate of a 2% rate of inflation.
Then we have the January payroll report on March 4. Any further decline in the 4.9% rate of unemployment may be a cause of concern for some Fed officials. This will be especially true if it is accompanied by another increase in wages.
Lastly, the European Central Bank will hold one of its regularly scheduled meetings on March 10, during which Mario Draghi is expected to introduce further stimulus measures. Should these expectations come to fruition, it is likely to weaken the euro currency, thereby strengthening the dollar, making it more difficult for the Fed to further tighten monetary policy.
This is the buildup to the Federal Reserve meeting scheduled for March 15-16. I hope to learn something new between today and tomorrow in what should be a lively debate between members of Congress on both sides of the aisle and the Fed Chair. In particular, I want to know if Yellen will continue to lean on lagging indicators, such as the unemployment rate and the rate of inflation, when forecasting future rates of economic growth and shaping policy decisions. This would be a grave mistake. What Yellen needs to emphasize are leading indicators of economic activity that now point toward slower rates of economic and job growth that will soften the rate of inflation down the road.
It is beyond my comprehension how Fed officials can stand resolute behind a forecast for a strengthening economy when corporate profits in the US have been declining for three quarters in a row, and are expected to decline for two more. Businesses don't hire employees when their revenues and profits are declining, unless they are drinking establishments hiring bartenders to serve all the rest of the workers that are either under- or unemployed.
In my most recent Weekly Economic Vital Signs report I elaborated about a new trend that we are seeing in the Bureau of Labor Statistics monthly payroll report. Over the past year the BLS has been making downward revisions on an average basis between its initial payroll estimate and the final revision to that estimate two months later. The last time we saw downward revisions on an average basis like this was in 2008. This tells us that the BLS is overestimating job creation because we are at a turning point in the economic expansion. The BLS models underestimate job creation at the beginning of a recovery, and then overestimate it at the end of an expansion. This is pretty simple stuff. You don't need a PHD in economics to understand it.
You can't have an economy that is strengthening if you don't have loan growth. If the economy is strengthening, then why did demand from medium and large companies for commercial and industrial loans fall in the fourth quarter for the first time since 2012? At the same time banks tightened lending standards for these loans for the second consecutive quarter, which is the first time that has happened since 2009.
If I were a member of Congress with the honor of asking Fed Chair Yellen a question this morning, I would ask her to explain how this chart below affirms her belief that the economy is strengthening. An approximate 70% of our economic growth is derived from consumer spending. This clearly shows that the rate of growth in consumer spending, as measured by real (inflation-adjusted) personal consumption expenditures, peaked a year ago and is now declining. If job growth is leading to faster rates of consumer spending and economic growth, as Janet Yellen continues to suggest, then why is the growth rate declining?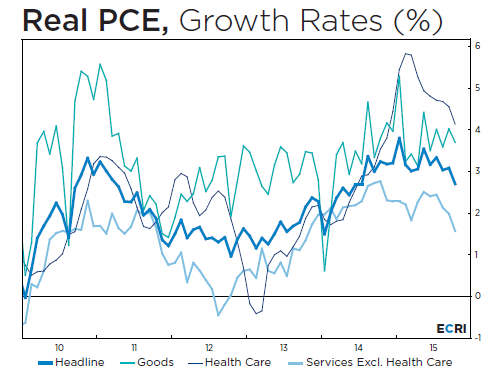 When you look at this rollover in the rate of consumer spending growth that started a year ago, it looks very similar to the rollover in consumer confidence that also started a year ago, as can be seen below. If the unemployment rate has fallen over the past year, with millions of new jobs having been created, and gas prices plunging, why is consumer confidence declining?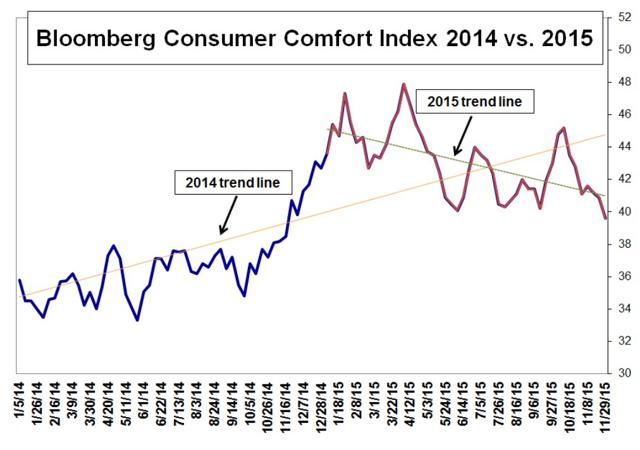 If you add a third chart that shows the gradual rollover in junk bond prices (NYSEARCA:JNK), the biotech sector (NASDAQ:IBB), the Russell 2000 index (NYSEARCA:IWM) and the S&P 500 over the past year, there is a clearly identifiable pattern that even a Fed governor can see. The economy is not strengthening. The economy is weakening.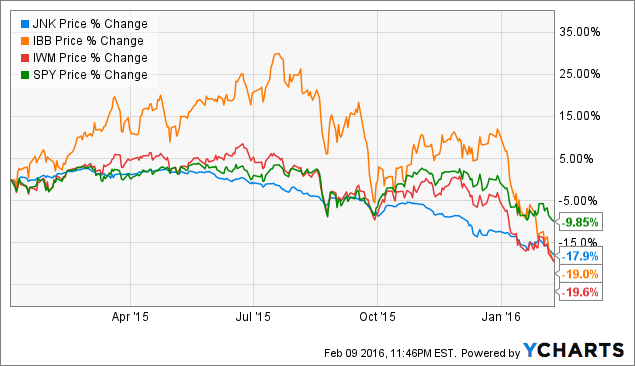 The bond market is saying the same thing that slowing rates of consumer spending, waning consumer confidence and declining stock prices are saying, as can be seen by the collapse in spread between the 2- and 10-year Treasury yield over the past year. The economy is not strengthening, but weakening, requiring the Fed to stand down on further tightening measures for the foreseeable future.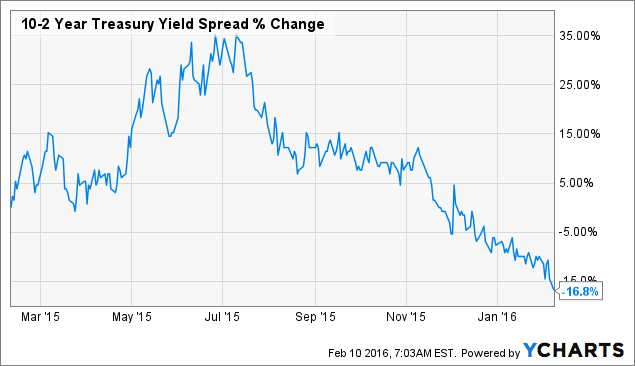 Disclosure: I/we have no positions in any stocks mentioned, and no plans to initiate any positions within the next 72 hours.
I wrote this article myself, and it expresses my own opinions. I am not receiving compensation for it (other than from Seeking Alpha). I have no business relationship with any company whose stock is mentioned in this article.
Additional disclosure: Lawrence Fuller is the Managing Director of Fuller Asset Management, a Registered Investment Adviser. This post is for informational purposes only. There are risks involved with investing including loss of principal. Clients of Fuller Asset Management may hold positions in the securities mentioned in this article. Lawrence Fuller makes no explicit or implicit guarantee with respect to performance or the outcome of any investment or projections made by him or Fuller Asset Management. There is no guarantee that the goals of the strategies discussed will be met. Information or opinions expressed may change without notice, and should not be considered recommendations to buy or sell any particular security.