Considering the recent wild swings in the share price of internet company Yandex N.V. (NASDAQ:YNDX), one would expect a lot of major developments. However, since a previous look on the Russian search engine back in October, not a lot of company-specific news was published. Recent price movements can for the larger part be attributed to sentiment towards Russian exposure and to a lack of momentum for (small- and midcap) internet-companies. The increased volatility across the investment universe doesn't help either…
As I've argued earlier, Yandex shows characteristics of a leveraged Russian proxy. The chart below shows the development of the main ETF on Russia, Market Vector Russia ETF (NYSEARCA:RSX) and Yandex since October 2015. There's a strong correlation, with Yandex looking like RSX on steroids. Nevertheless, at the bottom line Yandex was able to record decent gains, whereas RSX lost terrain. The chart below (as of closing February 8) shows that Yandex benefits exponentially from improved sentiment. Investors should keep in mind that once conditions for and sentiment towards Russia improve, Yandex is very likely to outperform the broader Russian market. The problem is only that improved sentiment doesn't stick (yet) and conditions seem to remain sour for the short term.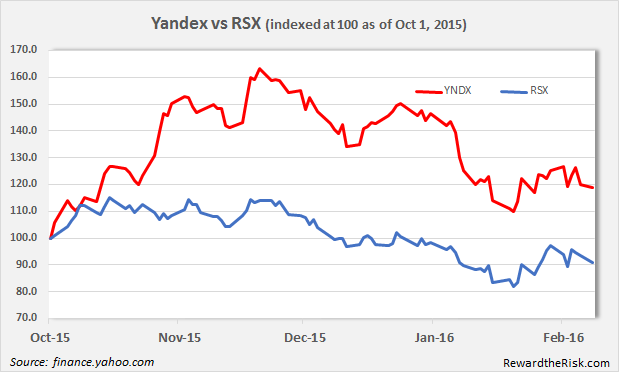 When will the pain end?
As we all know, Russia faces severe headwinds from a collapse in commodity prices. To be fair, I was caught on the wrong foot when I expected a stabilizing condition for the Russian market last year. Clearly, the market was on a different page with the oil price dropping another 30%. Needless to say, this faded expectations of a recovery of, or at least, some form of stabilization for the Russian economy. The ruble depreciated substantially (20% since previous article) and thus making companies with revenues and earnings in ruble less attractive.
The macro outlook didn't turn for the better. During 2015, the Russian economy shrank 3.7%. The first quarter of 2016 will be no better with a projected 1.7-2.5% YoY decline. Especially, if the government budget is hurt. Due to the collapse in oil prices, the Russian government expects to run a deficit of 3% this year. In case oil prices stay at today's levels of $30, the deficit would exceed this level, according to Finance Minister Siluanov. A plea for additional cuts of 10% was recently made, after significant cuts in 2015. This is definitely not a supporting macro environment and Yandex isn't immune to poor economic conditions.
Nevertheless, Yandex has positioned itself on grounds that witness growth despite economic headwinds. Internet usage is still growing in Russia and Yandex was able to expand its overall market share during Q4. Also Yandex Browser saw its market share increasing to 8.7% in Q4 (up from 8.1% in Q1). On the other end, Yandex mobile share is under pressure due to Google's (NASDAQ:GOOG) (NASDAQ:GOOGL) steady rise. However, there's the Russian Antimonopoly FAS issue that could curtail Google's share. To reflect: Google bundles its services on mobile devices running the Android OS. This is against competition rules, according to FAS. A final decision has yet to be made though, and is expected later this year.
Yandex's main source of revenues, online advertising, is a market that continues to expand compared to the traditional ad-market. However, online advertising expenditure is expected to have shrunk with 13.5% in 2015. Its share should have increased to 32.1% from 25.5% previously. Total amount of online ad-sales is expected to stabilize at RUB 275 billion ($3.5bn) in 2016, growing to RUB 292bn ($3.7bn) in 2017. Online Ads will have a market share of 35.2% by then. But Yandex has more to offer that could do well even in a tough environment. Yandex.Taxi, similar to ride hail company Uber, was the main driver over 'Other revenues' in Q3. Also Yandex.Money, an e-wallet, is expected to grow in a society going digital. All in all, the business of Yandex is expected to generate more revenues on the back of an online world.
Pressure on Margins?
Compared to three months ago, analysts surprisingly upgraded their revenue estimates.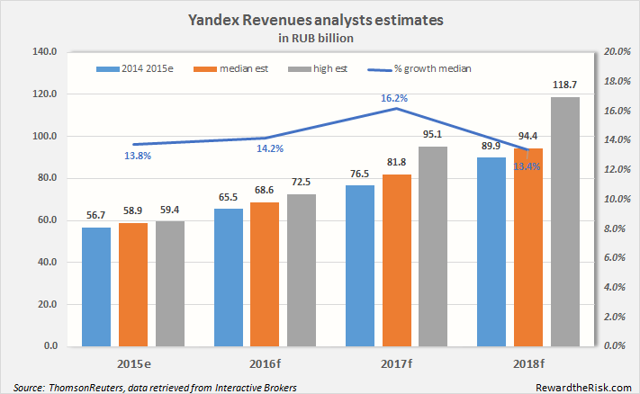 As the table below shows, consensus has actually increased, with estimates for 2017-2019 approximately 5% higher. This doesn't match with the current weak macro-outlook. Nevertheless, analysts expect lower figures at the bottom line and have reduced their net income estimates with 3.5%.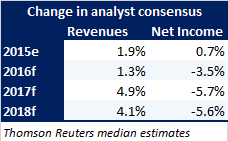 Consensus stands at 2016 net income of RUB 14.0 billion, or EPS of RUB 44 i.e. $0.565 (at a USD/RUB rate of 78). Main concern is that margins will weaken due to the macroeconomic headwinds. That said, the company is expected to increase its marketing efforts.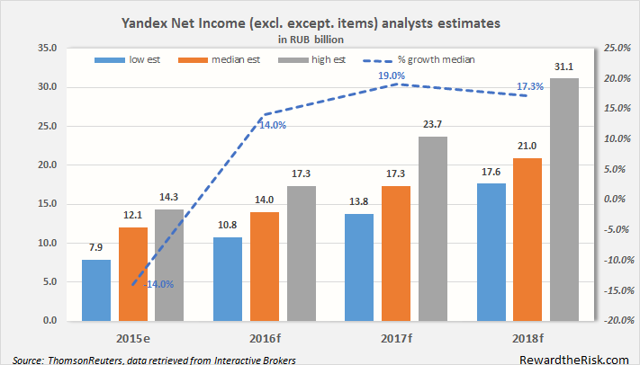 Valuations didn't change
Back in October, the USD/RUB-exchange rate stood at 66. Now, three months later, USDRUB is hovering in a range of 75-80 after having tested the 85 level on January 20. Yandex shares do not follow USD/RUB 1:1, but the exchange rate is an important factor in determining its valuation. Since revenues and income are recorded in RUB and the share price in USD, investors should take a close look at the USD/RUB-rate. As the table below shows, there's actually not a lot of difference in valuation compared to the previous article with a 2016 price/earnings-ratio close to 22 (versus 23.6).

What to watch for?
Yandex will publish its Q4 results on February 16 before (US) market opening, followed by an earnings call.
Obviously, Yandex management's 2016 guidance will be key. That will push the Q4 bottom line a bit out of the spotlights. Market players will search for the underlying developments that drive earnings when assessing to what extent the macro economic headwinds impact the business of Yandex. As mentioned above, margin expectations have been reduced lately so the market will search for positive surprises. That means, costs are in focus and in particular headcount and salaries for developers. Marketing costs are closely watched as well, combined with its effectiveness is increased spending resulting in higher market share? Analysts will take a close look at traffic acquisition costs, which have decreased as a percent of revenues slightly during 2015.
On a more specific level, it will be interesting to see to what extent the recent change in the auction model impacted advertiser spending. During Q3, Yandex switched from a generalized second price, GSP-auction to a Vichery-Clark-Groves, VCG-auction. The new auction model is based on the amount of traffic in different ad positions. This model is interesting for premium advertisers, so a remark by the management on VCG should be watched closely.
Furthermore, developments in 'Other Revenues', meaning Yandex.Taxi can receive special attention as well. Is Yandex expanding in key cities and how is the company performing compared to its main rivals?
A look at the charts
After a significant recovery in Q4-2015, this year started much more negative, with only a partial recovery in late January. The downtrend is still intact with the moving averages trending downwards. Recently the 50-day EMA was tested, only with the share price bouncing back. In the recent history, we've seen this twice (see arrows). The remarkable follow-up was a decline at first, but a renewed test not much later that succeeded, at least for a short while. Speculative investors may try to enter at a break of the 50-day EMA, since previously a potential break lower occurred at a higher level. Still, a break of the 50-day and 200-day EMA ('golden cross') is required for a significant improvement of the technical picture.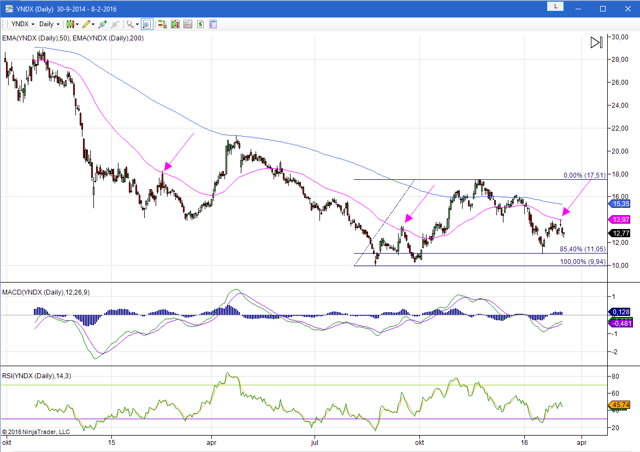 There's an interesting Fibonacci level as well. January's low was not a lower low, but very close to an 85.4% Fibonacci retracement. Although this is a level which receives less attention (compared to the conventional 61.8% for example), it's sometimes a good indicator for a turnaround. Probably in this environment we shouldn't look for bottom-picking but certain price levels can give us clues to determine where price direction is heading for on the short and middle term. Levels below $11.00 should be watched as an indication for further deterioration i.e. new lows.
Is it time yet?
The earnings release on February 16 should give us some more insight into how Yandex holds itself in the current environment. To be fair, its share price may be driven for a large part by market sentiment towards Russia exposure and internet companies. Nevertheless, we should look for clues to assess whether Yandex can justify its status as a potential frontrunner in case of a recovery in the Russian market.
Disclosure: I/we have no positions in any stocks mentioned, and no plans to initiate any positions within the next 72 hours.
I wrote this article myself, and it expresses my own opinions. I am not receiving compensation for it (other than from Seeking Alpha). I have no business relationship with any company whose stock is mentioned in this article.