CVR Partners (NYSE:UAN) reported impressive fourth quarter financial results yesterday, with net income of $41.2 million or 56 cents per common unit on revenues of $87.6 million.
Production was in line for its two main products, ammonia (100,800 short tons) and urea ammonium nitrate solution - UAN - (178,300 st) and average realized pricing, courtesy of strong demand and pre-booking during fall 2011, was also strong, with ammonia at $603/st and UAN at $334/st.
Cash flow was boosted by conversion of $11.6 million in deferred revenues (representing customer deposits for these advance sales), to cash available for distribution as delivery was made. Hence, cash flow available for distribution was 58.8 cents per unit, already paid out on February 14.
But the units are trading down 2.3% today, at $27.56, because the MLP guided for 2012 distributions of only $1.50 to $1.75, versus an upgraded guidance for the TTM ending March 31, 2012, of $2.00-$2.05 versus the April 2011 IPO figure of $1.92.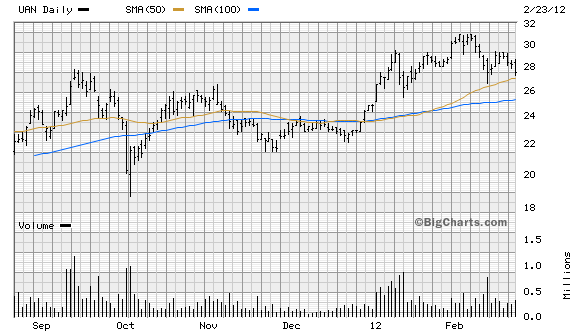 CVR Partners expects to earn $1.75-$2.00 in available cash in 2012, but 25 cents of this ($18.3 million) is being earmarked for the biennial maintenance turnaround in October.
At the mid-range of the 2012 guidance, which management emphasized was difficult to forecast due to uncertainties for 2012 nitrogen demand and pricing, the guided cash annual yield of the units at the current price is currently 5.90%.
However, the future of the nitrogen fertilizer MLP's publicly-held units is in limbo. Its controlling general partner and 69.7% owner, CVR Energy (NYSE:CVI), is under attack by veteran corporate raider Carl Icahn. Icahn disclosed an interest in CVR Energy in January, and has since pushed for the the company to be sold, and subsequently said he would buy the whole thing for $30 per share and auction it off.
In its defense, on the board of CVR Energy announced on February 13 a regular 8 cent quarterly dividend, and also said it intends to pay a "special dividend funded from the sale of a portion of our interest in CVR Partners."
Typically, a corporate raider would buy and break up a company and sell the most marketable pieces to the higher bidder. Under normal circumstances, one would expect the fertilizer unit to be the first asset on the block, given the generally buoyant market for nitrogen fertilizer assets in the U.S.
What complicates such a deal is that CVR Partners and CVR Energy are somewhat interdependent, having signed feedstock and corporate services agreements. In particular, the fertilizer unit depends on the refinery for the majority of its petroleum coke supply, and the refinery and fertilizer units trade hydrogen gas and excess steam depending on their maintenance downtime schedules.
In particular, CVR Partners is dependent on CVR Energy's supply of excess hydrogen to provide an extra 10% production of ammonia for its critical UAN expansion to 1.075 million annual tons per year, estimated to be in production by Q1 2013.
Management noted that the UAN expansion should boost CVR Partners' cash flow available for distribution by 25 cents per unit in 2013, all things being equal.
CVR Energy supplies CVR Partners with executive and management services. They share the same Chairman of the Board, Jack Lipinski, COO, Stan Reimann, and CFO, Edmund Morgan. CVR Partners' senior management is compensated under the CVR Energy pension plan and share based compensation scheme.
All in all, it might be hard to find a buyer of a fertilizer MLP which is not easily separable from its refinery parent.
Arguably, CVR Partners might very well be the perfect poison pill for CVR Energy to defend itself with, given the difficulty in splitting out the interest.
Some say Carl Icahn will be unsuccessful in his attempt to monetize his interest in CVR Energy, as he was with past takeover forays involving Clorox (NYSE:CLX) and Commercial Metals (NYSE:CMC).
The problem with monetizing CVR Partners as a whole is that the cash flow multiple of the fertilizer MLP exceeds that of C-corporations in the same business, such as CF Industries Holdings (NYSE:CF) and Agrium (AGU).
Our estimated cash flow multiple for CF Industries 2012 results is, for example, 6.7 times. CVR Partners is trading at 13.8 times the high side of the MLP's 2012 guidance, excluding the charge for the turnaround.
One possible buyer of CVR Partners might be Terra Nitrogen Co., L.P (NYSE:TNH), which has its own MLP structure that might be adjusted to absorb another. Given the Coffeyville, Kansas, plant lies only 60 miles to the north of TNH Verdegris, this is a possibility. The price would have to be discounted to give both CF, the General Partner, and the TNH minority unit-holders, reason to approve the deal.
In the immediate future, CVR Energy will execute a sale of what we estimate would be a maximum of 14.4 million units of CVR Partners. This would reduce CVR Energy's interest from 69.7% to 50.05% of CVR Partners. Although CVR Energy could control the nitrogen MLP through the GP alone, it would be wise to also have a majority interest in the limited partnership units, if there were ever any attempt to push the Board of the GP out. It would generate a $4/share special dividend.
Whether this would be enough to thwart Mr. Icahn's advances is anyone's guess. It's possible Mr. Icahn finances the sale of all of CVR Energy without separating CVR Partners. However, I believe the list of buyers for the oil refineries (CVR Energy has two) would be longer without the added volatility of the nitrogen business. Note, CVR Energy will announce its Q4 and FY 2011 after the market closes on February 27. We have not seen their financials since they bought the Wynnewood, OK, refinery for $625 million in cash and debt.
My estimate for the price of CVR Partners is downside risk to a 7.0% yield to make the units marketable for a block sale. This implies a trading range of $21.42 to $25.00 based on the guided 2012 distribution range.
Disclosure: I have no positions in any stocks mentioned, and no plans to initiate any positions within the next 72 hours.