Core Laboratories (NYSE:CLB) recently released its Q4 earnings and also provided an updated view of where the oil markets are headed.
The company sees 2016 as being a tale of two halves. One really ugly and the other looking much better.
The Very Near Term Is Going To Be Ugly
Core Labs has one of the least capital intensive businesses you are ever going to find in the oil and gas industry. The company has grown earnings and cash flow for years while actually reducing the amount of capital that it has invested in the business through dividend payments and share repurchases.
To fully appreciate just how great this business is one need look no further than the following slide.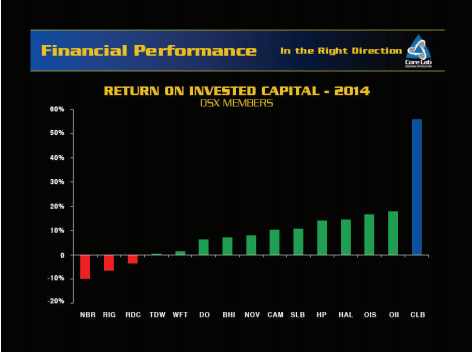 Source: Core Labs 2014 Annual Report
What that chart tells you is that in 2014 on all of the equity that has ever been invested and retained in the Core Labs business the company earned a return of almost 60%!
That is truly mind boggling and is head and shoulders above the competition.
2015 is not going to be nearly as good, although Core's business is holding up better than most.
As capital spending by the industry has dropped over the course of 2015 Core's operations have also deteriorated. Year on year fourth quarter net income for Core dropped by 77% relative to the fourth quarter of 2014.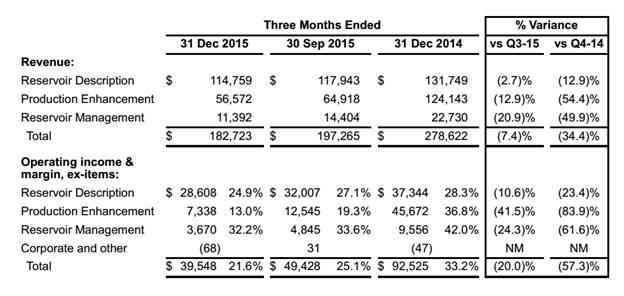 Source: Core Labs Fourth Quarter Earnings Report
The Reservoir Description business segment has held up quite well with Q4 operating income down 23% year on year. The Production Enhancement and Reservoir Management business segments are down by 84% and 62% respectively.
Things aren't going to get better in the first quarter of 2016. In fact they are going to get considerably worse.
In its Q4 earnings release Core predicted that Q1 2016 revenue would be down another 10% from Q4 2015's already depressed levels due to the entire industry further cutting spending.
While Core's business is down in a major way year on year it is still in much better shape than most of the industry. In Q1 Core believes that it will still generate free cash flow and fully fund its dividend.
To be a free cash flow generator and dividend payer at this point in an epic bust is a major accomplishment.
We Are All Getting Tired Of Waiting - But Six Months From Now Could Be Much Better
The near term is bleak. The good news is that the worst may be almost over and a fairly strong recovery about to commence. Core Labs believes that we are at the bottom and the second half of 2016 will finally see a recovery begin.
Core believes that the combination of a 900,000 barrel per day year on year decline in U.S. production and a 1.2 million barrel per day increase in global oil demand will drive oil prices higher in the second half.
That is a view that was more or less shared by Schlumberger (NYSE:SLB) in its year end conference call.
Schlumberger believes that the oil markets continue to tighten as demand growth is solid and supply weakens. Schlumberger believes shale oil production is steadily declining in line with the company's previous expectations and that dramatic spending cuts are taking effect elsewhere.
An interesting observation by Schlumberger was on the apparent resilience in production outside of OPEC and North America. The services giant believes that producers opening the taps wide open to maximize short term cash flow is going to see higher production decline rates after these short term actions are exhausted.
The decline rate is something that Core Labs also spoke to in its Q4 release. Like Schlumberger, Core also believes that decline rates are creeping higher. Core has increased its estimate of the global production decline curve from 2.5% to 3.1%. That might not seem like a big deal, but on 96 million barrels per day of production it adds up. A 60 basis point increase in the decline curve eliminates another 576,000 barrels of production.
Implications For Investors
It is hard to imagine that things could get any worse for the oil sector. It may very well be that it does get worse in the next couple of months. After that though the size and speed of the recovery may be surprisingly robust.
Now is not the time to give up.
Disclosure: I/we have no positions in any stocks mentioned, and no plans to initiate any positions within the next 72 hours.
I wrote this article myself, and it expresses my own opinions. I am not receiving compensation for it (other than from Seeking Alpha). I have no business relationship with any company whose stock is mentioned in this article.