I have been searching for low-priced and small cap stocks to consider in this market pullback because that is where the potential for bargain-hunting is rich with opportunity. In market pullbacks, small cap stocks can take a beating because the liquidity is sometimes insufficient to keep a stock at or near fair value. This liquidity risk is not as common with large cap stocks and that is why there is less volatility in the big names. However, after a market sell-off, the biggest potential bargains and the most significant rebound opportunities are usually in the small cap stocks. For these reasons, I chose to take a look at and compare two retail plays that trade below $8 per share. Below, we take a closer look at J.C. Penney (NYSE:JCP) and Supervalu (NYSE:SVU) because there are some similarities in terms of both being in the retail sector, both have single digit stocks, both companies are not seeing major growth, and both stocks trade significantly below their respective 52-week highs. Both of these companies also own valuable real estate, which has become increasingly sought after as a potential "hidden asset" that companies can monetize. Let's take a look at these two stocks now:
J.C. Penney has been an ongoing turnaround play for a number of years now. The 52-week range is $6 to $10.09 per share, but this stock once traded above $80 back in 2007, and more recently it traded above $40, in 2012. This stock hit a new 52-week low in early 2016, but more recently is has started to rebound: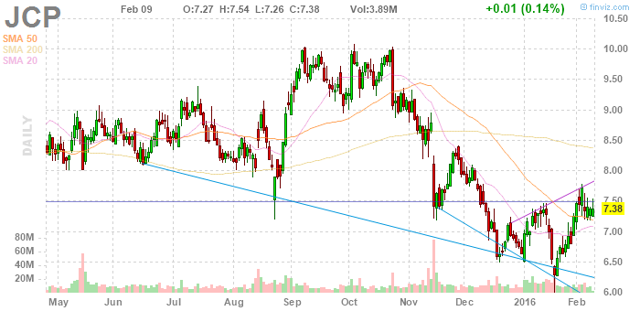 As the chart above shows, J.C. Penney shares now trade around the 50-day moving average which is $7.21 per share. This is an impressive rebound of about 20% off of the recent lows. This rebound seems to be fueled in part by an announcement that the company is exploring the sale and leaseback of its 1.8 million square foot office campus in Plano, Texas. A Market Realist article detailed this news and stated:
"Aside from JC Penney, Macy's (NYSE:M) has also been taking initiatives to enhance the value of its real estate. On January 29, 2016, Macy's completed its transaction with Tishman Speyer for the redevelopment of its Brooklyn, New York, store on Fulton Street. Macy's has been under pressure from activist investor Starboard Value to monetize its real estate."
Analysts at Deutsche Bank (NYSE:DB) seem to be the biggest bulls when it comes to J.C. Penney as they have set a $12 price target, while the consensus target is about $10 per share. The bullishness from Deutsche Bank is based on improving market share momentum and expectations that the balance sheet will improve. I was hoping to find a solid turnaround story here, but I am nowhere near as bullish on this stock for a number of reasons.
First of all, J.C. Penney has been posting losses for years now. For example, it lost $70 per share in 2012, it lost $4.49 per share in 2013, it lost $5.57 per share in 2014, and it had another loss of $2.53 per share in 2015. Analysts expect this to continue, with estimates for a loss of $1.20 per share for 2017 on revenues of about $12.62 billion and losses of 32 cents per share for 2017, on revenues of about $13 billion. If there is one positive here, it is that losses have narrowed in the past couple of years and analysts see continued improvements. Nonetheless, over $7 per share is a lot to pay for a company that has is losing money, especially when there are many single digit stocks you can buy now, with positive earnings per share.
It is not just the history of losses that is a potential downside risk. When a company is losing money for many years, the debt on the balance sheet becomes a greater concern. J.C. Penney has a current market cap of about $2.26 billion. It also has about $5.31 billion in debt which is significant for a company with around $12.5 billion in revenues. While this company appears to be making progress, I think the stock price is only cheap if the company can stay on track and that might be tough. Furthermore, in this market pullback, I see significantly better values in the retail space such as the next stock below:
Supervalu shares were recently trading for nearly $7, but due to a correction in stocks and an overreaction to an earnings miss, the shares are now below $5. Supervalu reported a solid profit with earnings per share of 16 cents for the quarter which met expectations. But it missed on revenues according to one analyst estimate by $100 million, which is not much more than a rounding error (only about 2.6%), especially since Supervalu reported about $4.1 billion in quarterly revenues. However, this "miss" and a market correction has wiped off about $600 million in market capitalization. This miss on revenues is easily explained because Supervalu reduced marketing expenses in Q3 and that is why revenues were a little lower than some expected. A recent article titled "8 Best Cheap Stocks Under $8 To Buy Now" includes Supervalu and it agrees that the selloff in this stock is way overdone and a great buying opportunity.
While J.C. Penney has the potential sale of its office campus as a catalyst, Supervalu also has some notable developments that investors should get excited about in the not too distant future. One big positive factor that separates Supervalu from many other companies is not just how undervalued the stock is now, but also that the company has recently filed to spin off about 80% of Save-A-Lot to shareholders in the next few months or possibly sell it to a private equity firm. A Barron's article gives details and says the value of Save-A-Lot could be around $2.2 billion. Analysts believe separating Save-A-Lot will unlock a considerable amount of shareholder value because this division has significant growth prospects through expansion across the U.S. Save-A-Lot is also expected to achieve a much higher price to earnings ratio since it competes with retailers like Dollar Tree (NASDAQ:DLTR), which has a much higher price to earnings multiple. Just like J.C. Penney, Supervalu also owns several million square feet of real estate. Save-A-Lot owns about 75% of its distribution centers, while Supervalu owns about 20% of its retail food store locations and about 80% of its supply chain distribution centers. Details on the real estate it owns can be seen on page 22 of the last 10-K form.
Supervalu is now trading for just over $4 per share and analysts expect this company to earn 72 cents per share in 2016 and even more in 2017. It is hard for me to get excited about J.C. Penney at over $7 per share when it keeps losing money, especially when I see that Supervalu is very profitable and I can buy it for just about 6 times earnings.
Supervalu has about $2.7 billion in debt, which is reasonable for a grocery chain with stable cash flows, especially considering this company has about $18 billion in revenues. Supervalu has considerably more revenues (about 50% more) than J.C. Penney. Supervalu also has about half the debt of J.C. Penney which is another big positive.
Last month, TheStreet.com published an article that suggested Supervalu shares are significantly undervalued and set a 6 to 12 month price target of $12 per share. On January 14, 2016, (a day after Supervalu reported earnings) an analyst at Pivotal Research Group reiterated a buy rating and set a $10 price target.
In summary, I do see upside potential with J.C. Penney shares if the company can continue to stay on track with the recent progress it has been making. However, that is a big if, and as it is a retailer of clothing and furniture, these products might be a tougher sell if the economy slows down. The debt load at J.C. Penney is another concern, especially since this company has been posting losses. For these reasons, I would only consider a small position in this company, and only on pullbacks. By contrast, Supervalu appears ridiculously undervalued now, especially when compared to J.C. Penney. Supervalu has nearly $6 billion more revenues each year, and about half the debt of J.C. Penney. Plus, Supervalu is very profitable, it trades at just 6 times earnings, and groceries are basically recession-proof and that also attracts me to this stock. Finally, Supervalu has the Save-A-Lot spin-off as a potential upside catalyst.
Data is sourced from Yahoo Finance. No guarantees or representations are made. Hawkinvest is not a registered investment advisor and does not provide specific investment advice. The information is for informational purposes only. You should always consult a financial advisor.
Disclosure: I am/we are long SVU.
I wrote this article myself, and it expresses my own opinions. I am not receiving compensation for it (other than from Seeking Alpha). I have no business relationship with any company whose stock is mentioned in this article.