Equity CEFs that I follow have underperformed at their market prices pretty dramatically over the last couple of days despite their NAVs holding up just fine compared to their benchmark indexes. This is often due to financial institutions feeling the stress once again in other investment areas, and certainly the one on everybody's mind is in high yield, specifically in energy high yield.
All you have to do is read the news headlines about how the latest toxic investments in high yield are going to create havoc to the banking sector like the mortgage backed securities did back in 2008. I can't say for sure whether that ultimately will happen or not, but it's certainly human nature to place more fear in that happening again than if it had never happened before.
And that fear is sending banks all over the world to price levels and valuations not seen since the 2008 financial crisis. Here in the US, you can see it in the most popular ETF which follows the banking sector, the SPDR Financial Sector ETF (NYSEARCA:XLF), which is down -14.4% YTD and is essentially already in a bear market, down -20% off its highs from last July.
All of this is generally not good news for CEF investors since CEFs tend to perform alongside the financial sector, rightly or wrongly. In other words, CEFs are often held as investments by financial institutions and will get thrown in the same category as their less liquid or more esoteric part of their portfolios, so when there is financial stress in these areas, including high yield, financial institutions tend to want to lower their risk exposure, i.e. they sell. So even though individual investors may represent the bulk of CEF shareholders, they still go along for the ride when a financial institution(s) is out there selling.
However, the good news in all of this is that there is usually nothing personal about it. In other words, there's usually no special insight or reason why a fund or funds might be sold down other than that an institution is just trying to raise cash and lower their risk exposure. So what you'll often see is selling in otherwise very good funds without regard to price or valuation. And that's where opportunity knocks.
Defensive Equity CEFs Back To Double-Digit Discounts
The one fund that I think is an absolute gift here is the Nuveen S&P 500 Buy-Write fund (NYSE:BXMX), $11.25 market price, $12.50 NAV, -10.0% discount, 8.8% current market yield. BXMX was one of my largest holdings in 2015 though I sold it all late last year when it rose to a premium.
There was good reason to own BXMX last year as it far outperformed the S&P 500 both at NAV and particularly at market price due to its very defensive option strategy of selling S&P 500 index options against a full 100% of its large cap subset of S&P 500 stocks. In other words, even though the fund has "S&P 500" in its name, the portfolio managers only own roughly half the number of stocks in the index.
And how has BXMX done so far this year? Through February 9th, BXMX's NAV is down -6.3% compared to the S&P 500, down -9.0%. So once again, BXMX is far outperforming the S&P 500 at NAV. At market price however, BXMX is down -16.2% YTD and now reflects an exceptionally wide -10% discount. This valuation drop from a premium at the end of last year to a current double-digit discount is reflected in the following one-year chart.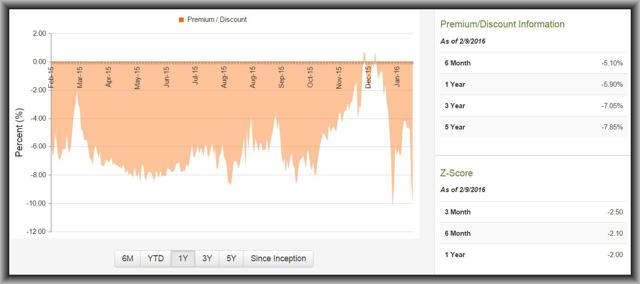 This is one of the best CEFs you can own in this kind of market environment. I'm a buyer of BXMX again, though you have to be prepared to add to your position if there are further spikes down. I missed the last one just a couple weeks ago, but I'm not going to miss this one.
For added defensive measures, you can buy inverse S&P 500 hedges such as the ProShares 1X Inverse S&P 500 ETF (NYSEARCA:SH) or the ProShares 2X Inverse S&P 500 ETF (NYSEARCA:SDS). Both are very liquid and will provide downside protection though obviously SH will roughly match the inverse move of the S&P 500 while SDS will move 2X the inverse of the S&P 500.
The other fund that is very defensive but really got thrown out on Tuesday, down -3% even though its NAV was unchanged on the day, was the Eaton Vance Risk-Managed Diversified Equity Income fund (NYSE:ETJ), $9.07 market price, $10.17 NAV, -10.8% discount, 12.3% current market yield.
ETJ is rare among option income CEFs in that it not only sells index options against a very high 95% of its all large cap stock portfolio value, but it also buys 95% index puts as well. This makes for a very defensive option strategy though it had not been very effective in years past, particularly during bull markets.
That changed last year when the S&P 500 was fairly flat while ETJ's fairly aggressive stock portfolio, think FANG stocks and other growth names, outperformed. As a result, ETJ's NAV outperformed the S&P 500 as did its market price.
This year is a little different as the NASDAQ-100 has gotten hit harder, down -13.9%, compared to the S&P 500, which is down -9.0%, and so when you look at ETJ's portfolio, its option sleeve against the S&P 500 is doing well though its stock holdings, many of which are in the NASDAQ-100, are down more.
As a result, ETJ's NAV performance so far this year is still beating the S&P 500, down -7.9%, but not as much as you might expect. This is a little disappointing though it is nice to know that if we have a market plunge across all sectors, I can't think of a more defensive fund to own. This is evidenced by ETJ's NAV and market price performance back in 2008 when ETJ's NAV was down only -4.5% on a total return basis while its market price was actually up 5.8% including all distributions.
This is not to say that you're hoping for a 2008 repeat, when the S&P 500 was down -36.4% on a total return basis, but I point that out just in case. Ideally, what you want by owning ETJ is a volatile market in which the portfolio managers can cash in their S&P 500 put options on any downdrafts while the former highfliers re-assert their leadership on any rally back.
Eaton Vance is unique among the major CEF sponsors in that because of the number and size of its option income funds is able to negotiate weekly open option positions with counterparties. In other words, whereas most fund sponsors have regular option expiration terms (usually the third Friday of each month), Eaton Vance has weekly option expirations. This is shown in ETJ's long put and short (written) call option sleeves from its N-Q filed with the SEC reflecting its holdings as of September 30th, 2015.
Put Options Purchased

Call Options Written

What this means is that ETJ's portfolio managers can be pretty opportunistic in a volatile market, which certainly seems to be the case recently.
Conclusion
I don't know how much worse this gets for CEFs, but if you want a clue, follow the banking sector. Because if liquidity and stabilization in some of the more esoteric investment areas that the financial sector has exposure in, such as high yield, become less of a concern, then that will just benefit CEFs as well.
On another note, please visit my updated website, capincmgt.com, and let me know what you think.
Disclosure: I am/we are long BXMX, ETJ, SDS.
I wrote this article myself, and it expresses my own opinions. I am not receiving compensation for it (other than from Seeking Alpha). I have no business relationship with any company whose stock is mentioned in this article.