The Clause
Anthem, Inc.'s (NYSE:ANTM) 10-year contract with Express Scripts Holding Company (NASDAQ:ESRX) includes a provision that allows Anthem to analyze the market and to enter into good-faith negotiations for obtaining competitive pharmaceutical prices. This provision came into effect as of January 1st, 2016.
"Anthem's 10-year contract with Express Scripts runs through 2019 but includes the re-pricing clause that became effective Jan. 1, Joseph Swedish, chief executive of the insurer, said in remarks at the J.P. Morgan Healthcare Conference in San Francisco." - by Susan Kelly and Caroline Humer from Reuters.
Because of this clause, Anthem now believes that they are "entitled to improved pharmaceutical pricing that equates to an annual value capture of more than $3 billion." It has been more than three weeks since the ordeal came to the public's attention and the two have not yet finalized their negotiations. We have noticed an emergence of new headwinds that coupled with this ordeal will be detrimental to Express Scripts.
Thesis Introduction
Express Scripts will report Q4 2015 and FY2015 earnings on February 16th, 2015. We see a strong case of margin compressions from a potential revenue sharing deal with Anthem, Inc. or revenue declines from the loss of one of its biggest clients due to failure to negotiate a mutually beneficial contract in FY2016. In addition, to the aforementioned headwinds, another silent yet plausible risk is a political risk emanating from a brand damage from the fight with Anthem and from the negative publicity regarding its AbbVie deal. This political risk has potential to affect Express Scripts government contracts and revenues moving forward.
We believe that Q4 2015 will be a good quarter as the company gained some savings in deals like the one with AbbVie. But we see 2016 to be a turbulent year for the company.
Express Scripts has been one of the most vocal critics of the rampant increase in drug prices in the healthcare industry. It started a price war against drug companies in an effort to get leverage and negotiate higher discounts.
The only problem is that it has been keeping the drug savings to itself and now its biggest client wants the piece of the pie.
The $14 billion threat from Anthem
On January 12, 2016, Express Scripts' biggest client, Anthem, Inc., threatened to ditch Express Scripts if they did not siphon at least $3 billion a year in savings on drug costs to the insurance provider.
"We are entitled to improved pharmaceutical pricing that equates to an annual value capture of more than $3 billion," Swedish told investors Tuesday at the J.P. Morgan Healthcare Conference. "To be clear, this is the amount by which we would be overpaying for pharmaceuticals on an annual basis." Much of those savings would be passed on to clients, he said.

Anthem and Express Scripts have an unusual arrangement that stems from Anthem's sale of its pharmacy-benefits business to Express Scripts in 2009. The insurer is entitled to periodic reviews of how much it pays for drugs, a process the companies last went through in 2012. They haven't yet reached a deal on the most recent talks." - Bloomberg article, "Express Scripts Plunges as Biggest Client Threatens to Leave," by Zachary Tracer and Crayton Harrison.
Since Anthem is entitled to periodic reviews of how much Express Scripts pays for drugs, Anthem's claims are not baseless and should not be taken lightly.
A Future Without Anthem Is Financial Suicide
The dilemma here is that if Express Scripts gives in to Anthem's request, it risks other clients from demanding that it siphon some of the drug savings negotiated with drug companies to them as well.
On the other hand, Express Scripts cannot afford to lose Anthem. It is too big a client. Anthem is Express Scripts biggest client constituting 14% or $14.124.194 billion of 2014 revenues.
(Source: Express Scripts 2014 10K)

Losing Anthem as a client would have detrimental effects on Express Scripts' top and bottom line.
Lose leverage and ability to negotiate cheap drug prices. Losing Anthem implies that Express Script would no longer be the U.S.'s biggest manager of prescription drug benefits. In negotiating drug prices, size has been Express Scripts' biggest leverage. Once the company losses that privilege, the stock would take a nosedive because the amount of potential future drug cost savings it will be able to negotiate will greatly diminish.
The public fight between the two companies gave other big Express Scripts' clients an idea. If Express Scripts settles with Anthem even for an amount lower than $3 billion, it is likely that other clients will demand the same. Secondly, it might have caused other PBMs to reach out to Express Scripts' clients to offer better deals. This is why there could be material impact on Express Scripts moving forward. The PBM industry is highly consolidated. This means that in case the deal fails to materialize, Anthem has some great PBM candidates to choose from.
Looking Past Revenues - A Cost Structure Calamity
But there is more to the story.
The expected synergies from the $29.1 billion merger with Medco have not materialized into the anticipated cost savings. To start with, Express Scripts lost Medco's largest client, UnitedHealth Group. Losing a big client crippled Express Scripts for a while. The loss drastically reduced the number of prescriptions by ~12% and decreased revenues by ~5%. This is another reason why losing Anthem is not ideal.
After the merger, expenses as a percentage of revenues increased from 95% in 2011 to 96% as of last FY 2014. This means that if Express Scripts losses the ability to negotiate better prices or loses its biggest client, it would remain with a high cost structure without enough revenues to cover the costs.
(Source: Authors analysis with data taken from Morningstar)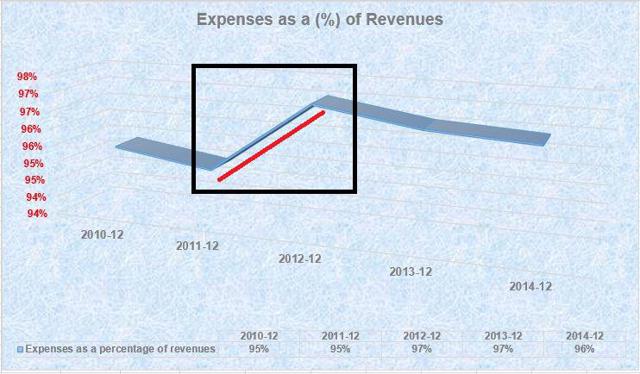 But you would wonder, why would a $3 billion lose matter to a company with $100 billion in revenues? Because Express Scripts incurs huge costs relative to margins. Express Scripts is a $100 billion revenue company that has only $2 billion in net income. Siphoning anything north of $2 billion can wipe out all of its net income.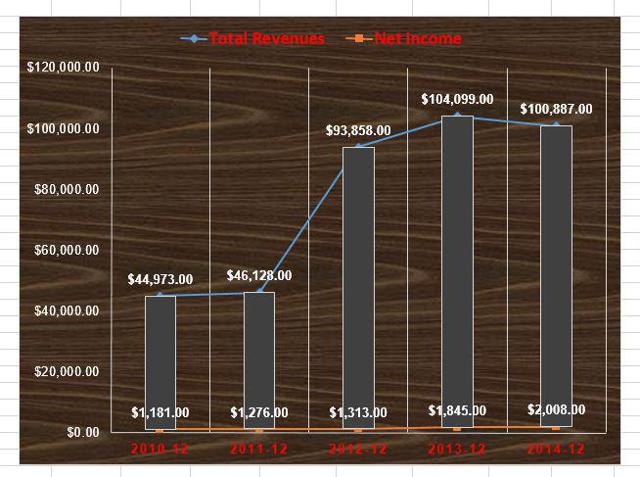 The Problems Do Not End Here - Potential Headline Headwinds
But these are not the only plausible headwinds for the company moving into 2016.
The exclusive deal between Express Scripts and AbbVie raised a lot of concern about patient choice. The article ran in the Wall Street Journal after the deal raised troubling questions about access to the best available care, as Gilead Sciences Solvadi and Harvoni were better than AbbVie's Viekira Pak. The idea was that medical and not financial considerations should take precedence.
The initial concerns were relating to patient choice, but we think the next problem will be relating to the lack of concern for patient health.
"We selected Viekira Pak for our National Preferred Formulary, dispensed through the Accredo Specialty Pharmacy as the preferred agent for patients with genotype 1 hepatitis C, to deliver on the promise of a curative therapy for hepatitis C patients. The risk of using Viekira Pak in patients with severe liver disease WAS KNOWN and addressed as we defined policies for exception coverage when the drug was approved last December. We proactively put a clinical process in place to manage the small population of patients with more severe liver disease who might require an alternative to Viekira Pak. From the very beginning, we recommend and approve other therapies in this subgroup. Last week, the FDA revised its label for the use of Viekira Pak for these patients. Given our original position, the change in label does not impact the availability of Viekira Pak for patients when it is safe and effective. Nor does it impact our projections. As such, we don't expect any financial impact to Express Scripts or our clients." - Dr. Glen Stettin, Chief Innovation Officer of Express Scripts at the company's Q3 2015 earnings conference call.
Express Scripts was already aware that Viekira Pak could cause serious liver damage including death in patients with advanced liver disease.
But this provokes more questions than answers. If the company really "manages the small population of patients with more severe liver disease" and if they really "addressed" the issue, how come "10 patients either died or required organ transplant after liver failure, and 16 patients had some form of liver dysfunction?"
Thesis Risks
We want to highlight the most damaging risks to being bearish on Express Scripts. The stock price has fallen by ~29% from its 52-week high of $94.61/share to its current 52-week lows. This means that most of the risks might already be priced in.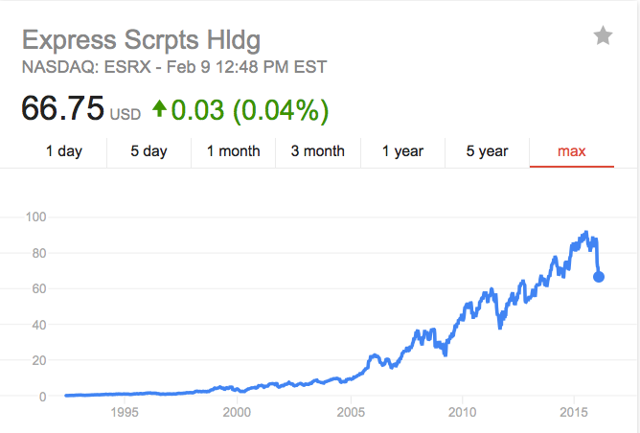 Besides, the mean price target for Wall Street analysts on the stock is $92.31/share. Implying a potential ~38% upside to the stocks' current price. Meaning that this could as well be the best buying opportunity for the stock.
Express Scripts has had a strong selling and renewal season. The company said that it is increasing the low end of its retention rate from 95% to 96%. Its ability to generate higher margins from the high customer retention hinges on having a large consumer base.
Also, Express Scripts has 85 million members, 3,000 clients, 30,000 employees and handles 1.3 billion prescriptions per year. To put that into perspective, there were ~4.17 billion number of retail prescriptions filled in the United States in 2015. Meaning that Express Scripts filled ~30% (~1 out of every 3 prescriptions) of all retail prescriptions in the United States.
Conclusion
Regulatory pressure: We think there is a discrepancy between PBM's growing profits and the fact that pharmacy benefit cost continue to escalate. As these issues surface, we see governments exploring the need to mandate open disclosures of side deals by PBMs to prevent cost inflation of prescription drugs.
Anthem's shareholders need results: The other problem Anthem did was to excite its investors for potential cost savings from Express Scripts. This will just make it more aggressive in its negotiations with Express Scripts because it faces a potential downturn should the cost-savings expectations fail to materialize.
Cash drain will cripple growth: Historically, Express Scripts has been able to scale quickly through accretive acquisitions. At each stage of its evolutionary tree, inorganic growth has played an integral part of its growth. This is why cash is very important for Express Scripts. This is why cost reduction is critical. This is why the outcome of the Anthem ordeal is very important for Express Scripts' shareholders.
(Source: Barclays Global Healthcare Conference Presentation)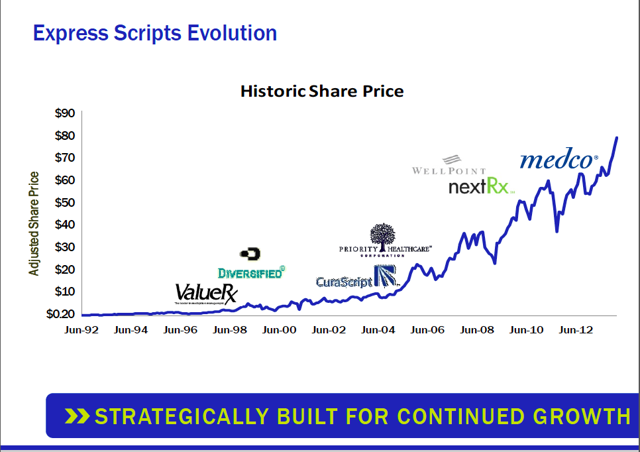 Pushing margins to negative territory: As mentioned, it is a $100 billion company with $2 billion in net income. A huge dent in margins will cripple its ability to grow through its most successful mode of growth - inorganic growth. Pressure from Anthem, other clients, political headwinds, loss of size as leverage could push margins into negative territory.
Final Remarks: It is in Express Scripts' best interest to take the short-term headwinds and keep Anthem. It will also make it possible to keep Anthem as a client beyond 2019. Anthem is even more important if the $54 billion Cigna merger is finalized. The merger will increase Anthem's membership by ~38% from 38.5 million to 53.2 million members - making it the largest U.S. health insurer by membership. As the common saying goes, "sometimes you have to lose the battle to win the war." But whatever Express Scripts chooses to do, we do not see an outcome in which Express Scripts emerges financially unscathed.
Disclosure: I/we have no positions in any stocks mentioned, and no plans to initiate any positions within the next 72 hours.
I wrote this article myself, and it expresses my own opinions. I am not receiving compensation for it (other than from Seeking Alpha). I have no business relationship with any company whose stock is mentioned in this article.