"Though no one can go back and make a brand new start, anyone can start from now and make a brand new ending."
- Carl Bard
"To buy when others are despondently selling and to sell when others are avidly buying requires the greatest fortitude and pays the greatest ultimate rewards."
- Sir John Templeton - 1958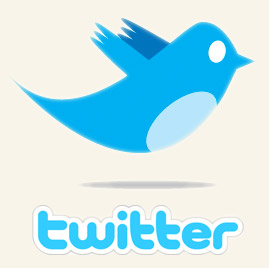 Introduction
Over the past five years, the stock market has unequivocally favored growth over value, creating opportunities in value stocks. This dynamic has started to change, with the institutional liquidation of growth names, paving the way for out of favor stocks to have their day in the sun.
Shares of Twitter (NYSE:TWTR), whose company was one of the penultimate initial public offerings of the recent bull market, have been one of the worst performing, high-profile technology stocks of the last two years. Not only has the share price performance of TWTR not kept up with peers like Facebook (NASDAQ:FB), TWTR's stock has actually already declined by more than 80% from its 2013 peak.
With growing revenues driven by mobile advertising spending, Twitter has become the rare growth stock that has been out of favor long enough, and far enough, to be a long candidate for a contrarian investor.
Thesis
The pendulum has swung too far with Twitter's shares, and the company's stock now offers investors a contrarian, growth opportunity.
Is TWTR Out Of Favor? Yes.
Twitter set its initial offering price at $26, and the stock opened for trading Thursday, November 7th, 2013 at $45.10. During its initial trading day, TWTR peaked above $50, and closed just under its opening price at $44.90. After cresting above $70 per share in late 2013, the stock has been in a free fall down, closing Tuesday below $15 per share.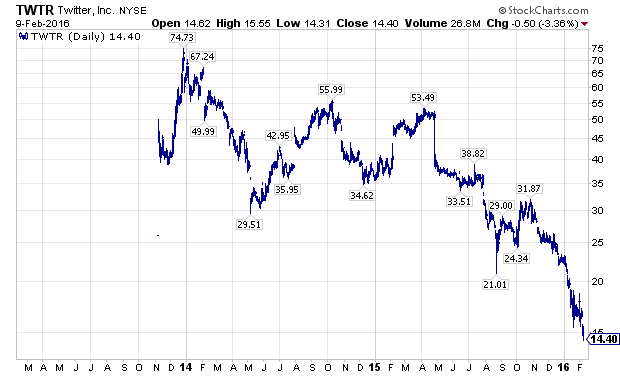 From a performance perspective, Twitter's stock price has been down 38% year to date, 35% in 2015, and 44% in 2014. Cumulatively, since the start of 2014, TWTR's shares have declined 77%, while the S&P 500 Index, as measured by the SPDR S&P 500 ETF (NYSEARCA:SPY), has risen 4%. Over the same time frame, Facebook has risen 82%.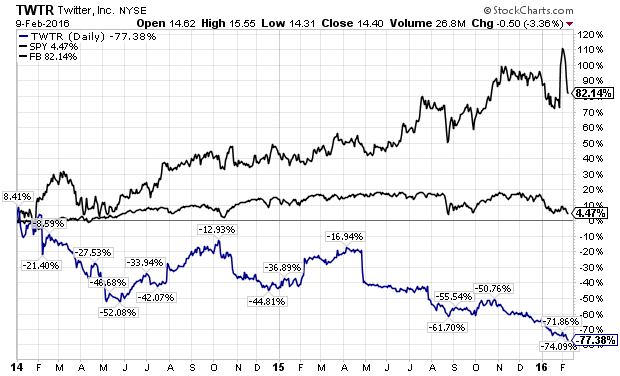 The decline in TWTR's shares has brought its market capitalization down to $9.8 billion, which is still large compared to news organizations like the New York Times (NYSE:NYT), or Gannett Co. (NYSE:GCI), who both sport market capitalizations in the $2 billion range, but it pales in size to Facebook, at $283 billion, or Alphabet (NASDAQ:GOOG) GOOGL), at $482 billion. In this context, it is easy to imagine TWTR as a potential acquisition candidate.
Is TWTR Undervalued? Yes, On A Relative Basis
With a market capitalization of $10 billion, and without a history of profitability, it's hard to think about how Twitter is undervalued compared to a more traditional value stock.
Twitter does have some positive characteristics going for it in terms of its financial statements. First, as of September 30th, 2015, the company had $3.5 billion of cash and short-term investments on its balance sheet, versus $1.5 billion of long-term debt. For 2014, Twitter finished the year with $3.6 billion in cash and short-term investments, so the company is not burning through cash at a rapid pace, as the table below with data from S&P Capital IQ shows.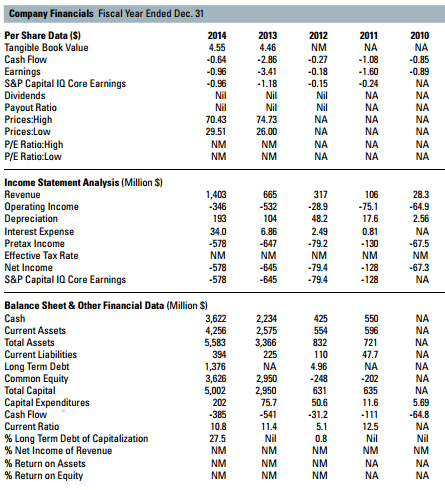 Second, revenues have grown rapidly, doubling year over year from 2012 to 2013, and 2013 to 2014. In the third quarter of 2015, revenue growth has slowed to 57% year over year, and that is part of the reason TWTR's stock has declined, as growth has slowed on a relative basis. In absolute terms, however, revenue growth remains robust on a larger revenue base.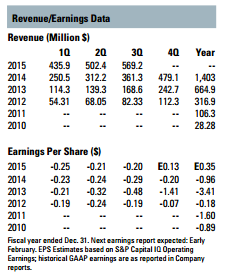 In 2016, Twitter is forecast to increase earnings per share to $0.55, with estimates ranging widely by analysts from a low estimate of $0.37 to a high estimate of $0.81. At a stock price of $14.40, that puts TWTR's 2016 price-to-earnings (P/E) ratio at 26, which is higher than the S&P 500 Index's P/E ratio of roughly 16-18 (depending on your estimates for next year's earnings), so Twitter's shares do not appear cheap on the surface.
When future EPS growth is factored into the equation, however, Twitter shares show their value characteristics. For the next five years, TWTR analysts expect Twitter to grow their earnings at a 65% growth rate, which seems optimistic from my perspective, but achievable for a fast growing company.
If we take analysts' estimates at face value, TWTR's PEG (price-to-earnings ratio divided by growth rate) is .40, which is way below 1, which is commonly the dividing line to signify a cheap or expensive stock using the PEG ratio. Let's assume analysts are too optimistic, and Twitter only grows earnings at 30% per year for the next five years, or less than half of the forecasted growth rate. In this scenario, TWTR's PEG ratio would still be below 1, checking in at .87. Thus, for a growth stock, TWTR shares are indeed undervalued relative to the company's earnings potential.
Are TWTR Shares Heavily Shorted? There Is Definitely A Short Interest
With 53.6 million shares short, equal to approximately 10% of the company's float, Twitter shares have a healthy short interest, and a reversal of the long running downturn in its share price, could spark a short covering rally.
The Best Reason To Own TWTR Shares
The number one reason to own TWTR shares is for the company's ability to leverage and monetize its platform in the mobile advertising market. Twitter has already proven its ability to convert eyeballs into revenue growth, yet Wall Street remains unimpressed. The following snapshot of an earnings preview article from Therese Poletti, cleverly titled to show the inherent pessimism surrounding the company, "Twitter revenue could go big, Wall Street won't care," highlights both the strength in Twitter's offering and the pessimism surrounding the company: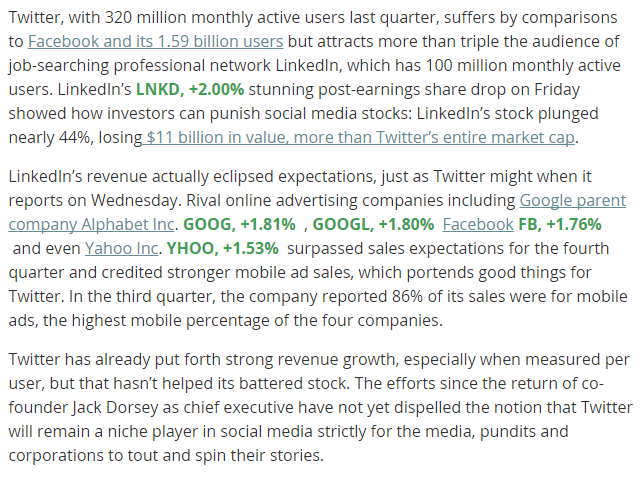 Poletti concludes this section of her article by saying that Twitter has demonstrated strong revenue growth relative to peers like LinkedIn (LNKD), and on its own merit, but the company has not "…dispelled the notion that Twitter will remain a niche player."
Let me translate for you, Twitter shares are cheap, because its business model has not been understood and extrapolated into the future by Wall Street. Could there be negative surprises? Sure. Could there be positive surprises. Yes, of course. Either way, TWTR shares are not easily understood by Wall Street. I believe that is a good thing for its valuation and share price, from a contrarian perspective today, as long as the company can continue to demonstrate revenue growth, as the following chart, from Poletti's article, shows.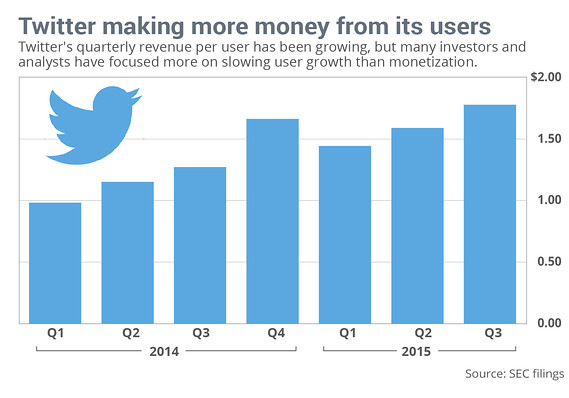 Catalyst #1 - Earnings
Going into tonight's earnings release, helmed by co-founder turned new CEO Jack Dorsey, expectations are low for Twitter, especially after the market's reaction to growth disappointments from companies like LinkedIn. With Twitter shares depressed, a reaffirmation of the company's growth prospects, highlighted by their strength in the mobile advertising market, combined with a clearly articulated business strategy could go a long way to reversing the negative sentiment surrounding TWTR's shares.
Catalyst #2 - International Growth
With approximately 75% of its active participants identified as international users, and only 25% of revenues attributed to international users, there is clearly a gap that Twitter can monetize.
Catalyst #3 - New Offerings
With Twitter's 320 million monthly, active, engaged users, the company has an opportunity to introduce new offerings, like Periscope. Facebook with Instagram and Alphabet with YouTube have had a successful history of acquisitions and new product introductions that fed into, complemented, and ultimately grew their user base. Twitter has the same opportunity, albeit on a smaller scale. Periscope's use in the New Hampshire primary or in their partnership with GoPro (NASDAQ:GPRO), are prime examples of capitalizing on this opportunity.
Catalyst #4 - Institutional Sponsorship
A majority of Twitter's shareholders are retail shareholders, not institutional ones, as shown in the chart from nasdaq.com.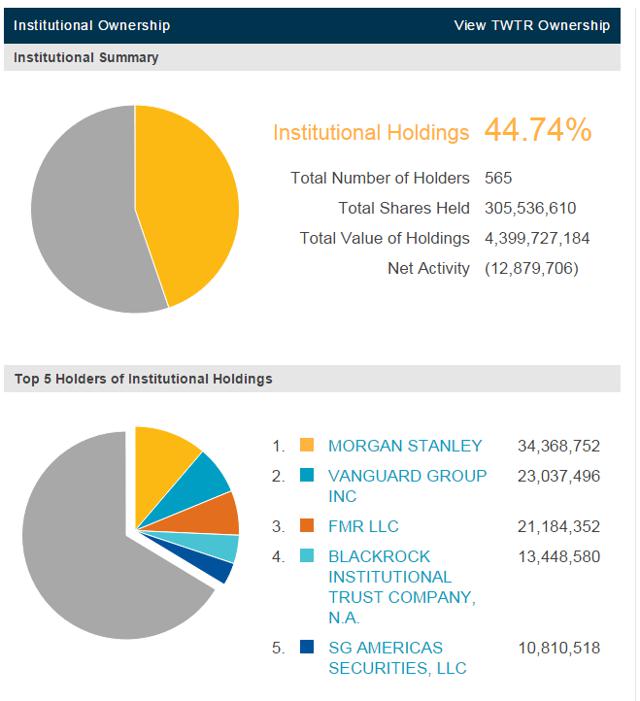 As Twitter affirms its ability to grow profits and revenues in 2016, more institutional investors will be attracted to its stock given its valuation relative to its potential growth rate.
Catalyst #5 - The 2016 Presidential Election
At its heart, Twitter is a personal forum, best used to capture the reactions and perspective of its users to live events. My favorite use of Twitter is to check out the real-time thoughts of Bill Simmons, the former esteemed editor-in-chief of Grantland, who now runs his own podcast network.
Building on this, the outsized personalities participating in the 2016 Presidential Election, including Donald Trump, Bernie Sanders, Hillary Clinton, Rand Paul, Marco Rubio, and Ted Cruz, provide the perfect storm of opportunities for Twitter to capture and shape the narrative of the news before it is written.
Catalyst #6 - An Acquisition Candidate
Twitter's stock price has declined far enough, down 77% since January 1st, 2014, that a much larger company, like Facebook, who has seen their own stock appreciate substantially, Alphabet, or even Amazon (NASDAQ:AMZN), could make a competitive all-stock acquisition offer for Twitter.
In my opinion, a Facebook acquisition would expose Twitter to a much larger user base, while accelerating Facebook's move towards the mobile advertising market.
Risks - Competition
Technology companies are notoriously competitive, and fickle, with a dominant provider like America Online, who once bought Time Warner (NYSE:TWX), now a relatively small subsidiary of Verizon (NYSE:VZ).
Twitter's biggest risk is that the company remains too expensive to be acquired, and well-funded competitors like Facebook simply invent a better mousetrap, shutting off growth opportunities for Twitter and capturing its user base.
At the end of the day, Twitter's value lies in its active, engaged users, and its inability to grow this user base meaningfully is why Wall Street has punished the firm. If the company is unable to grow its user base, at best, it will be a news organization valued more along the multiples of the New York Times or Gannett. Twitter's advantage over those companies, is that right now, Twitter has 320 million active users, while the New York Times or USA Today, Gannett's flagship publication, only have a couple of million readers.
Quantifying The Upside In Common Shares
Somewhat surprisingly, stodgy, independent research firms like Argus and S&P Capital IQ, both like Twitter.
In an environment where the majority of Wall Street has had a dire view, Argus has a price target of $45 for TWTR shares. They have used different methods of analysis to come to this target, with a discounted cash flow approach giving them an approximate $35 fair value, and earnings multiple models giving them a target in the low $50s. The $45 target, for Argus is a blended model.
S&P Capital IQ has a $40 target for TWTR shares, using a global internet peer group P/E ratio of 49 for 2016 earnings estimates and a peer group PEG ratio of 1.4.
From my perspective, I can model a $30 fair value for Twitter using a discounted cash flow approach. In all of the scenarios, there is tremendous upside to Twitter shares, especially in an environment where technology companies' shares are being punished heavily on a near daily basis.
Conclusion: Twitter Is A Rare, Undervalued Growth Stock
If you missed the entire bull market of the last seven years in technology shares, the depression in Twitter shares offers growth oriented investors a rare, second chance opportunity, to be an owner in a company with a demonstrated history of sales and earnings growth.
Pessimism is palpable around Twitter as the company prepares to release its quarterly earnings today, February 10th, after the market close. TWTR's stock has declined heavily. Its PEG ratio is significantly below 1, and it remains an acquisition candidate due to its installed base of captive users. Analysts and journalists expect the worst. This has all the ingredients of a good contrarian opportunity. Long TWTR.
Disclosure: I am/we are long TWTR, SHORT AMZN, SHORT SPY.
I wrote this article myself, and it expresses my own opinions. I am not receiving compensation for it (other than from Seeking Alpha). I have no business relationship with any company whose stock is mentioned in this article.
Additional disclosure: Every investor's situation is different. Positions can change at any time without warning. Please do your own due diligence and consult with your financial advisor, if you have one, before making any investment decisions. The author is not acting in an investment adviser capacity. The author's opinions expressed herein address only select aspects of potential investment in securities of the companies mentioned and cannot be a substitute for comprehensive investment analysis. The author recommends that potential and existing investors conduct thorough investment research of their own, including detailed review of the companies' SEC filings. Any opinions or estimates constitute the author's best judgment as of the date of publication, and are subject to change without notice.