Introduction
Hasbro's (NASDAQ:HAS) share price has been quite resilient in the past few weeks; the company seems to be one of the stronger performers of the general markets, and there seems to be a very good reason for this. The financial results of FY 2015 are just in and these look pretty decent, but what's even more interesting is the fact that the company has been hinting at some 'activity' in the M&A space.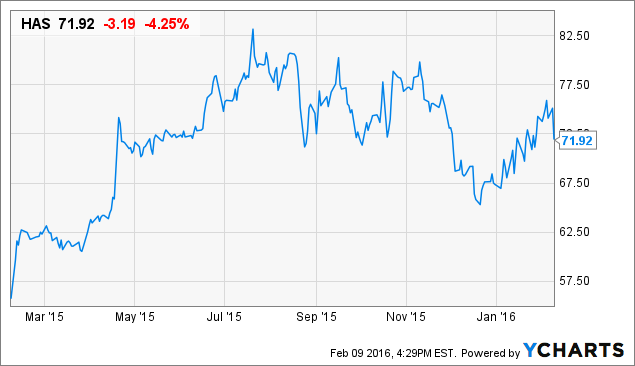 HAS data by YCharts
There's a reason for Hasbro's strong performance lately: the 2015 results
Believers in an efficient market will be very happy, as Hasbro has indeed delivered on its promises. The company's revenue increased by approximately 4% to $4.45B in 2015, but this does include an impact of $350M due to the fluctuating currency exchange rates. Should you exclude the negative impact of the strong dollar, the total revenue would have increased by 13%, and that's a pretty big deal.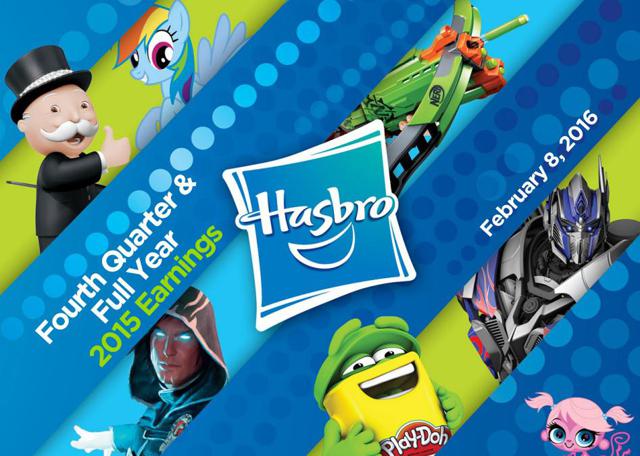 Source: company presentation
Despite the higher revenues, Hasbro was able to reduce its COGS by almost 1.5%, but this excellent achievement was wiped out by a higher royalty payment to third parties. I don't really mind that because it's those third parties that allowed Hasbro to tag along for a wild ride with, for instance, Star Wars and Jurassic World which definitely had an impact in 2015. The operating income came in at $692M, and this represents a 10.5% increase compared to the previous year, and as the revenue increased by 'just' 4%, this result also means the operating margin increased (from 14.9% to 15.1%).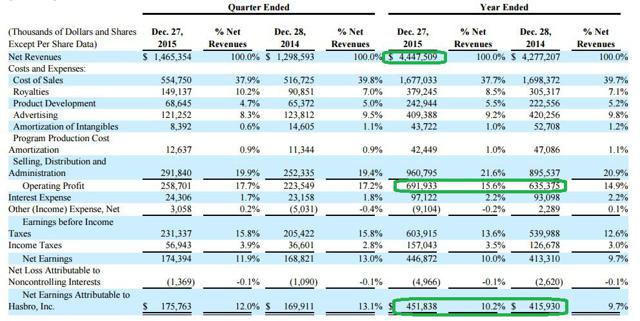 Source: SEC filings
This indeed bodes very well for Hasbro's net income, and as there were no negative surprises regarding the interest or tax expenses, the net income indeed increased by approximately 8% to $447M (or $3.61 per share). That's a great result, but let's first find out what percentage of the net income has effectively been converted into free cash flow.
Source: SEC filings
Unfortunately, Hasbro's financial report has only provided a condensed cash flow statement, but that'll work just fine to get a first overview of the 2015 cash flows. The operating cash flow was $552M, but this was negatively impacted by a $127M working capital change. As I prefer to work with adjusted cash flows (basically excluding WC changes), I'd like to isolate this working capital change, and this results in an adjusted operating cash flow of $680M (a high single-digit increase compared to the adjusted operating cash flow in 2014). The capital expenditures remained acceptable at $142M, and this results in an adjusted free cash flow of $538M.
Indeed, the adjusted free cash flow is higher than the net income, indicating a conversion rate of in excess of 100%. And that's something I really like to see, as it basically means the market might be underestimating the true power of this company.
Hinting at M&A is interesting, but should you expect a huge deal?
So, okay, I have now established Hasbro is generating quite a bit of free cash flow and a company obviously wants to invest this cash as efficient as possible. As a deal with Mattel (NASDAQ:MAT) seems to be in the refrigerator for now, Hasbro has now openly hinted at other potential acquisitions.
we do remain open to add on acquisitions that would help to enhance the strategic platform that we are running our brand blueprint strategy.
Okay, that's great, but what's the total firepower Hasbro could use for an acquisition? Would it be able to pull off landing a bigger fish?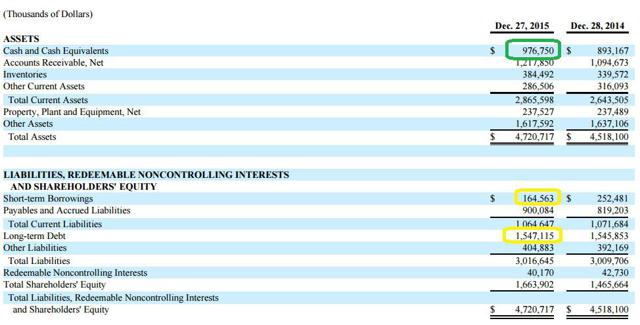 Source: SEC filing
Let's start with a brief overview of the balance sheet. As of the end of 2015, Hasbro's net debt was approximately $750M for a net debt/EBITDA ratio of roughly 0.9, which is quite low.
Assuming the company would like to reach a maximal leverage of 2.5, it would be allowed to take on a total of $2.15B in net debt (this excludes the impact of the positive free cash flow that would be generated this year). After deducting the existing net debt, Hasbro could and should be able to spend $1.4B on acquisitions without having to hurt its balance sheet too much. After all, these new acquisitions will very likely immediately start to contribute to Hasbro's cash flows and EBITDA, and the net debt/EBITDA ratio after a $1.5B acquisition would very likely fall to less than 2 again within two years.
Does this mean Hasbro will make a big move and spend a billion on acquisitions? Not at all, and a quiet voice in my head says this might actually be just a strategy to increase the pressure on Mattel to come to an agreement.
Investment thesis
Hasbro had an excellent 2015 and generates in excess of half a billion dollar in free cash flow on an adjusted basis. Approximately 40% was spent on dividends whilst roughly 25% was used to invest in Hasbro's working capital position, resulting in 35% of the adjusted free cash flow either hitting the balance sheet or having been used to reduce Hasbro's debt.
Hasbro isn't cheap, but quality has its price and the adjusted free cash flow yield of approximately 6% is still pretty decent. Hasbro is quietly reducing its debt and looking for nice bolt-on acquisitions without feeling the pressure of 'having' to do something.
Disclosure: I/we have no positions in any stocks mentioned, and no plans to initiate any positions within the next 72 hours.
I wrote this article myself, and it expresses my own opinions. I am not receiving compensation for it (other than from Seeking Alpha). I have no business relationship with any company whose stock is mentioned in this article.