The Federal Reserve made a big mistake when it raised interest rates in December. It wasn't the mixed economic data that caused the change in policy, it was a desire to "normalize" monetary policy. The Fed has cover to "normalize" policy because of the poorly tabulated unemployment rate of 4.9%. The data makes it seem like the economy is on a roll when it clearly is not.
First, the participation rate is averaging 4% less than it did a decade ago before the Great Recession. This means 10 million unemployed people are categorized as given up looking for work and not in the labor force. They are unemployed, and if properly accounted for, the unemployment rate would be reported as being a little over 10%.
Secondly, the unemployment rate is determined by a survey of 60,000 people each month. It's like a giant poll. If a person says they have started a business they are counted as employed. If they lost their job and can't find one, but started baking cupcakes and selling them out of their home, they are counted as fully employed no matter how little their business makes. Many people who can't find work try to pick up what they can by starting some sort of small service business. This little known fact makes a mockery out of the headline numbers.
But the economy is still suffering from the economic fallout of the Great Recession. The Fed has cover to "normalize" policy because of the widely reported unemployment rate. But other data is painting a different picture. The recently released 2015 fourth quarter GDP was only .7%. It may wind up at zero upon upcoming revisions. Global markets are selling off because of the weak economic performance of China. And countries that rely on commodities like oil, or iron ore, are seeing their economies collapse. A year ago I wrote that Oil Price Plunge Is Deflationary Canary In The Coal Mine.
To demonstrate how worried the markets are the Japanese 10 year government bond fell to negative interest rates this week. Look at the sharp downward plunge over the last few days: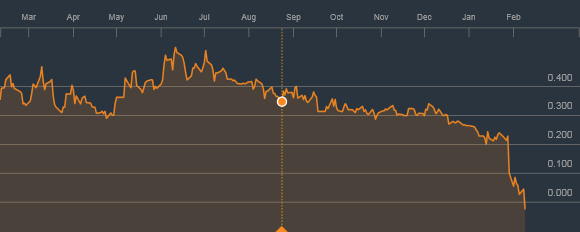 The rate has never been negative before. And this movement is not confined to Japan. Rates on debt instruments perceived as safe are falling everywhere. It is possible the yield on the German 10 year bond may also fall below zero as can be seen below: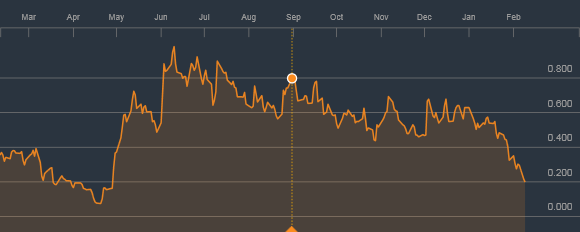 The source for the two charts listed above is Bloomberg.
The markets are expressing a loss of confidence in the global economy, and a loss of confidence in the Federal Reserve. This morning Chairman Yellen stated that the Fed may pause on expected additional rate rises this year based on outcomes in the economy. Translated into English, that means the Fed still wants to "normalize" some more, but will sit on its hands and do nothing for many months if the economy continues to get worse. The Fed needs to reverse course as can be seen fully discussed here.
All of this brings us to gold. As the bond yields have been dropping gold has been rising. But bonds can only go so low. Once the rates are negative the bond buyer is the one paying interest. At some point it would be better to ask for cash and pay for a safe deposit box. Gold however has no real top. With each bout of bad news gold can keep its rally going. And the Fed is signaling they won't step in for some time. Gold tripled in value during the Great Recession. Since then it has fallen back by over 40%, but just this year has rallied 10% off its lows.
It's seems like a good time to add a little gold as a hedge to one's portfolio. The easiest way to do that is simply to buy shares in the giant ETF SPDR Gold Shares (NYSEARCA:GLD). A more leveraged way to play a potential break-out in gold would be to pick up one of the large gold miners like Newmont Mining (NYSE:NEM), Goldcorp (NYSE:GG), or Barrick Gold (NYSE:ABX). While there can be no certainty gold will keep rising, thereis a very good possibility more bad economic news is on the way.
Disclosure: I/we have no positions in any stocks mentioned, and no plans to initiate any positions within the next 72 hours.
I wrote this article myself, and it expresses my own opinions. I am not receiving compensation for it (other than from Seeking Alpha). I have no business relationship with any company whose stock is mentioned in this article.