In the name of intellectual honesty I thought it would benefit many in the Seeking Alpha community to write up a post-mortem of my Trinity Industries (NYSE:TRN) thesis that I published back in November 2014. I hope these lessons help all of you in your investing journey.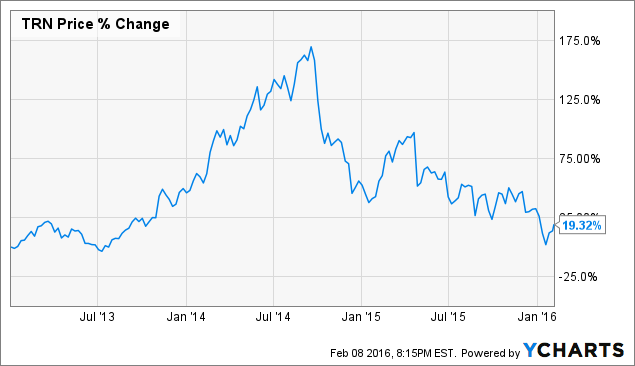 I became a fan of Trinity back in 2013 when I saw that the company was set to ride the fracking boom upward and onward. The company did just that for the next two years. From the beginning of 2013 to the 2014 peak, Trinity's share price rose over 170% as seen in the chart above. Then came a few massive drops over the course of the next few months. Lobbyists from railroad and oil companies asked that the government delay new tank car rules, thus pushing revenue for Trinity and other tank car companies further into the future. Secondly, Trinity sunk further on a Bloomberg report that it lost a trial related to the ET-Plus rail guard that a Trinity subsidiary produces. Along with both of these problems, weakness started to appear in oil markets.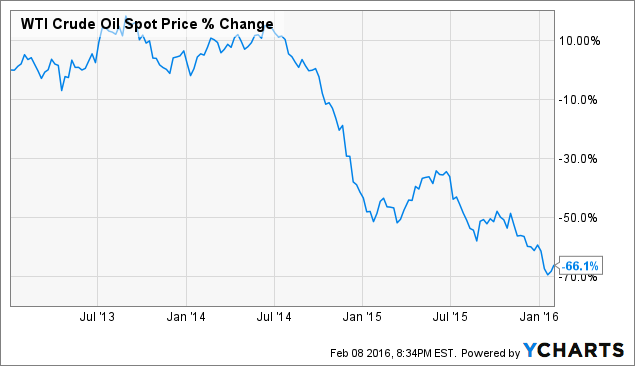 Seeing all of this take place, I stepped in and wrote my first thesis on Trinity shortly after all of these events took place in November of 2014. In my first article I talked about Trinity's competitive position compared to peers such as Greenbrier (NYSE:GBX), FreightCar America (NASDAQ:RAIL), and American Railcar (NASDAQ:ARII). I found their position to be competitively superior for many different reasons which you can read about here. Skipping ahead to my next published article in December of 2014, I believe this is where many of the lessons can be learned.
This article centered on why I was long Trinity despite the decline in oil prices. My main points were:
Trinity will soon see government mandated revenue in the form of new tank cars that must be updated or retrofitted to a new design.
There could be more demand coming to the tank car market because of all of the cutting of midstream capex projects.
Their revenue base is diversified, at least more diversified than any of its peers.
Their contracts are locked in and non-cancelable.
Trinity has a massive backlog of orders which should keep revenue afloat for the time being while oil markets shake off the weakness and rebound.
Despite my begging and pleading with Mr. Market over Seeking Alpha, the selloff continued. While all of the points I was making were true, it didn't necessarily matter because I was missing the overall trends of the market and how the market was treating the company. The market wasn't treating Trinity as a diversified, rock solid company with secured future revenue; it was treating it as an oil equipment supplier. Over the course of the next year, Trinity fell another 40% to its current value. While Trinity has definitely been a blunder in my personal portfolio, I am very grateful for taking the position because this single investment taught me several crucial lessons.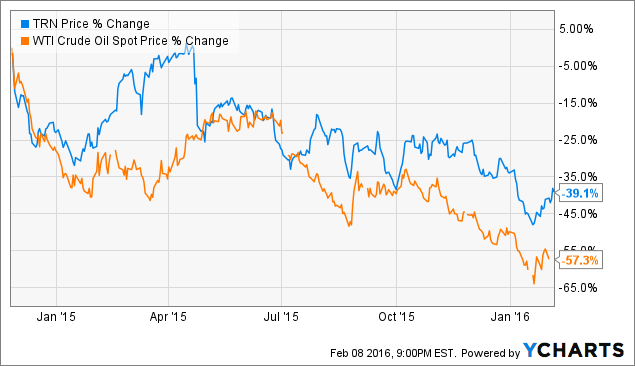 #1: Don't ignore macro / commodity headwinds
This was without a doubt the biggest problem with my thesis. Although I acknowledged the macro headwinds in the oil markets, I didn't give them near as much credit as what they deserved. I told all of you that while Trinity's shares are trading much like an oil company, they shouldn't be because Trinity has so many different business lines, Trinity has non-cancelable contracts, and Trinity has mandated revenue on the horizon. While all of this might be true, I missed the big picture: Trinity had been trading like an oil equipment supplier and there was nothing I could do about it. While everything I outlined holds true to this day, it doesn't matter because the macro headwinds were not in Trinity's favor.
Lessons learned: 1) Understand how macro and commodity prices effect the business, 2) Don't buy against macro headwinds that you have no control over. While your thesis shouldn't revolve around macro trends, it helps to pay attention to them.
#2: Don't call the market irrational; understand critical factors
In my thesis I told all of you that the market was merely being ridiculous and irrational for pushing down Trinity's shares when the underlying business was solid. While we can think the market was crazy irrational it's important to notice what the market is doing and why. In the case of Trinity, the market was valuing the company much like an oil equipment supplier. Regardless if you think the market is irrational for doing that or not, it is important to not say "well the market is being ridiculous, I am buying more," because ultimately, the market will make your thesis either work or fail.
I think Paul Tudor Jones cuts through the noise on this issue with this comments on PE ratios:
"The concept of paying one-hundred-and-something times earnings for any company for me is just anathema. Having said that, at the end of the day, your job is to buy what goes up and to sell what goes down so really who gives a damn about PE's?"
Lesson learned: Just because you think the market is irrational doesn't mean anything. The market doesn't care about what you think. At the end of the day it is your job to be long what goes up and short what goes down. Furthermore, just because the market is irrational doesn't mean you are on the right side of the investment - you can be different without being right. The goal is to be both different and right.
#3: Don't yell "cheap" without looking at underlying industry trends
In my first article I pointed out just how cheap Trinity was compared to its peers (about 8x vs comps of 13x and 19x). While these are cheaper when compared to the overall market P/E ratio, they really don't mean much of anything in terms of a bottom for share prices. What is to keep multiple from falling below 8x even if they historically trade above that? The answer: nothing. And that's what happened here with Trinity.
Multiples fell across the board and this decrease was indiscriminate. TRN fell from 8x to under 5x. ARII fell from 13x to under 7x. GBX fell from 19x to under 4x. While you can see that TRN's multiple compressed the least amount, this doesn't really matter very much considering the overall market was down heavily - all of these companies fell over 40% from their highs.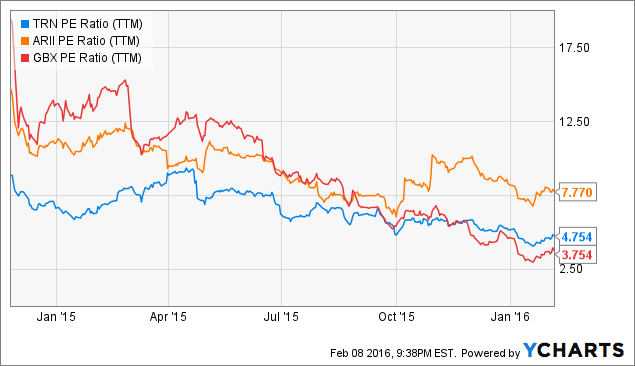 "So, what do we do now?"
While I held my Trinity investment for some time, I ultimately let it go for all of the reasons I described above. Because Trinity is trading much like any other oil company, it is unattractive in my eyes. While I think the company could outperform over the next few years if oil prices rebound as some expect them to, all investing is all about opportunity cost. While I could bet on Trinity and the rebounding of oil prices, I would much rather take those same investing dollars and put them elsewhere in the market - preferably a place where macro headwinds won't muddy the waters of my thesis.
Disclosure: I/we have no positions in any stocks mentioned, and no plans to initiate any positions within the next 72 hours.
I wrote this article myself, and it expresses my own opinions. I am not receiving compensation for it (other than from Seeking Alpha). I have no business relationship with any company whose stock is mentioned in this article.