Company Background
Precision Auto Care Inc. (OTCQX:PACI) is a franchisor of automotive and maintenance service centers on a domestic and worldwide basis. Notably, the company is known as a fast oil change and lube services provider. As of the most recent quarter (mrq), they operated 38 company owned centers in seven states and 218 and 59 domestic and international franchisor locations, respectively. Currently, the company is headquartered in Leesburg, VA and has been in business since 1975.

Source: Meta-Chart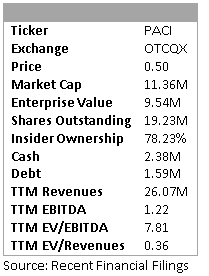 Investment Thesis
PACI is unfollowed and is a relatively unknown micro-cap company, which is presenting itself with notable upside in the next 12-48 months. Upside presents itself from continual visibility and positive business results. Furthermore, PACI's top line has real, absolute potential, to grow at low double-digit rates in the near term due to business model conversion.
In the year of 2008, the company decided to go dark, in which it delisted from the most visible over the counter exchange. For value investors, this was a smart move by management, for it saved the company significant monetary assets by not filing. However, in the recent quarter, management successfully up-listed to the OTCQX exchange (the top tier of the over the counter exchanges) and initiated level two pricing, which will help provide PACI with much needed visibility going forward.
Backing the story up a bit, in 2006, Robert Falcon was hired as the new CEO. After being hired, there are three notable things that Falcon did, which really stood out to me. First, Falcon conserved the company's monetary assets by going dark in 2008. In the short-run, shareholders were penalized due to lack of visibility and liquidity issues. However, in the long run, monetary assets were preserved and the company's recent up-listing should provide it with an increase in visibility/liquidity.
A second, more so, 'achievement' that Falcon has done since his initiation as CEO was his strong buyback program. Since 2006, 33.66% of the shares outstanding have been retired. With the company's ability to generate moderately decent FCF, I believe that there is potential for further buybacks in the future. That is if the share price trends in value territory.
Thirdly, management has started to cut out the middleman, which will influence top line growth at the expense of one-time direct franchise support costs. In the past, PACI utilized Area Developers in order to expand their franchise revenues. Due to challenging franchise markets, PACI has started to buy out Area Developers for one-time costs that are initially accretive to their top line going forward (Area Developers take one half of all initial franchise fees, royalty revenues and franchise renewals/transfer fees). Continual buyouts of Area Developers will help to provide top line growth (four Area Developers had ownership in 35% of all franchised centers in the most recent quarter).
Finally, when Falcon took over in 2006, revenues had been trending around $12mm, for the past four years. Today, the TTM revenues are ~$26mm, which is an 8.04% annualized CAGR rate. Currently, margins are getting squeezed due to the shifting of the business model (from franchise to more company owned locations). Furthermore, margins have been artificially compressed due to one-time charges of cutting out the middleman. Thus, I am expecting a reversion of the bottom line by at least 100 bps going forward (will talk about it in the valuation section).
A shifting business model will provide top line growth at the expense of the bottom line. However, shifting business models is a foot in the right direction, due to industry changes in the franchise industry.
Potential for continual upside will be driven by…
More visibility from investors due to up-listing on the OTCQX exchange.
Continual smart moves from management most notably from their ability to allocate assets in an efficient manner (buybacks and cutting out the middleman).
An accretive shift in the business model resulting in consistent high single-digit top line growth and steady FCF.
With management's high insider ownership position, they have a significant amount of 'skin in the game'. In fact, their high ownership and recent up-listing is a bullish signal for continual visibility.
Industry Demographics
The average age of automobiles and trucks in operation in the US in the year 2014 was 11.4 years. Interestingly, since 1995, the age has incrementally continued to trend upwards, growing in age, almost every year. In short, an ever increasing age of vehicles in the domestic market will help provide PACI with recurring and growing comparable store sales.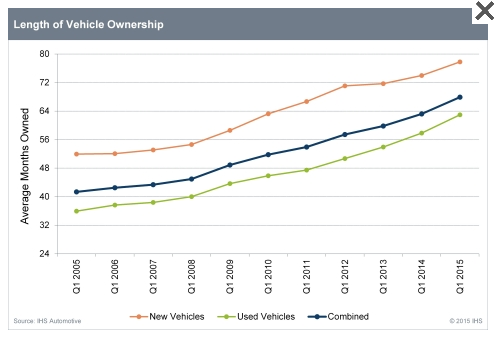 Source: IHS
With consumers holding their vehicles longer than ever before, this helps to provide recurring revenue to businesses like PACI, who specialize regular maintenance and up care of vehicles. Yes, vehicles last much longer than they did 20 and 30 years ago. However, there is still a need for regular preventative maintenance, which continues to grow, as a vehicle ages.
As the population continues to expand in the domestic market, so should the number of vehicles registered and number of licensed drivers.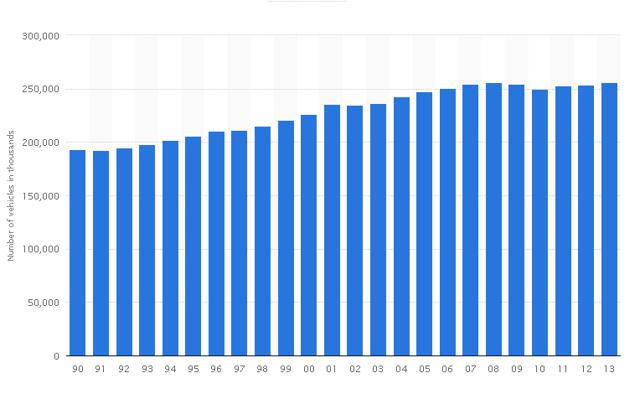 Source: Vehicles Registered In US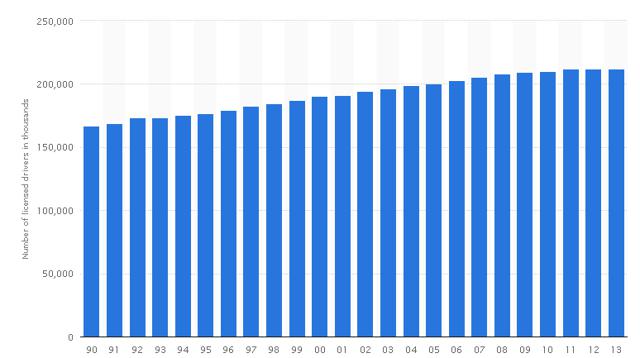 Source: Number of Licensed Drivers In US
There was a small pullback in the number of registered vehicles in the US during 2008 from the recession. However, this number should continue to trend upwards as the economy and population continues to expand. Finally, there are bullish forecasts that suggest that the number of vehicles on the road, by 2035, will nearly double. This is a very positive industry demographic that should help to influence top line growth for PACI.
Positive industry demographics of the growing average age of vehicles and an increasing domestic population provide PACI with med and long-term secular industry demand. Furthermore, as long as individuals continue to put wear and tear on their vehicles, preventative maintenance shops such as PACI will continue to have demand.
Valuation
The reason why an investment in PACI exists is due to the low absolute market cap valuation and low to no visibility from the Street. Additionally, the low numerical amount of shares traded per day make PACI an inefficiently priced stock. Investors should keep in mind, that patience, the utilization of limit orders and a long-term horizon is much needed when investing in PACI.
When looking at the company on a relative basis, it is a clear undervaluation.
| | | |
| --- | --- | --- |
| | EV/EBITDA | EV/Revenue |
| Monro Muffler Brake Inc. (NASDAQ:MNRO) | 14.96 | 2.53 |
| Precision Auto Care | 7.81 | 0.36 |
Readers and investors alike should take note that MNRO is a much larger company and MNRO does not utilize a franchise business model. Furthermore, there is a lack of other comps due to mom & pop shop fragmentation, consolidation and privatization. However, what is interesting, is that when Pep Boys was public, they were taken over for 15.6x, which helps give support to the relative undervaluation. Although, Pep Boys and MNRO are both much larger than PACI, which could be a strong reason for the skew in relativity.
We can speculate that with the secular industry demand and recent consolidation that PACI could be a takeover target, due to absolute and relative undervaluation. Moreover, continual consolidation of the industry provides bullish upside for PACI due to their $7.3mm in Federal NOLs that begin to expire in 2019 through 2029. Although, if PACI is not taken over by a larger competitor or PE firm, there is room for additional upside from continual business improvements.
Before looking into continual business improvement, let's take a look at the artificial inflation in valuation metrics. Likewise, how a more normalized EBITDA run-rate, actually makes PACI much cheaper than it appears to be.
In the fiscal year of 2015, operating income was down 75% from the one-time $1.1mm expense of buying out one of their Area Developers. This one-time expense (which will be accretive to the top line), inflated valuation metrics and compressed margins. Additionally, one-time charges made EBITDA fall to pre-2008 levels. In fact, in the first six months of 2016, operating income is already up 17.35%. I believe there should be additional improvements for the rest of the year as well.
Without the one-time expense of taking out the middleman, PACI would have had an EBITDA run-rate of ~$2.2mm in 2015. Additionally, PACI attended a bi-annual convention in Nashville in 2015 in which they incurred another one-time expense of $138,000. Thus, without these one-time charges, PACI would have had EBITDA of $2,327,864 in 2015. Furthermore, PACI's EV/EBITDA at 2015's year-end would have been ~4.00x, instead of >7.0x multiple actually shown.
We can also speculate what may happen to PACI's top line going forward, due to the cutting out the Area Developer in Minnesota. Let's first state some facts. First, PACI owns two company shops in Minnesota, with the other fifteen franchised out. Secondly, these fifteen shops will now pay PACI 6-7.5% in weekly gross receipts, instead of splitting it in half with the Area Developer. Finally, 277 franchised owned shops, contributed in total $8,521,517 in 2015. Thus, each shop on average contributes ~$30,763/year in franchise royalties.
These fifteen owned shops in Minnesota will contribute around ~$461,456/year in royalty revenues, up from $230,728, based on averages. As you can see, the one-time $1.1mm expense is very accretive to PACI's top line with a ~4.77 year break-even return (1.1mm/230,728). In fact, in the first six months and mrq of 2016, revenues were up 5.5% and 10.16%, respectively.
Interestingly, top line growth will also come from opening more company owned stores. For example, on December 31st, 2014, there were thirty-three company owned stores. However, on December 31st, 2015, there are now thirty-eight company owned stores. Furthermore, based on 2015 results (when there were thirty-five stores), each store, on average, brought in ~$469,520/year in revenue. Thus, based on averages, PCAI should generate an additional $2,347,600 in revenue from these five new additions going forward.
What I find interesting, and shows how the 'small factor' is great for growth, is that PACI would only need to open ~21 new company owned retail stores to increase revenues by $10mm (a 38% increase from TTM revenues). This would take the company around four years to increase their top line by 38% if they open five stores a year. Furthermore, the CAGR annualized top line growth in four years if revenues hit $36mm (from the TTM of $26mm), would be an easy 8.47% increase. This seems very realistic given the fact that from 2008, TTM revenues increased at an 8.04% annualized rate.
Investors should also take note that it takes a small capital investment of $127,000-253,600 to open a store/location. With FCF generation of $1.93mm in FY 2015 and $1.40mm in FY 2014, investing in five new stores every year is not a huge hindrance on the company at all. Moreover, investors should realize that from 2008-2015, the company opened 29 company owned retail stores. Thus, they were opening on average 4.14 stores per year.
My base and bull case price targets for 2020 are below. I am assuming that revenues are driven to ~$36mm in the next four years from continual investments in new company owned stores, with 2015 run-rates in the EBITDA margin. Finally, for simplistic reasons, the only difference between the base and bull case is a divergence in the multiple by 16.66%.
| | | |
| --- | --- | --- |
| | 2020-Base | 2020-Bull |
| Revenues | 36 | 36 |
| EBITDA Margin | 9.0% | 9.0% |
| EBITDA | 3.24 | 3.24 |
| Multiple | 6.0 | 7.0 |
| EV | 19.44 | 22.68 |
| +Cash | 2.38 | 2.38 |
| -Debt | 1.59 | 1.59 |
| Total Equity | 20.23 | 23.47 |
| Shares Outstanding | 19.23 | 19.23 |
| Estimated Equity Per Share | 1.05 | 1.22 |
(In millions)
If management decides to not invest in more company owned stores going forward, value can still be created due to management's skin in the game and coupled with a ~20% FCF yield.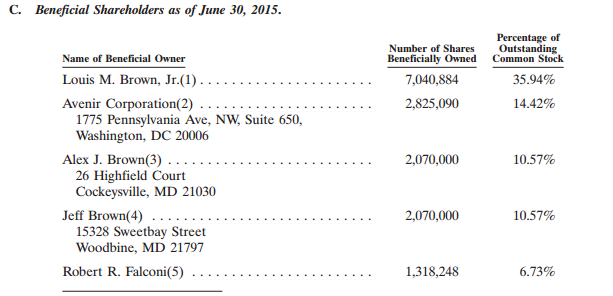 Source: 2015 Annual Report
Currently, insiders own a significant amount of shares outstanding, which make it so that if the company does not succeed, they will not only lose their jobs, but a good chunk of their wealth. Moreover, management's past attractive asset allocation strategy (buying back stock), helps support that management is looking out for shareholders.
When looking at 2014 and 2015's FCF, we can see that the FCF yield has been in an attractive range.
| | | |
| --- | --- | --- |
| | FY 2015 | FY 2014 |
| Free Cash Flow | 1.93 M | 1.40 M |
| Shares Outstanding | 19.23 M | 22.00 M |
| Free Cash Flow Per Share | 0.10 | 0.06 |
| Current Price | 0.50 | 0.50 |
| Free Cash Flow Yield | 20% | 12% |
(In millions)
I am expecting FCF to range from $1.5-2.0mm in 2016, with similar run-rates in the more so near term. If management does not invest in more company owned stores, they can use their strong FCF generation on continual buybacks and/or the initiation of a special dividend. Overall, investors should understand that if PACI generates $2.0mm in FCF going forward, an investment in PACI will pay for itself in ~5.68 years on a market cap basis (11.36/2.0).
There are four key points that should be highlighted from this valuation section…
One-time charges in 2015 artificially inflated valuation metrics. Disregarding these one-time charges, PACI is much cheaper than what it perceives to be… don't judge a book by its cover.
Knocking out the Area Developer in Minnesota region will be accretive to the top line going forward. Furthermore, the top line, based on averages, should increase an additional $230,728/year, with a break-even investment of ~4.77 years.
On average, company owned stores rake in ~$469,520/year. Moreover, if PACI continues to open five new stores a year, for the next four years, revenues have a realistic potential of increasing by ~38%.
Management's attractive asset allocation strategy coupled with recurring and high FCF, provide for good future growth. Remember, from 2008-2015, management bought back ~33% of the shares outstanding (~$0.40/share) while opening 29 new company stores. Due to the relatively small size of PACI and their strong FCF generation, they have very real potential of scaling upwards at a decent rate.
Qualitative Due Diligence
Earlier this week, I stopped in at my local Precision Tune Auto Care in Burton, Michigan. I was a little early for my oil change and tire rotation, yet I felt that quality due diligence was much needed with a company this small and so close to my house.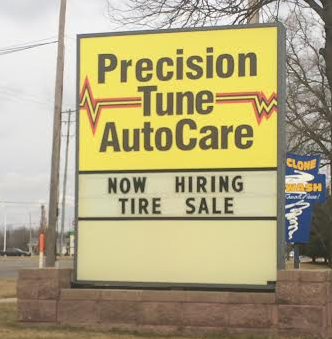 Here are a couple of pictures of the outside of this shop…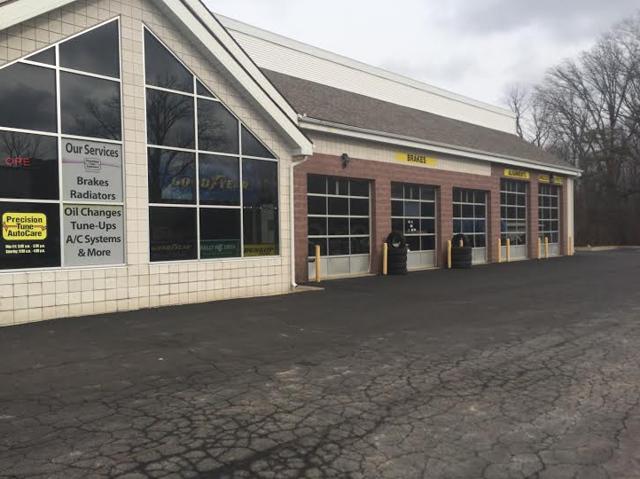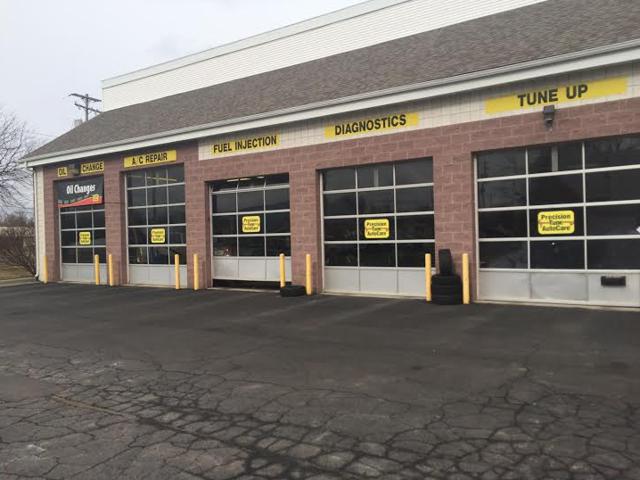 As you can see from the pictures I took, this is a ten door bay, and a relatively upgraded/new building. One item that I was concerned with was the company's pricing cost. Thus, I was concerned that companies like Midas, Pep Boys or Pennzoil could offer much more attractive pricing due to scale.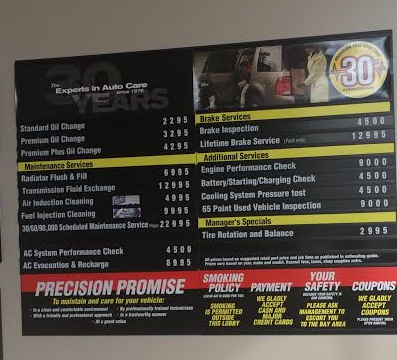 However, when looking online, and my past experiences of getting my oil changed, PACI does offer very similar if not identical prices to its competitors.
Not only were prices relatively around the same range that much larger companies offer, but PACI also had impressive customer service and did a speedy job (oil change and tires rotated were done in 17 minutes and 37 seconds… yeah I timed them). The shop I went too also utilized coupons and punch cards, in order to make customers want to go back (for cheaper future prices).
Finally, the shop I visited in Burton was well advertised (on the road), especially compared to other companies on that same road.
Even on a worldwide standpoint, the company is well rated by employees and customers…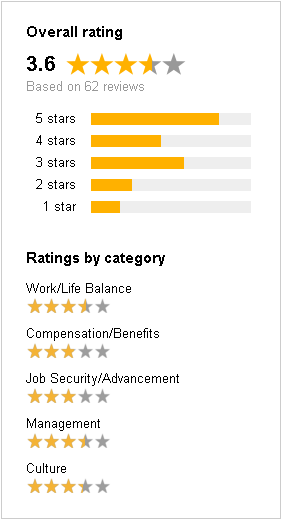 Source: Indeed Reviews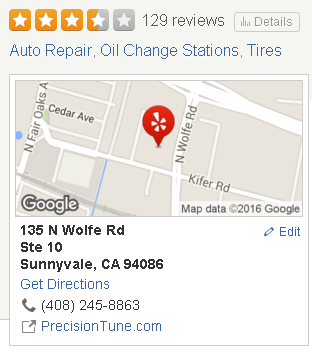 Source: Yelp CA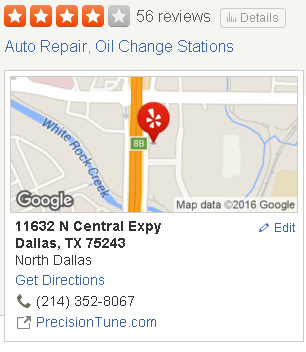 Source: Yelp North Dallas
Overall, I was very impressed with the service I received and the general appearance of the location I visited. Going forward, I plan on visiting the other three locations in Michigan, with hopes of coming to similar conclusions.
Risks to the Thesis
The company and more notably its franchise locations have been and are currently involved in a number of lawsuits. The majority of lawsuits filed in the past have been with people slipping on the floors, or claims against the company when an individual gets in a car accident. Lawsuits can be costly and the company may spend a significant amount of FCF and opportunity cost fighting these suits. Furthermore, if there is a bigger or more notable lawsuit in the future, FCF may become dampened leading to slower overall growth.
PACI also operates in a competitive industry with little to no barriers to entry (as seen from the sub-par margins). Increased competition may hinder top line growth and put pressure on margins. However, PACI has been in operations since the 70s, in which they have built a decent brand and customer loyalty. In my opinion, the undervaluation, strong management team and potential for decent growth, offset the sub-par margins and competitive industry.
Illiquidity and the sheer small size of PACI puts additional risk on investors. However, there are large all or nothing blocks of shares up for sale, which do provide liquidity for an investor looking to make a decent position in the company. Also, in my opinion, long-term investors should not worry about illiquidity and focus more on being right.
Altogether, management owns the majority of common stock. Activist investors may have trouble getting through to management that is if management starts allocating capital inefficiently. However, this may be mitigated for now due to a strong management team who seem very shareholder oriented.
Conclusion
PACI is an unfollowed and unknown micro-cap company with a very simple business model. At first glance, the company appears to be fairly valued. Yet when digging deeper, the valuation is skewed. In addition to the undervaluation, management is very shareholder friendly and recently came out of the dark, which will act as a catalyst. Finally, because the company has strong FCF generation, the topline has real potential to increase at a decent rate in the near and midterm. In my opinion, PACI is a great example of how microcap investors can generate alpha due to inefficiencies in this space.
Disclosure: I/we have no positions in any stocks mentioned, and no plans to initiate any positions within the next 72 hours.
I wrote this article myself, and it expresses my own opinions. I am not receiving compensation for it (other than from Seeking Alpha). I have no business relationship with any company whose stock is mentioned in this article.
Editor's Note: This article covers one or more stocks trading at less than $1 per share and/or with less than a $100 million market cap. Please be aware of the risks associated with these stocks.