For the December quarter Seagate (NASDAQ:STX) reported solid results of $2.986B in revenue and $0.82 in adjusted EPS vs. expectations for $2.942B and $0.71, respectively. The beat was mainly the result of increased sales of high capacity enterprise drives accompanied by significant operating expense reductions, partially offset by continued weakness in client and gaming drives. As a result of shutting in capacity and accelerated cost savings due to the full integration of Samsung's HDD business Seagate bought back in 2011, operating expenses were down 17% year-over-year. That adds up to a near-term beat. However, the long-term trend toward obsolesce continues. Strength in shares should continue to be sold by investors. Here are the reasons why:
Unit Shipments Continue their Steady Slide Lower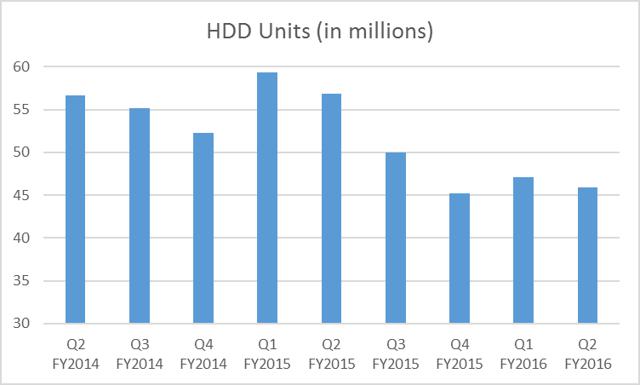 Source: earnings supplemental disclosures
This has principally been driven by a decline in the client computing business. PC Unit HDD shipments are down 10.7M over this period for Seagate. While global macro weakness and the strong dollar have contributed to some of the weakness in overall PC sales, the secular headwinds of increased mobile only computing and SSDs (particularly in notebook computers) will persist as NAND flash continues to fall in price. I expect unit shipments to continue to fall as NAND penetration into PCs continues unabated.
While the company will point to the growth in capacity per drive and overall exabytes shipped, I would argue that the company is losing incremental margin by selling less drives at higher capacity points. We have seen the margin drop in recent quarters, particularly as capacity per drive has ramped up. The company blames the drop on a temporary market share loss in near-line high capacity drives, but until we see gross margin return to the 27-32% target range enjoyed by both Western Digital and Seagate over the past several years, we won't know for sure. I suspect flash competition is eroding that margin profile as well, as storage OEMs such as Hewlett Packard Enterprise (NYSE:HPE), Pure Storage (NYSE:PSTG) and EMC (EMC) are touting price per gigabyte parody on all flash arrays for many applications (as a result of data compression).
The Company's non-HDD Revenue Base is Too Small to Offset Declines
Seagate breaks out its non-HDD revenue in its earnings supplement. Over the last 12 months, Seagate has generated ~$910M in revenue from these businesses, which include storage arrays, controller technology and flash products. This includes the newly acquired Dot Hill Systems (NASDAQ:HILL) storage array business that was annualizing at ~$250M in revenue prior to Seagate buying it in the December quarter. It is safe to assume the non-HDD business at Seagate is now annualizing at $1B+ in revenue. On the most recent earnings call, CEO Steve Luczo stated that this segment could grow double digits over the next few years. However, this revenue stream is dwarfed by the $11.2B in revenue from HDDs over the past 12 months. If HDD revenue continues to decline double digits annually, then double-digit revenue growth for a segment that only makes up 8 percent of total revenues is not going to stem the overall revenue decline. In addition, margins in this segment also are under pressure. The enterprise SSD market is crowded and becoming commoditized - similar to the client SSD market. With so many players, pricing is competitive and under pressure. Seagate also is at a pricing disadvantage having to source NAND from partners at a higher cost than it would if Seagate owned its own fabs.
The Company's Leverage Position is Eroding
For several years now Seagate has used its free cash flow and additional leverage to return cash to shareholders. The company's current dividend yield is a very attractive 8.3%, which costs $750M/year. Since the beginning of FY2012, Seagate has repurchased stock totaling $8.1B, which is nearly all of the company's current market cap. This has reduced the share count from 419.5M to 296.4M over the same period. Nearly all repurchases over the last three years were at prices significantly higher than today's price. The green line is the number of shares repurchased (in millions) for that quarterly period.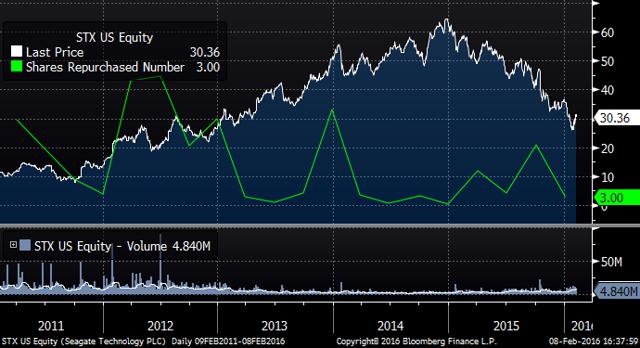 The problem going forward is that absent a significant turnaround in the HDD business, the company is unlikely to generate significant free- cash flow in excess of the dividend cost ($188M/quarter) to continue to repurchase sizable amounts of stock. The company has run its cash balance down to $1.26B as of December 31, thanks in part to the $630M cash purchase of Dot Hill. The CFO has previously stated that the company wants to keep a minimum of $1B in cash to run its business, so the current balance cannot be drawn down much more to buy back stock. The company already has a net debt position of $2.9B. With the deterioration in its business, the company should not want to take on additional debt, nor should the markets allow it to. So the company is handcuffed at this point from taking out any large chunks of shares.
I did find the CEO's $6M stock purchase somewhat surprising last week. When is the last time you saw a CEO in Silicon Valley buy stock in the open market? Right, never. It never happens…ok maybe not never, but it is exceedingly rare. Shares are always given out for free! Some investors took the open market purchase as a good sign, but I view it as a bad sign. I believe it was an attempt to prop up the stock because the company no longer has the financial flexibility to do it through large stock repurchases. The CEO has been awarded many millions of shares over the years as part of his compensation and has sold well over $100M in stock over the past several years alone. In 2012 alone he sold 3.2M shares for likely proceeds of $80M. He subsequently sold more shares at much higher prices in 2014. I don't believe his recent purchases are that meaningful for him. Given the company's current financial state, I view the open market purchase as an attempt to prop up shares. It is a negative in my view.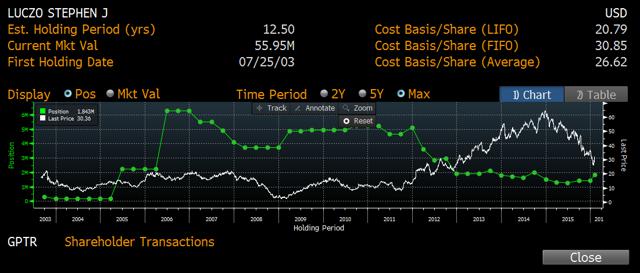 Topline Burn Continues at an Alarming Rate
Despite the topline beat in the December quarter, the topline continues to erode at a rapid rate. The revenue beat in the December quarter still saw revenues decline 19 percent year-over-year. Guidance for the March quarter came in well below consensus estimates at $2.7B. This would be another 18.7% decline year-over-year. Yet somehow the stock rallied hard on this news? I'm not sure why. The secular headwinds will continue. With 55% of unit shipments going into the client compute space, which is seeing HDD shipments declining at a rate of 29% year-over-year (due to declining PC says as well as NAND flash penetration), I fail to see how Seagate can stem the revenue declines anytime soon. Costs need to continue to come down to maintain margins. Even if Seagate is successful in maintaining margins, the absolute dollars of free cash flow will continue to shrink, putting pressure on the debt/EBITDA ratio and capital returns.
Advancements in Flash Technology Continues Unabated
Intel and Micron are developing what they term "a breakthrough in on-volatile memory technology." Samsung is pushing full steam ahead with its own 3D NAND, as is SanDisk (SNDK), SK Hynix and Toshiba. All these breakthroughs and competitors will only serve to lower the cost of NAND - not to mention the performance improvements over mechanical spinning disks. This is a long-term secular headwind that will eventually run over Seagate. This is exactly why Western Digital made the only move it could to ensure long-term survivability - it bought the only flash players really available for purchase: SanDisk. SanDisk, with its Toshiba alliance, is broadly considered to be behind from a technological view with its 3D NAND offerings. But Western Digital really did not have a choice. It had to make a move and made the only one it really could. Only time will tell if this was a good move. Western Digital is taking on a lot of debt to finance the transaction.
Conclusions
To sum up, Seagate is on a path to obsolesce. There may be glimmers of hope along the way, but the stock should be sold on any rally. If the dollar weakens significantly vs. other major currencies, I can see that being good for PC sales as most of the components and operating system are priced in dollars. However, flash penetration will continue in the client space, particularly in laptops as the performance benefits are very meaningful. Eventually flash will come for enterprise near-line applications. It's already penetrating mission critical applications. HDDs will be left with just the budget (surveillance, DVRs, gaming systems, etc.) and cold storage applications. That won't be enough to support the current capital structure at Seagate.
The balance sheet is concerning. The company will have a higher cost of capital when it needs to refinance that $800M tranche in 2018. Its bonds in the 8-12 year maturity range now trade between 70 and 80 cents on the dollar according to TRAC.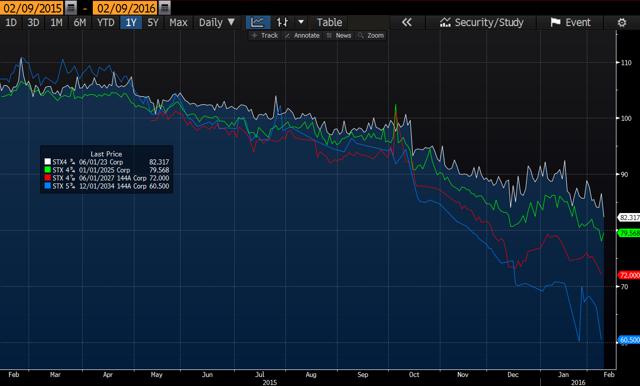 With $4.1B in debt, $1.2B in cash, a dividend that costs $750M a year and free cash flow that could fall to $1.0-$1.2B in FY2016 (vs. $1.9B in FY2015), investors should be concerned. While I don't think this is the last call for HDDs, I do believe they will get run over by flash or some other technology not yet developed in the medium- to long-term. Unfortunately, the company is on the wrong side of history, and there is little it can do to save itself. I'd recommend selling or reducing exposure on any strength.
Disclosure: I/we have no positions in any stocks mentioned, and no plans to initiate any positions within the next 72 hours.
I wrote this article myself, and it expresses my own opinions. I am not receiving compensation for it (other than from Seeking Alpha). I have no business relationship with any company whose stock is mentioned in this article.