Buffalo Wild Wings (NASDAQ: BWLD) is a restaurant brand we are all becoming familiar with. It markets tons of commercials on multiple different networks, but as you may have guessed they strategically advertise around sporting events. There is currently a restaurant count of 1,111, which can mostly be found in the U.S., but the company has expanded into Canada, Mexico, and the Philippines in recent years. Other than buying in on the Buffalo Wild Wings franchise, people can also look to invest in its shares of common stock. In honor of football season officially ending, I figured it would be interesting to see how much of its business correlates with America's up-and-coming favorite sport. This article will first show the performance of Buffalo Wild Wings compared to the S&P 500 index. From this comparison, I will then evaluate Buffalo Wild Wings' financials compared to other companies in the restaurant industry. After looking at these trends and reports, I will evaluate a short-term investment in Buffalo Wild Wings.
BWLD vs. S&P 500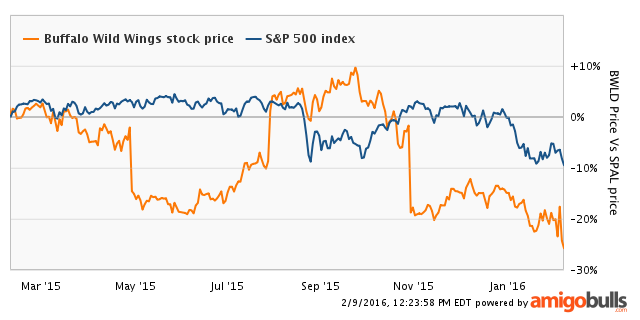 The above graph depicts the stock price of Buffalo Wild Wings compared to the S&P 500 index. When evaluating a company to invest in, it would be favorable to invest in a company that is performing better than its surrounding market (i.e., above the BLUE line). This graph displays that it has performed under the index. For those that bought in shares of Buffalo Wild Wings last year at this time, this graph tells us that the value in each share has gone down by over 25%. When comparing that to the performance of the market, potential investors can see that the index is down about 10%. When looking into how the company has been performing recently compared to the index, investors can still find Buffalo Wild Wings is underperforming compared to the S&P. Although historical, any potential investor should be made aware that shares of Buffalo Wild Wings have not performed even close to par with its surrounding market.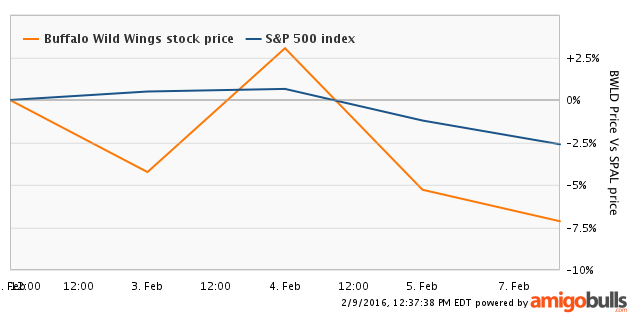 BWLD PE vs. Competitors' PE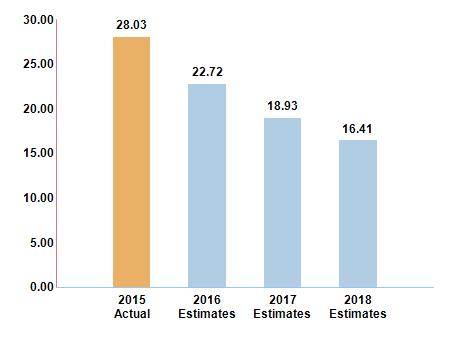 The price-to-earnings ratio is a highly used method to evaluate stocks. The above graph displays Buffalo Wild Wings current P/E ratio from 2015 as well as the forecasts for the next 3 years. Each year, the P/E ratio is set to decrease, which is a great trend for potential investors to look at. This tells them that in the future, investors are expected to be paying less for an extra dollar in earnings. By 2018, shareholders are expected to be paying about 40% less than they are today. Although healthy when looking at just solely Buffalo Wild Wings, the graph below shows the P/E ratios of other companies in the restaurant industry in comparison with Buffalo Wild Wings: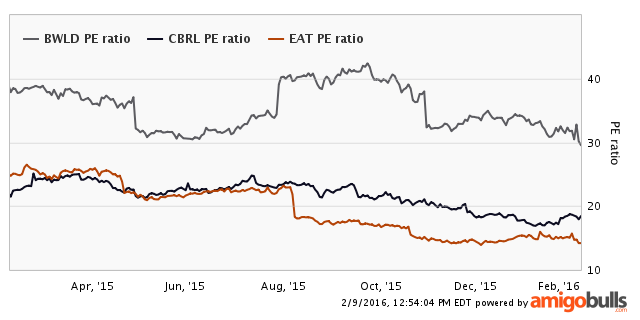 As you can see, Buffalo Wild Wings has performed inconsistently compared to similar companies. There are a lot of ups and downs associated with the P/E of Buffalo Wild Wings, which is not favorable. When comparing the P/E ratios of Buffalo Wild Wings, Cracker Barrel (NASDAQ: CRBL), and Brinker International (NYSE:EAT) (it owns Chili's), you can see that Buffalo Wild Wings has an unfavorable trend in consistency. Although it has demonstrated decent P/E ratios in 2015 and decreasing forecasts for the future, investors can find that other restaurants are performing much better and consistent than Buffalo Wild Wings in terms of price-to-earnings.
Net Profit
It is very cliché, but chicken wings have become a major commodity in the American sports world. My original thoughts were that football season (Fall-Winter) sells the most chicken wings for restaurants, especially a sports bar like Buffalo Wild Wings. The CEO of Buffalo Wild Wings even came out and said that Super Bowl 50 would sell 12 million wings for the company. A smaller chicken wing restaurant, Wingstop Inc. (NASDAQ: WING), predicted about 10 million to be sold for the football lovers' holiday. The quarterly net income of Buffalo Wild Wings is shown below in comparison to Wingstop:
Buffalo Wild Wings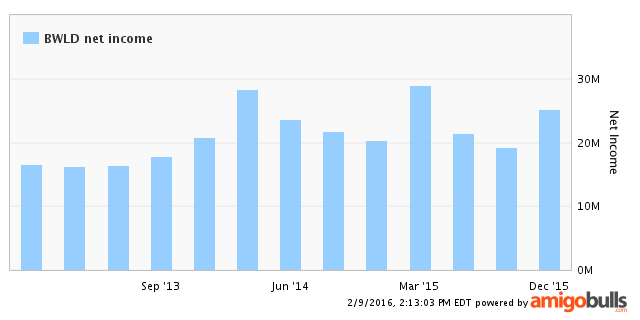 Wingstop Inc.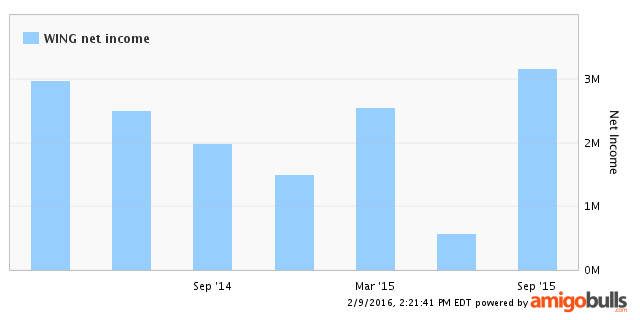 For starters, Buffalo Wild Wings runs a much bigger sports bar operation than the young and up-and-coming Wingstop. After researching both companies' marketing techniques, I discovered that Wingstop recently hired Troy Aikman for its spokesperson. For those that do not know, Troy Aikman was the starting quarterback for the Dallas Cowboys and won a couple Super Bowls with that organization. You can see that marketing techniques like these have paid off well for Wingstop, clearing over $3 million in Q3-2015 which happens to contain the start of the regular season for the National Football League. On the contrary, I actually discovered that Buffalo Wild Wings does not account for the NFL season for a bulk of their net income. I discovered that Buffalo Wild Wings only subtly advertises during football season, and then focuses most of its marketing tactics and funds for the NCAA March Madness Basketball Tournament. You can see its promotions have paid off in Q1 of 2014 and 2015. This quarter happens to contain a huge portion of the collegiate basketball season as well as the month of March when the tournament takes place.
CONCLUSION
When considering the trend mentioned above, potential investors can find earnings per share following it as well: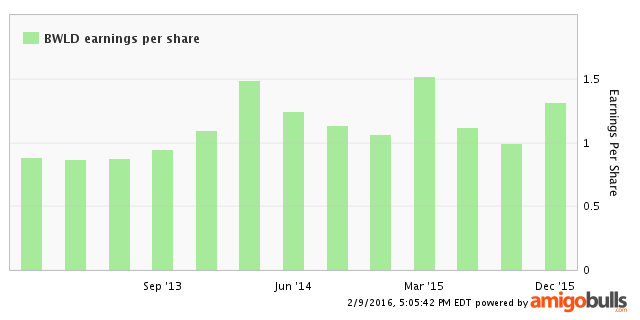 The quarters containing the month of March historically have performed very well for shares of Buffalo Wild Wings. I would suggest investing in shares of Buffalo Wild Wings despite the company's underperformance and its high P/E ratio compared to more seasoned restaurants. When considering a long-term investment, looking at trends and forecasts like how it correlates with the S&P 500 are very important because they signify growth and sustainability. However, since I am evaluating Buffalo Wild Wings for the short term, I say pick it up and watch it grow this quarter. March is almost here, and it will be interesting to see if Buffalo Wild Wings' marketing tactics continue to drive this March Madness trend I have discovered.
Disclosure: I/we have no positions in any stocks mentioned, and no plans to initiate any positions within the next 72 hours.
I wrote this article myself, and it expresses my own opinions. I am not receiving compensation for it (other than from Seeking Alpha). I have no business relationship with any company whose stock is mentioned in this article.