Yesterday, on February 09, 2016, Agnico Eagles Mine Limited (NYSE:AEM) closed at $33.10 per share from $33.91 per share of the day before, -0.80 (-2.36%), with 4,449,983 shares traded.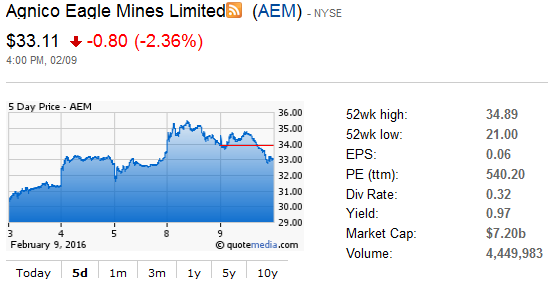 The loss anticipates AEM's earnings report after close today.
Analysts expect EPS being between $0.09 (High) and $-0.13 (Low) or between +12.50 % (+ $0.01 ) and -262.5% (-$0.21), from last year's $0.08 per share.
"TORONTO, Feb. 11, 2015 /PRNewswire/ - Agnico Eagle Mines Limited (NYSE:AEM, TSX:AEM) ("Agnico Eagle" or the "Company") today reported a quarterly net loss of $21.3 million, or a net loss of $0.10 per share for the fourth quarter of 2014. This result includes a non-cash foreign currency translation loss on deferred tax liabilities of $20.3 million ($0.10 per share), various mark-to-market adjustment losses of $5.0 million ($0.02 per share), unrealized losses on financial instruments of $7.7 million ($0.04 per share), non-cash foreign currency translation losses of $7.0 million ($0.03 per share), non-cash stock option expense of $3.5 million ($0.02 per share) and non-recurring gains of $5.6 million ($0.03). Excluding these items would result in adjusted net income of $16.6 million ($0.08 per share) for the fourth quarter of 2014. In the fourth quarter of 2013, the Company reported a net loss of $780.3 million or a net loss of $4.49 per share, which included a $1.0 billion impairment loss." (here).
Analysts' EPS average estimate is $0.00 or -100% (-$0.08) from last year's $0.08 per share.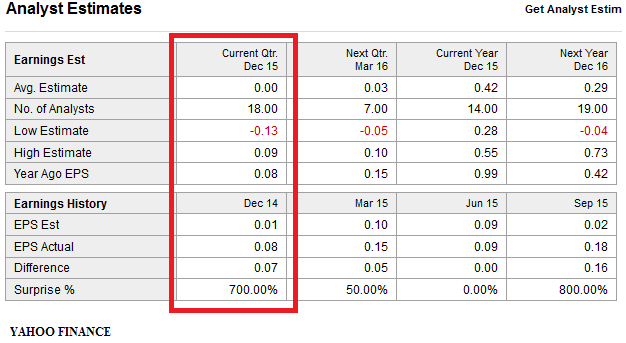 The company has 217.41 shares outstanding.
AEM's profit will range between $19.57M and -$28.26 if the EPS becomes reality.
After $0.18 actual earnings per share reported by Agnico Eagle Mines Ltd for the previous quarter, analysts now forecast -100.00 % negative growth for the current quarter and -80.00% for the next quarter.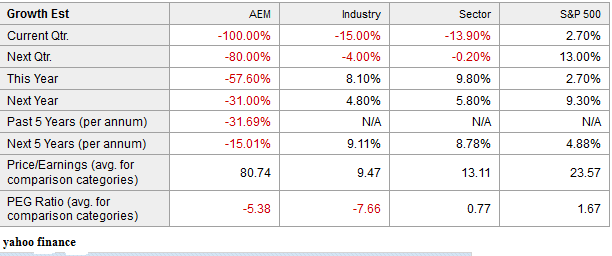 The stock increased with 12.46% or $3.65 on February 9 (from Feb. 04, 2016), share price $33.11.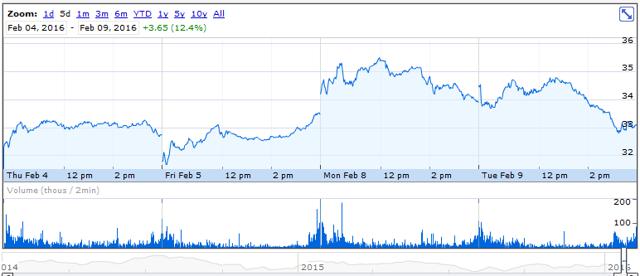 Google Finance.
Agnico Eagle Mines Ltd has risen 49.89% since August 10, 2015 and is uptrending. The S&P500 fell by 10.84% over the same period (last 6 months).

Senior management of the company will host a conference call on Thursday, February 11, 2016 at 11:00 AM (E.D.T.) to discuss the company's financial and operating results.(already quoted).
Agnico Eagle Mines Ltd is a Canada-based gold producer. The Company has mining operations in northwestern Quebec, northern Mexico, northern Finland and Nunavut, and exploration activities in Canada, Europe, Latin America and the United States. It operates through three business units: Northern Business, Southern Business and Exploration. Its Northern Business consists of the operations in Canada and Finland, which include the LaRonde mine, the Lapa mine, the Goldex mine, the Meadowbank mine and the Meliadine project. Its Southern Business consists of the Company's operations in Mexico. The Company's mining at Pinos Altos is conducted through its subsidiary, Agnico Eagle Mexico S.A. de C.V., which owns the Pinos Altos mine, including the Creston Mascota deposit. Its Exploration group focuses on the identification of new mineral reserves and resources, and new developments in stable and proven gold producing regions.
My point of view:
Waiting for Q4, 2015 and full year 2015 results, the company recorded an increase in the operating margin and revenues from mining operations from Q3, 2014 to Q3, 2015. This was mainly due to an increase in gold production and a decrease in production costs (here).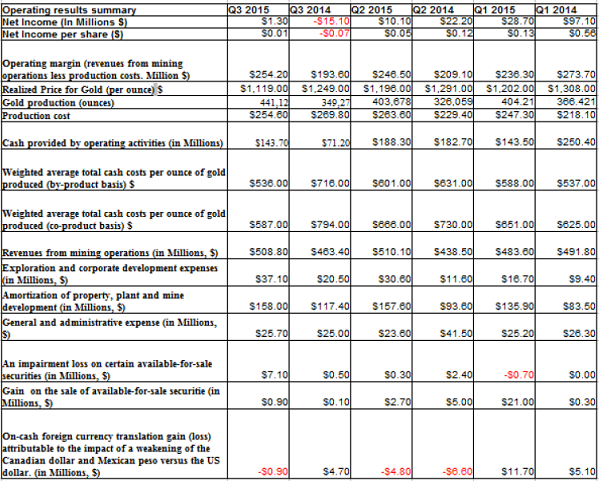 I estimate through a two-factor model, betas coefficients which measure the stock market and gold prices (COMEX) explanatory power to returns.
Gold price (COMEX) is statistically significant and has an explanatory power to the gold stock's returns over each period observed (already quoted).
Although analysts' estimate on growth are negatives, Agnico Eagle should continue to grow profitably even if gold prices stay near the recent levels (read also my last four articles where I give some insight on the gold price).
Disclosure: I/we have no positions in any stocks mentioned, and no plans to initiate any positions within the next 72 hours.
I wrote this article myself, and it expresses my own opinions. I am not receiving compensation for it (other than from Seeking Alpha). I have no business relationship with any company whose stock is mentioned in this article.