On Tuesday morning, Spirit Airlines (NASDAQ:SAVE) reported its Q4 and FY 2015 results, which showed a meaningful jump in EPS and strong momentum on a number of other metrics. Shares of the company rallied as investors welcomed the results; however, Spirit Airlines has seen its shares fall by 44.9% over the past year as a result of increased competition in the North American airline space as well as concerns that the company would have trouble to maintain its strong margins. Spirit Airlines offers its fares at the bottom of the market in an effort to attract cost-conscious consumers and has a much lower cost structure than the legacy airlines, which helps it to offer a value proposition to its customers.
With massive plans to grow its fleet and operating base, Spirit Airlines still plans to keep strong cost competitiveness, which will help it quickly grab market share from the legacy airlines as they are undercut. Spirit Airlines also released some positive guidance that calls for 20% YoY average seat mile or ASM growth in addition to a sizable drop in fuel costs per gallon in Q1.
Additionally, Spirit Airlines holds over $800 million in cash and cash equivalents on its balance sheet, which is meaningful relative to its $2.9 billion market capitalization. The company bought back roughly $99 million in stock last year and currently has a $100 million authorization to buy back more of its own stock.
Despite a number of positive trends at Spirit Airlines, investors remain concerned about the further competition that greater scale will bring and whether the company will be able to keep such a lean cost structure amidst such aggressive growth. The next few quarters are critical for Spirit Airlines, but if the company's guidance and recent financial results are any indication, shareholders should be pleased by the company's performance.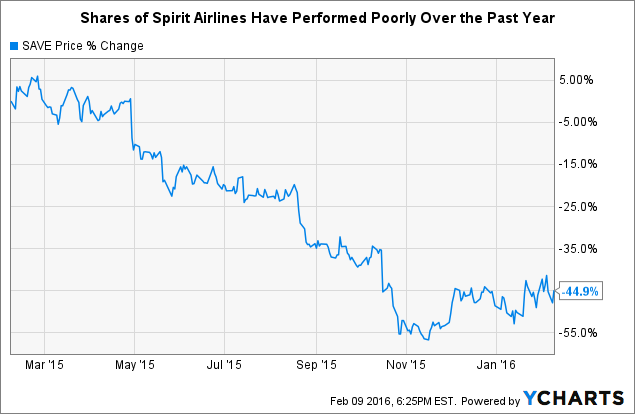 SAVE data by YCharts
Examining Spirit Airlines' Q4 Results
While a major drop in fuel prices has supported the bottom line results of most airlines in the past few quarters, Spirit Airlines has passed on some of these savings to consumers as its ticket prices have come down somewhat substantially. Spirit Airlines is known for making a large portion of its revenue from non-ticket extras such as checked baggage or printed boarding passes and these revenues have remained somewhat constant on a relative basis.
However, Q4 ticket revenue per passenger flight segment has fallen by 21.4% YoY and has contributed to a 12.6% YoY drop-off in passenger revenue per flight segment. Nevertheless, over cost consciousness and a significant 37.9% Q4 YoY drop in economic fuel cost per gallon has helped the firm expand its margins.
In 2015, Spirit Airlines earned $4.38 per diluted share, which represents 42.2% growth from 2014 and also puts the firm at an attractive 9.76x TTM earnings. Especially considering the growth prospects for Spirit Airlines, the company could be an attractive value as it continues to focus heavily on cost competitiveness.
Spirit Airlines' Fleet Expansion Plan
It's no secret that Spirit Airlines is planning a massive expansion plan for the coming years and its aircraft deliveries over the next few quarters exemplify this. The company is in a good position to take market share from its competitors as its cost structure permits it to do just that. Spirit Airlines runs a fleet of Airbus (OTCPK:EADSY) aircraft and had 79 aircraft as of the end of 2015. The firm expects net fleet growth of 14 aircraft this year and 12 in 2017 as it moves towards its plan of having a fleet of 145 aircraft by the end of 2021. This plan is exhibited in the chart below and is a key part of the firm's plan to grow while maintaining a low cost structure.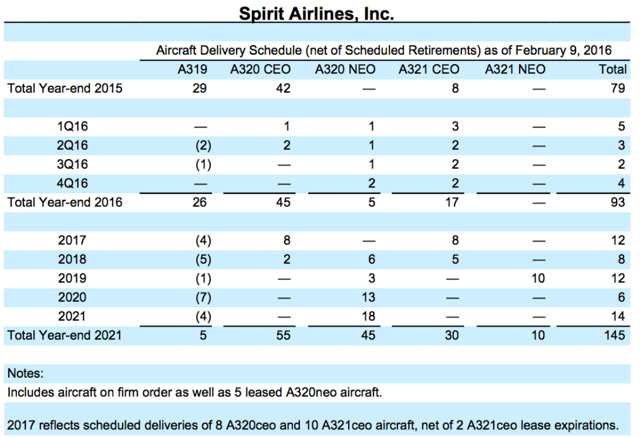 Source: Spirit Airlines Investor Update 2/9/16
Spirit Airlines and the Future
Of course, the road for shares of Spirit Airlines has been rough over the past few quarters as a result of competition concerns and the uncertainty that its aggressive growth plan has brought. Nevertheless, Spirit Airlines maintains healthy fundamentals including a heavy cash load and attractive valuation. The fleet expansion and capacity growth will be key for the company's future and it will be interesting to watch the margin development of Spirit Airlines' business.
If the company is able to effectively grow its capacity without meaningfully sacrificing margins, its shares should outperform as many are assuming this will bring trouble for the firm. Investors with a long-term time horizon and those willing to wait for Spirit Airlines to execute its growth plan could be rewarded handsomely as the firm grows its market share and probability over the next few years.
Disclosure: I/we have no positions in any stocks mentioned, and no plans to initiate any positions within the next 72 hours.
I wrote this article myself, and it expresses my own opinions. I am not receiving compensation for it (other than from Seeking Alpha). I have no business relationship with any company whose stock is mentioned in this article.