Well, lots has happened since my January update. Some things were expected, others weren't. So let's take a look.
January 21, 2016
Consolidated Edison (NYSE:ED) declared its dividend, raising it 3.1% to $0.67 per share.
February 1, 2016
Verizon (NYSE:VZ) paid $452.00 in dividends that were reinvested in 9.0274 shares, increasing my annual income by $20.40.
February 8, 2016, My Lucky Move!
Last week, I transferred the remaining funds in my 401(k) to my rollover IRA and they cleared this week. That was a darn lucky move. As the market collapsed, I realized it was time to start collecting some of the equities I had been planning to buy.
So about midday, with things look about as bad as could be, I started placing orders.
General Mills

This is a 60% position in General Mills (NYSE:GIS). A 12-year Dividend Contender with a 3.21% yield on my cost. General Mills is also a something of a sentimental pick. Box Tops For Education is probably one of the most familiar "collecting" charities to anyone with elementary school children. In addition, as long-time Minneapolis residents, we were very aware of the company's local charitable efforts, particularly in the public schools.
Although GIS has only monthly options that are fairly thinly traded for a company this size, I had no trouble getting filled. With a delta of only 0.360, the March $57.50 calls would seem to be in little danger of exercise. The premium yield at 1.25% for 39 days appeared to be a solid return that would jump to 5.5% if I were to allow the calls to be exercised in March.
Procter & Gamble

This is a 75% position in Procter & Gamble (NYSE:PG). This 59-year Dividend Aristocrat is in the process of re-focusing on core brands and reducing costs, a process that has introduced some volatility in the stock price. Yield on my cost is about 3.26%. The premium yield for 11 days is 0.64% - a very reasonable amount. If called profit would be about 2.23%, again, a welcome yield for so short a period.
General Motors

This represents a 50% position in General Motors (NYSE:GM). OK, this just might have been reaching for yield. But the sector is beaten down just as its commodity inputs (steel, copper, aluminum, oil in various forms) have been completely hammered. I chose the March 4 expiration because of the ex-dividend date arriving the following Wednesday. Premium yield is 2.25%, return if exercised is 6.49%. As I write this on Wednesday, February 10, the option delta is still only 0.335.
February 9, 2016, Oh Dear!
HCP (NYSE:HCP) announced earnings and presented its conference call. Not to put too fine a point on it, but the market reacted badly. The stock had been drifting down after the unexpectedly small dividend increase and dropped about another buck on Monday. Then, the bottom fell out as the market tried to digest the information provided on the HCR Manor Care situation.
More Procter & Gamble

I made this trade as it seemed we'd get a bounce from the market. Nope. It's not bad, but I could have done better with more patience. This small trade filled out my Procter & Gamble position. Unfortunately, it was at a slightly higher cost.
And More General Mills

General Mills comes to a full position with this trade at the same net cost as yesterday's trade.
Last But Not Least: Exxon Mobil

As the market turned south, I started to consider oil exposure. I had thought long and hard about any exposure at all. I finally gritted my teeth and went with #1 Exxon Mobil (NYSE:XOM). This trade provided an option premium of 1.43% for just 10 days exposure, and 2.8% if assigned. As I write, the delta has ticked up to .460, so this one will bear watching next week.
Incidentally, that long and hard thinking caused me to miss the fact that XOM went ex-div on Tuesday. Had I included it in my Monday trades, I would have also snagged the $0.73 dividend on March 10.
And Another Bite of General Motors

With the market coming off the bottom, I finished the day by filling out the GM position for $0.20 less a share versus Monday's trade.
It's A Wrap!
At this point, my IRA portfolio is complete.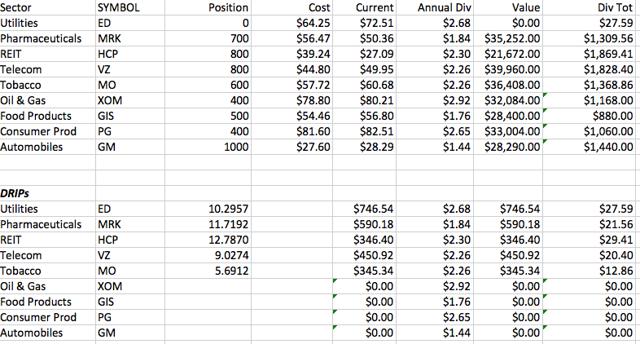 Note: Prices are mid-morning February 10.
Overall, I'm very happy with this portfolio. Obviously, HCP is an issue, but as long as it keeps paying that dividend, I have no problem holding. I'm pretty confident in management, and I feel it showed admirable transparency in the February 9 earnings call. No doubt there will be loads of additional commentary here on Seeking Alpha. Brad Thomas already has a very good analysis published: Is HCP's Dividend Aristocrat Record At Risk.
How Things Stand
Currently, the portfolio generates $10,951.83 in annual dividends, an amount that will increase another $1,300 when I eventually re-enter Consolidated Edison (in the mean time, I am writing CSEPs at $65 to "replace" the missing dividends). That works out to about a 4.25% yield and a portfolio beta of about 0.54. Cash is at $19,775 with another $32,500, securing my ED puts.
From now until the income is needed, all positions are set to DRIP, and option premium will go into the cash pool until it reaches $70,000 (about two years' basic expenses). I expect to need about half of the option premium after I retire later this year. That amount will vary on a month-to-month basis of course, and I estimate it will take about 18 months to hit my $70,000 cash target.
That's it for now! The next update will be after HCP pays its dividend on the 23rd. At that point, I'll start to get a grip on just how much option premium this portfolio can generate, though it's full strength won't be documented until after April's expiration when those HCP calls will expire.
As always questions and comments are welcome.
Disclosure: I am/we are long HCP, XOM, GIS, PG, GM.
I wrote this article myself, and it expresses my own opinions. I am not receiving compensation for it (other than from Seeking Alpha). I have no business relationship with any company whose stock is mentioned in this article.