Southwest Airlines Co. (NYSE:LUV) operates a major passenger airline that provides air transportation in the United States and nearby international markets. For the 43rd consecutive year, LUV was profitable. The company serves 97 destinations in 40 states, and seven countries including Mexico, Jamaica, The Bahamas, Aruba, Dominican Republic, Costa Rica, and Belize. As of December 31, 2015 the company operated a total of 704 Boeing 737 aircraft per the 10-K released on February 3, 2016.
Airline Industry Summary:
According to S&P Capital IQ industry survey as of December 2015, over the past 10 years the airline industry has made a transition from "market share at all costs" to one based on obtaining and preserving profitability. This makes sense, as there have been a large number of consolidations in the airline industry.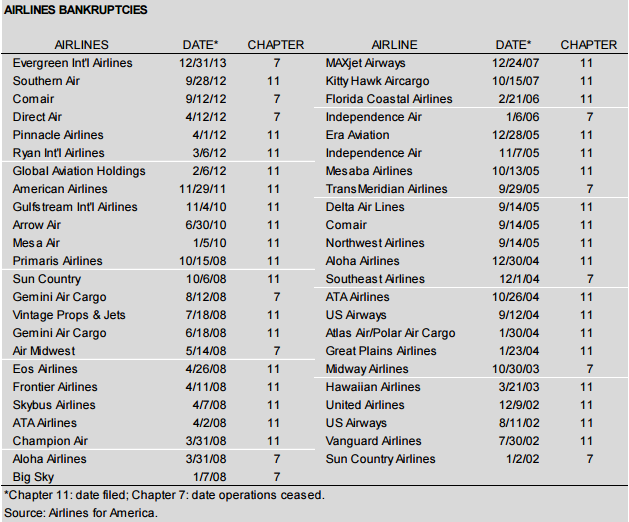 This industry shift to a focus on sustainable profitability will reward shareholders and reduce future consolidations in the industry as the focus is on efficient use of capital.
Passenger load factor (PLF), a standard measure of how full flights are, is at record-high levels, based on increased passenger demand as the US economy continue to recover.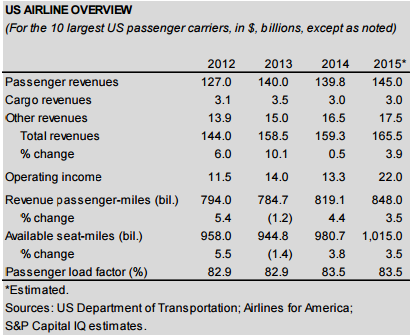 Revenues have grown at a give-year compound annual growth rate (CAGR) of 11.4% from 2010 - 2014. The first nine months of 2015 saw revenue growth of 19% in revenue per share.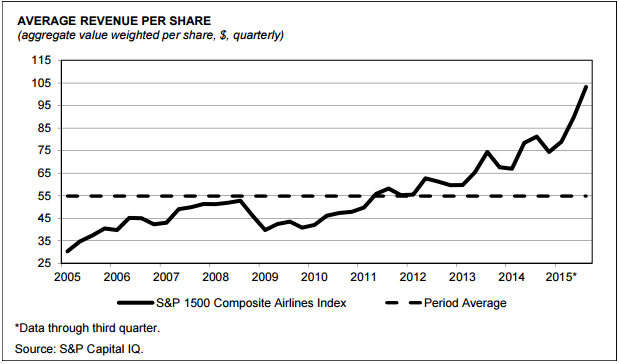 Companies have carried this top line growth through to the bottom-line by focusing on efficiency and also the introduction of additional fees such as baggage fees and transfer fees. While the industry as a whole has introduced many fees, Southwest airlines has not followed the industry standard and in fact offers no fees to changing reservations and up to two free checked bags (will discuss in further detail below).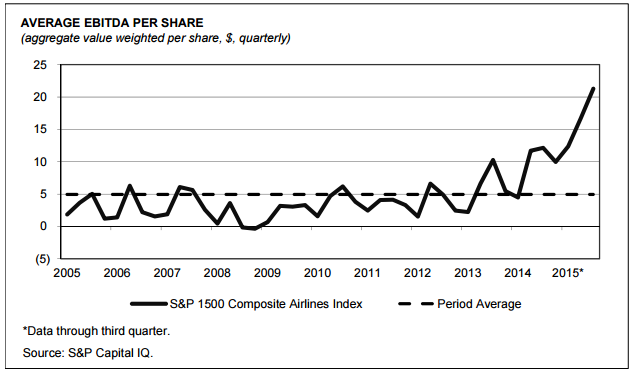 From a valuation perspective, the industry EV/EBITDA is below its five-year average and has continued room for expansion based on strong customer demand, lower fuel-costs, and the expectation that these trends will continue in the intermediate term.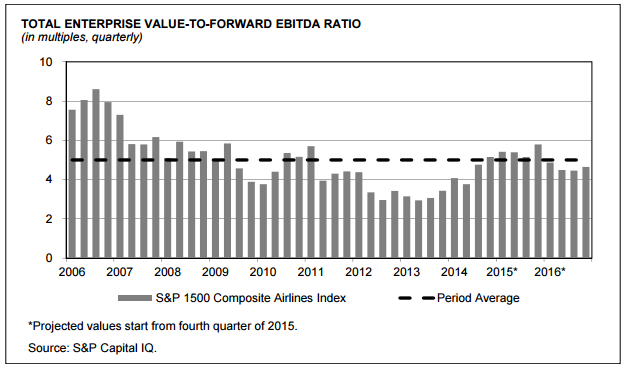 Unique Competitive Advantages of Southwest:
As of June 30, 2015 - LUV was the largest domestic air carrier in the US based on number of domestic originating passengers boarded. Southwest is a preferred carrier for many US customers with low fares and a no strings attached marketing model of no hidden fees. The current market share provided by US Bureau of Transportation Statistics as of August 2015 is based on revenue passenger miles.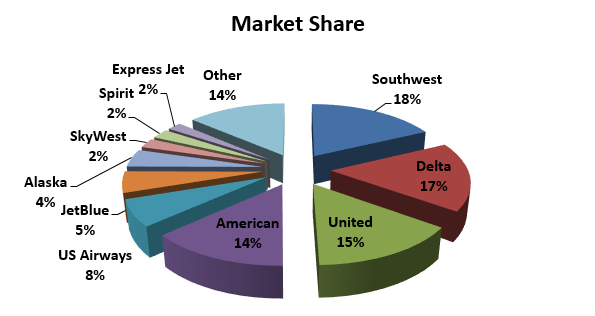 Competitive Cost Structure:
An advantage of Southwest airlines is the low-cost operating structure which is designed to charge profitable but low fares. The company has lower unit costs, on average, then most major US carriers. The company also uses a single aircraft type, the Boeing 737, an operationally efficient point-to-point route structure which serves secondary airports that are less congested to increase asset utilization and drives highly productive employees (based on headcount per aircraft).
A simple fare structure which is based on three main categories:
1) Want to Get Away - lowest fares with advanced purchase restrictions, nonrefundable but under the no show policy cancellations 10 minutes prior to takeoff allows for a credit to be used on a future ticket.
2) Anytime - refundable and changeable fares.
3) Business Select - refundable and changeable, additional perks like priority boarding, one complementary adult beverage.
Southwest was the first carrier to offer gate to gate Wi-Fi on a Wi-Fi enabled airplane (80% current fleet with Wi-Fi). Also, the rapid rewards frequent flyer program enables members to earn points for every dollar spent on Southwest fares. Without going into too much detail, there is a multiplier based on the fare you select and you get twice as many points on "Business Select" versus "Want to Get Away" fares. If interested you can visit their page to learn more.
Similarly to Wi-Fi, Southwest is a tough competitor as it finds unique ways to capture market share from competitors while also being a very lean company. The marketing efforts of "Bags Fly Free" have been successful at luring customers at a time when it is more profitable for the airliner to fly lots of customers.
Looking at fuel-costs as a percentage of operating expenses this healthy downward trend is expected to continue based on the industry outlook and also the markets expectation for near to intermediate term cheap oil price.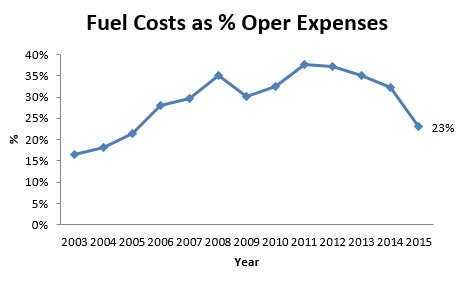 Completing a discounted-cash-flow model for the company I came to a fair value price of $45 per share which implies a 23% margin of safety. Key inputs were a 9% revenue growth rate for the next 5 years, a terminal growth rate of 5%, and a discount rate of 10%.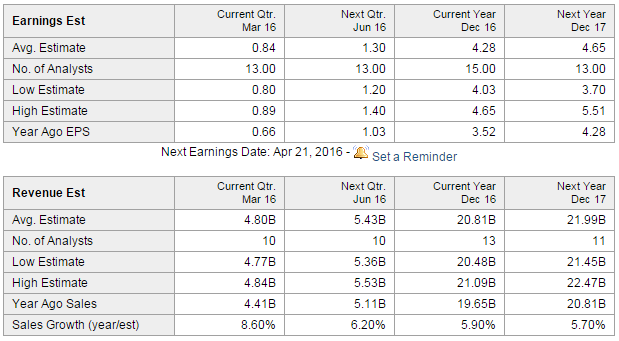 Earnings and sales growth in the near term look healthy and the company will be reporting earnings on April 21st, 2016. Analyst mean recommendations are overweight with 12 Buys, 1 Overweight, 3 Holds, and 1 Sell. Also, the average target price is $53 (34% implied margin of safety), above my fair value estimate.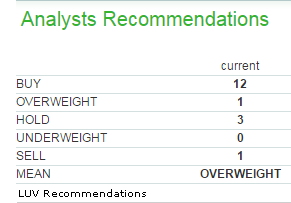 RISKS:
The airline industry has been a volatile industry due to several challenges including energy prices, labor costs, heavy capital investing required, intense regulations, heavy taxes, and highly competitive market conditions. Other events including terrorism fears, diseases, and implement weather, can hinder profitability.
Compared to historical risks, I view the controllable risk of airlines less risky due to executive teams focusing on more lean and sustainable profits after hopefully learning from lessons from the consolidations and bankruptcies in the not so distant past. Now that this industry has consolidated a bit, I believe there are years of profitable growth for the remaining airliners, and Southwest is positioned well to maintain high traffic levels based on meeting the customer demands well. In fact, recent reports of January traffic provided by Southwest Airlines showed that the month of January had an 11% increases on a year-over-year basis of revenue passenger miles.
Disclosure: I/we have no positions in any stocks mentioned, but may initiate a long position in LUV over the next 72 hours.
I wrote this article myself, and it expresses my own opinions. I am not receiving compensation for it (other than from Seeking Alpha). I have no business relationship with any company whose stock is mentioned in this article.