This is an article about a specific type of business we like, commonly referred to as "Compounders". For an introduction on these type of businesses, please refer to our previous article titled "Compounders: The Allure of Beautiful Share Prices".
Who Is TransDigm Group (NYSE:TDG)?
TransDigm is a leading manufacturer of key components for commercial and military aircrafts. Per its corporate profile:
"Our parts are designed into and sold as original aircraft equipment, and we generate recurring aftermarket revenue over the lives of the aircraft, which average about 30 years. Approximately 55% of our revenues are generated from aftermarket sales, and more than 90% of our sales are of proprietary products for which we own the design. In addition, approximately 75% of our sales are from products for which we are the sole source supplier. We provide components for a large, diverse installed base of aircraft and are not overly dependent on any single airframe."

Our business strategy is made up of two key elements. The first is a value-driven operating strategy focused on obtaining profitable new business, improving our cost structure and providing highly engineered value-added products to customers. The second element is an acquisition strategy focused on proprietary component businesses and related products and services. The successful execution of this business strategy has enabled us to deliver consistent financial performance through all phases of the market cycle of the aerospace industry."
This is a firm operating in a niche market with high barriers to entry and strong pricing power. Its CEO, Nick Howley has been at his post since 2005, and is one of the original founders of the company in 1992. His track record as CEO is impeccable: despite three recessions he has grown the company at a steadfast rate via a combination of strong organic growth and a well-executed acquisition strategy.
Howley is a shrewd capital allocator, and frequently reiterates his four levers for the company: a) reinvesting in current businesses, b) making accretive acquisitions, c) paying down debt, or d) returning cash to shareholders. He has been concentrating on b) of late, particularly the recent acquisition of rival manufacturer Breeze Eastern, which is set to further cement its market position.
For the past 10 years through end of Jan '16, TransDigm's solid execution is reflected in its share price, which has risen over 700%: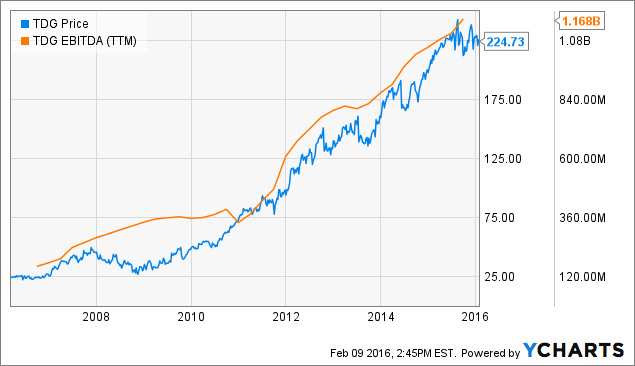 TDG data by YCharts
This staggering growth has translated to ~30% p.a. annualized total returns since 2006; and on a rolling 3-year basis, no less than 25% annualized most of the time: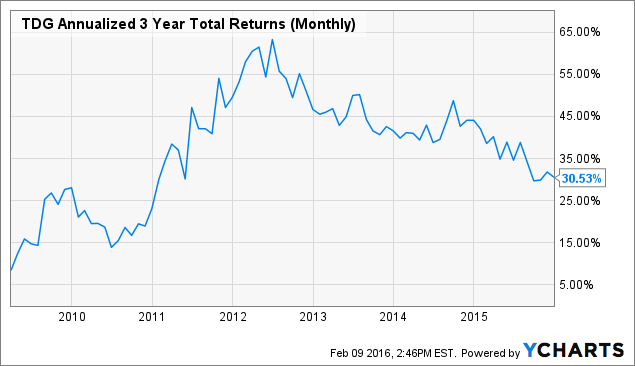 TDG Annualized 3 Year Total Returns (Monthly) data by YCharts
Its profitability has also been robust and consistent: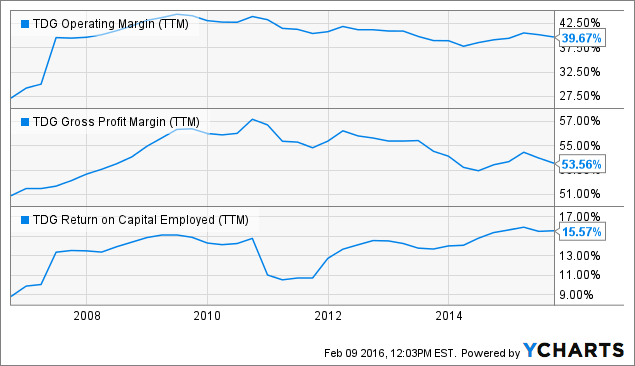 TDG Operating Margin (TTM) data by YCharts
Another unique feature of this firm is its executive compensation. There is a is heavy tilt towards performance-based options and is therefore contingent on TDG's share price performance. Howley currently holds 26,735 in stock shares and 236,700 in options. This was valued at $56m as of yesterday's close.
This May Be The Window of Opportunity
Despite the strong historical performance, shares in TDG has struggled year-to-date, down -18% through Feb 9. This is largely due to investors' nervousness about the continued health of the aerospace industry, after Boeing's latest results.
Most of the damage came after earnings on Feb 9 after it missed analyst estimates, despite the company increasing revenues 20% compared to the prior year quarter and upping fiscal 2016 guidance.
As per Seeking Alpha:
Missed Q1 EPS by 5c
Sales grew 19.6% Y/Y to $701.7M from $586.9M in the comparable quarter a year earlier.
EBITDA increased 18.4% to $319.4M from $269.7M.
Fiscal 2016 Outlook: Net income of $539M-$553M; Adjusted earnings per share of $10.65 to $10.89; Net sales of $3.144B-$3.188B; EBITDA of $1.425B-$1.445B
TDG's shares initially reacted very negatively (down 13% from 02/08 close to a low of $185.2) before recovering somewhat to end the day at $187.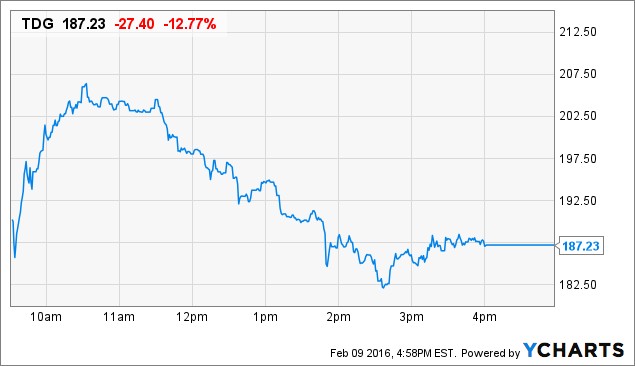 TDG Price data by YCharts
We think that this may be another episode of investors' short-termism, with intense focus on quarterly earnings and the macro picture. Currently, TDG is trading at 4.4% free cash flow yield, up 20% from 3.6% at the end of last year. The forward P/E is a reasonable 19x.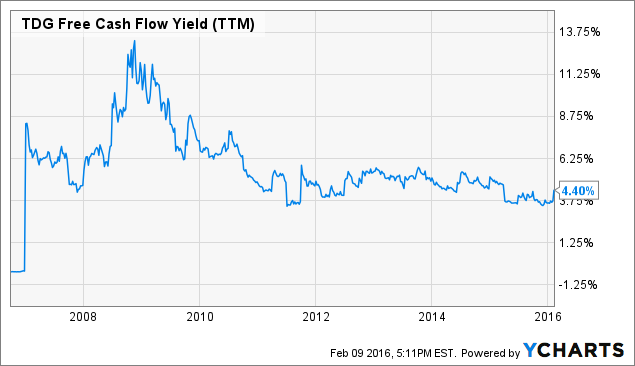 TDG Free Cash Flow Yield (TTM) data by YCharts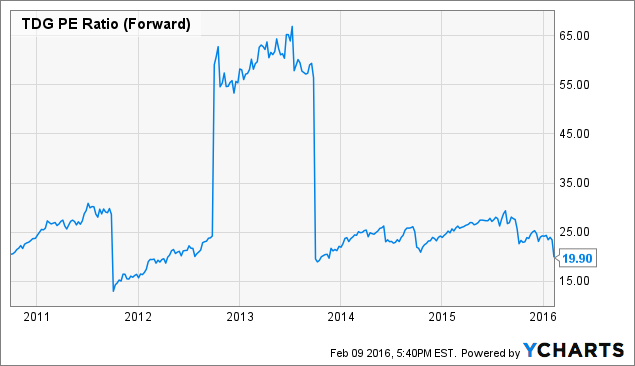 TDG PE Ratio (Forward) data by YCharts
As long-term investors in Compounders, we believe this is an attractive level to warrant an initial investment. We used the sell-off to acquire a toehold in the company at $188/sh during the initial post-earnings sell-off.
As a final note, investors should buy this company as part of a diversified portfolio of Compounders.
Disclosure: I am/we are long TDG.
I wrote this article myself, and it expresses my own opinions. I am not receiving compensation for it (other than from Seeking Alpha). I have no business relationship with any company whose stock is mentioned in this article.