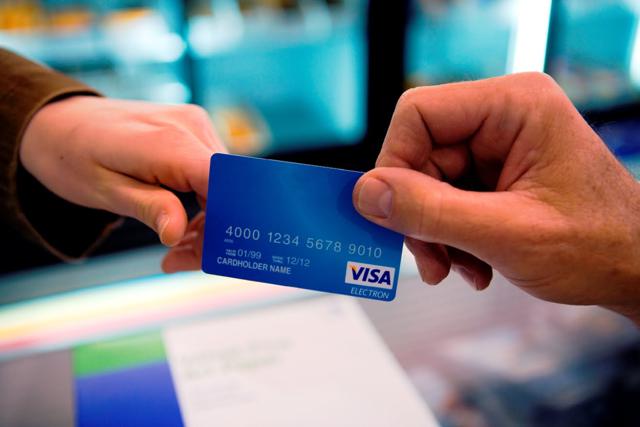 When you see the shares of Visa Inc. (NYSE:V) trading under $70 it just goes to show how tempestuous the markets have been. For us Visa represents one of the best companies on the S&P 500 to invest in with its strong, predictable earnings growth and a market leading position. So to see its shares get cut down by almost 15 percent in the last three months is incredibly surprising.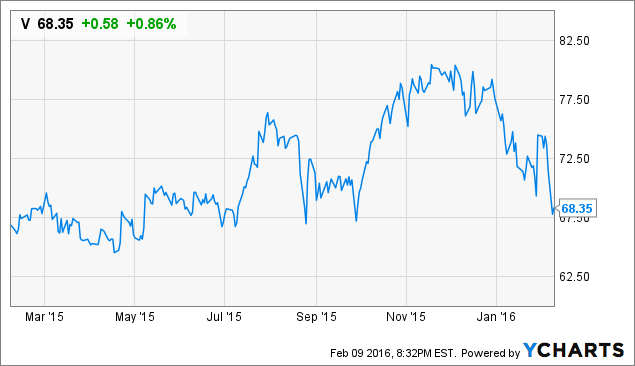 The 15 percent drop in value does make opening a long position in Visa just too good to turn down. Nothing has fundamentally changed in the last three months, in fact, things have got better. The company beat on its earnings and looks set to have a bumper 2016. Our view is that there was probably an element of profit taking going on in light of broader market declines. Or perhaps profit preservation is a better way to put it. Whichever it was, the end result has the shares placed now at $68.33, as of the last market close, and we see meaningful upside for investors from here. Being current Visa shareholders we plan to use this sell-off as a vehicle to increase our position substantially. Something we feel sure that many current shareholders will be considering doing.
The stock could still go down from here.
Although the stock has a fourteen-day relative strength index of 36.90, putting it close to the oversold point, a broad market sell-off could yet drag the stock down further still. We feel this would be unjust for such a quality stock, but the market rarely considers the quality of a stock in a panicked sell-off. So we're well aware of the possibility of the stock dropping, but will increase our position regardless. We should point out that we trade and invest with long time horizons so feel at ease with drops that we view as temporary.
The future of Visa is extremely bright.
It gets talked about a lot, but the opening up of the Chinese payment processing market is going to be a big part of Visa's future and a catalyst to considerable share price growth in our opinion. On the most recent earnings call we were given an update on the situation by management who stated that it is still working towards making a formal application to operating in the $7 trillion market. The Chinese government has been slow to release final regulations, but we see Visa as being on the right path and fully expect the company to be awarded an operating license in due course. In the unlikely event that the company is denied a license, we would imagine a negative reaction by the market. So, as unlikely as this eventuality is, do bear it in mind if you are invested or considering an investment.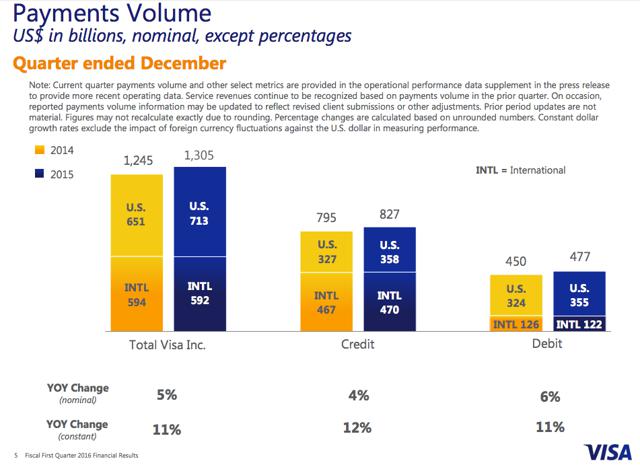 Sourced from Visa's Q1 presentation.
As shown above Visa handled $1.305 trillion dollars of payments in the last quarter, an improvement of 5 percent from $1.245 trillion. International payments accounted for $592 billion of the total payment volume, which just goes to show how rewarding the Chinese market could eventually be with an approximate payment volume of $1.75 trillion a quarter at present. By the time Visa is operating in China we would fully expect this to have noticeably increased. If Visa could gain a 10 percent market share in the future, we believe it could add another trillion to the company's annual payment volume. Winning market share from state-owned payment processing powerhouse UnionPay will be a big ask. At present UnionPay is the only provider of bank cards in China so, although it will lose its monopolistic advantage over it competitors, it has a firm footing in the market that will be incredibly hard to wrestle away. At last count UnionPay had 4.5 billion cards in circulation worldwide, the majority of which are in China, but we feel Visa is up for the fight. Management had this to say about its plans for the Chinese market:
As we work through our plans for entry into the domestic Chinese marketplace, we continue to feel good about our ability to help expand the rate of growth of the Chinese economy and increase the Chinese banks' ability to compete domestically, especially in the e-commerce space.
There's more to Visa than China let's not forget.
Once Visa gets full control of Visa Europe (the company has received two of the three regulatory approvals, and expects it to close within the next few months) we expect its performance to vastly improve. It may act as a drag on margins for a little while, but we see great things coming in the future and value being added by the transaction. Elsewhere the growing middle classes in India, Indonesia, Nigeria, and the Philippines will provide Visa with growth for many years. Converting these countries from cash to card payments could be the biggest challenge, but the overall size of the future markets will make it more than worthwhile. Shown on the chart below is the estimated growth of these countries' middle classes provided by Euromonitor.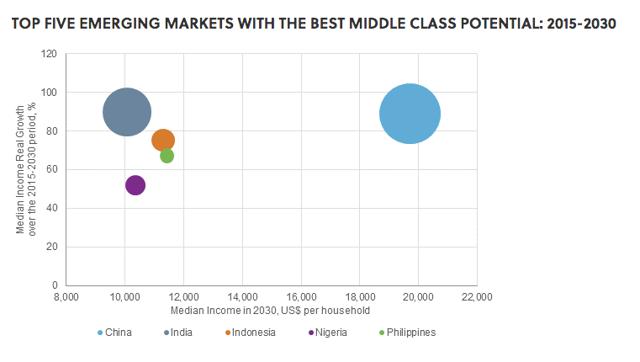 Cash is king, but not for much longer.
We feel that cash is in many respects an antiquated method of payment. Card payments, small and large, are the future for us. We are sure many of you are like us and carry little to no cash around with you anymore. We will pay by card whenever and wherever we can because it is more convenient and, if using PayWave, is actually quicker than a cash transaction. This works in favor of not just Visa, but for the retailer also. The quicker that a retailer can get through a transaction, the higher the levels of productivity. It may only shave off a few seconds per transaction, but over thousands of transactions per day, retailers will eventually be saving hours or days of productivity each year. For Visa this is exactly what they want and part of the reason we think that overall transaction volumes will continue to grow annually for the next decade. We feel the phenomenal 12 percent year over year growth in transactions in the first quarter that Visa produced, shown below, is indicative of a shift to plastic.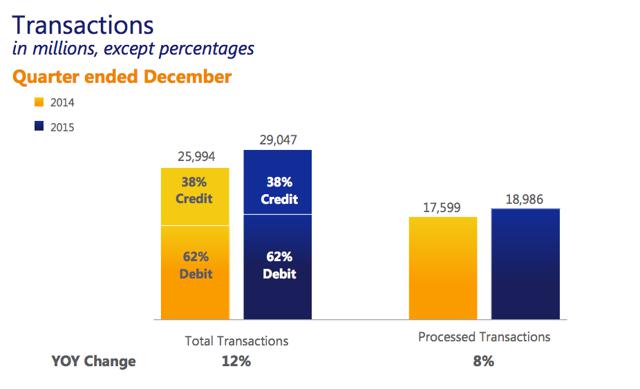 Sourced from Visa's Q1 presentation.
At home Visa's market leading position gets stronger.
Visa has held a market leading position over MasterCard (NYSE:MA) and American Express (NYSE:AXP) in the United States for many years. We think the new additions to the Visa family in the form of Costco (NASDAQ:COST), Sam's Club, and USAA will further strengthen its grip on the home market. Our own research indicates that a good number of Costco customers had a preference to use cash rather than card because they objected to using an American Express card. With Visa being the most popular card provider in the United States, we envisage a positive shift in card use within Costco stores that could result in above expectation performance from Visa domestically. There has been a delay in getting replacement Visa cards out to Costco customers, so we may not see a noticeable difference until the second half of the year.
Losing 15 percent of its value has made the shares cheap.
Whichever way you look at it the shares do look cheap compared to multiple valuations we have become accustomed to. Some will argue that the price-to-earnings ratio is still too high for both Visa and MasterCard. But considering their almost duopolistic status and growth prospects we feel that the shares deserve to trade at a higher than market-average price-to-earnings ratio. On the chart shown below you can see the current level the shares trade at compared to recent years. The recent drops have in our opinion taken the shares far too low and we expect them to bounce back considerably this year.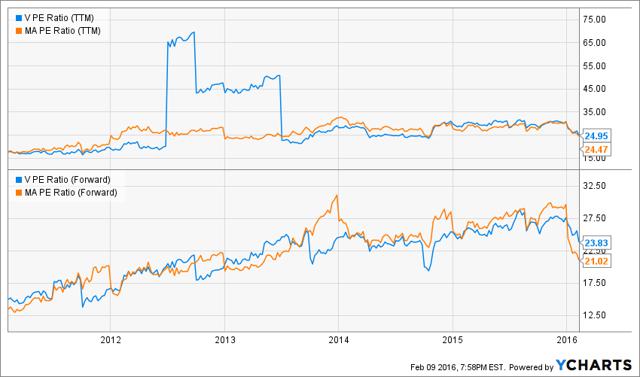 We have a preference for Visa over MasterCard, but both are equally good investments with similar growth prospects ahead of them. Our target price for Visa is $84.00 and we have a lot of confidence it will achieve this.
Fueled by strong card volume increases thanks to a growing card network, positive shifts in card over cash preferences, the Chinese market entry, and growing middle classes in emerging markets, we feel Visa has a decade of strong growth ahead of it that will reward buy and hold investors greatly. Our opinion is that investors need not fear the drops in these turbulent times, but rather use them advantageously to increase a position in a high-quality stock.
Best of luck with your investments.
Disclosure: I am/we are long V.
I wrote this article myself, and it expresses my own opinions. I am not receiving compensation for it (other than from Seeking Alpha). I have no business relationship with any company whose stock is mentioned in this article.