Royal Dutch Shell (NYSE:RDS.A) reported its full-year and fourth-quarter earnings not too long ago. Like the other big E&Ps, Shell's earnings were down quite a bit on low oil prices, but strong downstream earnings made the quarter (and year) better.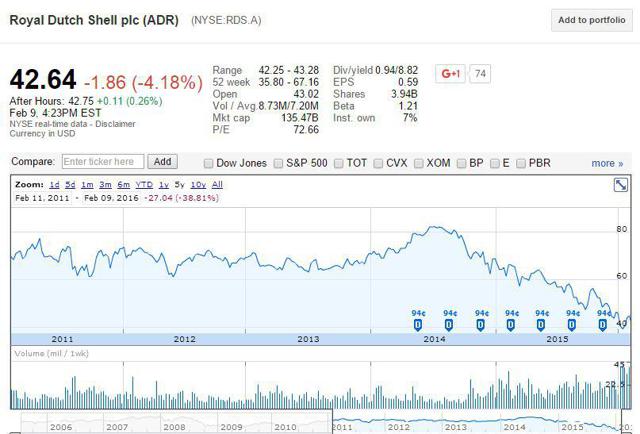 Courtesy of Google Finance.
There's no doubt that Shell is looking as cheap as it's been in some time, and the 8.8% yield is quite tempting.
Shell is a big dividend payer. The 'super major' oil companies, Shell included, have held onto their dividends while most other E&Ps have either cut or eliminated theirs. Shell has muddled through thanks to its fixed asset base, its huge cash position, and its downstream business. This article goes over Shell's operational results. This article also looks at what Shell will face in 2016, as a company combined with LNG giant BG Group.
Results
Earnings dropped to $10.6 billion in 2015, down from some $22.5 billion in 2014. Shell doesn't make much money at these oil prices, but the same goes for most other oil and gas companies. Of that, upstream earnings were $1.7 billion, and downstream earnings were $9.7 billion, up from $6.2 billion in 2014. It's during times exactly like these that oil companies are glad to be fully integrated.
On the year, production dropped from 3.08 million barrels per day to 2.95 million per day. That drop, however, was due largely to divestitures. Controlling for that, production was just about flat, and I suspect it will continue to be through 2016.
The more important metric here is cash flow. This year Shell generated almost $30 billion in operating capex, but spent $26 billion in capital expenditure and another $9.3 billion toward dividends. So, Shell had to fork over another $5 billion last year for things to break even. But for Shell, that's no big deal because the company has some $31.8 billion in cash as of the fourth quarter. Shell can go on with low oil prices for quite some time.
Toward 2016
It's difficult to get an exactly accurate picture on Shell in 2016 because the company is merging with BG Group. For example, the combined company expects to spend $33 billion on capital expenditure. Assuming a flat dividend of $9.3 billion, then the combined company needs to generate $42.3 billion in OCF.
That seems unlikely at first glance. Last year Shell generated $30 billion and BG squeaked out some $1.5 billion, and oil and gas prices are even lower on average right now.
But the BG merger does have quite a bit going for it, even if commodity prices are too low to make a big difference right now. Management expects some $3.5 billion in operational synergies in the coming years. There will also be room for a lot of capex 'hi-grading,' whereby Shell will shift its development focus from less business-friendly countries to OECD-based LNG and offshore projects, which BG Group has a lot of.
Nevertheless, these are all multi-year factors. In 2016, I foresee Shell having a 'cash flow gap' of some $10 billion or more, depending upon where oil and gas prices go. The good news is that Shell has the cash to paper over all this, and will also be selling $30 billion in non-strategic assets over the next three years. Even if Shell settles for a low price for these assets, cash on the balance sheet will still be able to tide the company over.
Conclusion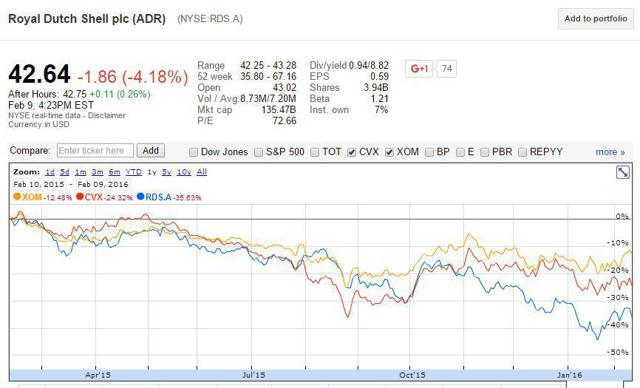 Courtesy of Google Finance.
Is Shell worth a shot here? Well, if you're brave and you really want to jump in, Shell could actually pay off. Personally, I've leaned more toward Exxon Mobil (NYSE:XOM) and Chevron (NYSE:CVX) over the years due to their better margins and return on equity. Shell's acquisition of BG Group may yet improve Shell's margins and returns, but the jury is still out on that one.
All things considered, Shell is down a lot more than Exxon and Chevron are, and I do actually believe that oil will bottom in 2016. I believe we'll see a wave of bankruptcies as hedges run out and credit lines get shut down. I believe those events will finally give us the oil price bottom we need. From here, Shell has the greatest' bounce back' potential, as well as a great dividend which is backed by a huge pile of cash. I believe that Shell is indeed worth buying down here.
Disclosure: I am/we are long XOM.
I wrote this article myself, and it expresses my own opinions. I am not receiving compensation for it (other than from Seeking Alpha). I have no business relationship with any company whose stock is mentioned in this article.