When I see various CEOs and analysts, saying on TV (I usually watch CNBC) how surprised they are that markets are sinking, I think they must either be stupid (with all due respect) or it's just their hopeful nature kicking in, clouding their above-average intelligence. They say that everything is fine, and that markets are wrong, because all that they see in their 'books' is good. They say that most companies are very profitable and that everything is going well. But wasn't this the case, for most companies, also in 2007, and early 2008? Stock markets are not about recognizing the obvious of the here and now, but rather about the threats and opportunities of the future.
Let's see, as short as I can, the real problems that exist in the real economy (not stock market mania, or volatility).
1) There are hundreds of billions of dollars in bad debt in the commodities (including crude oil and natural gas) sector waiting to be restructured. There is no way around it. This will be quite a blow for the banks.
2) The threat of deflation is everywhere. Japan is desperate. Europe is desperate. They are desperate to export more deflation to the rest of the world, while the rest of the world are starting to have exactly the same problem, especially US and China. Deflation is not a minor threat. It can be particularly bad (and it will be) when the economy is heavily indebted. And the whole world is heavily indebted. Debt levels are much higher now than in 2007. Deflation can put downward pressure on risk asset prices (especially real estate) and that can be quite dangerous, again, especially for the banks.
3) China's huge debt levels (almost 300% of GDP), most of it in the private sector, with its unsustainable peg (or semi-peg) to the US dollar, is probably the biggest immediate danger facing the world, and if the peg fails unceremoniously it can send a huge deflationary wave all around the world, adding to already existing deflation.
4) The Eurozone's southern components are still struggling with the same old economic problems that almost caused the disintegration of the euro back in 2012 - and they also have (like China) an unbalanced currency system (or rather a complete peg to northern Europe). They have to do something about this, but there are no plans to do anything yet. They are waiting for the next crisis (they really are, according to their actions), to get their acts together. As things stand right now, Europe can blow up again at any moment. Europe's commercial banks are mostly broke and out of capital, because of the negative ECB rate policy and weak economy. While northern and southern European countries have completely different economic situations, they share the same currency. They don't even have a common public debt. At some point, when Italy, Spain, Portugal and Greece will have had enough of high unemployment and recession (and deflation) Europe will either have to make some big changes, which will be extremely difficult politically, or they will just have to go their separate ways, and that will not be any easier. But one thing is for sure - southern Europe, in the eventuality of another crisis, will need bailing out again. Will Germany foot the bill again? It's an open question. Maybe Germany will not even afford to! Nobody knows what will happen, but things are very unlikely to stay as calm as they are. It's somewhat similar to China (with its USD problem) but much more complicated, though in a smaller scale.
In 2007 there was one serious problem out there - the housing bubble. The subprime mortgage issue was the tip of the iceberg. Now, there are 4 real and serious problems. In the event of a recession all the four of them can occur at almost the same time. These problems did not exist back in 2007-2008. Even global debt levels were much lower back then. There were no commodities debt problem, no China debt problem, no Euro zone crisis, and no deflation. And there was one very important thing back in 2007-2008 which was much better than today. The Fed was sitting on top of a 5% funding rate it could cut in the eventuality of a recession. Now, the Fed can threaten to cut the 0.50% funding rate, and add some QE (Quantitative Easing) to it. That will never be anything close to cutting 5% to zero. After thinking about all this, I just start to believe that it's not necessarily the optimistic CEOs and analysts who are wrong. Perhaps it is the market being too optimistic! We are, after-all, not very far from record highs in the S&P 500, and we are definitely very far from the lows of 2011 and 2009 (chart below).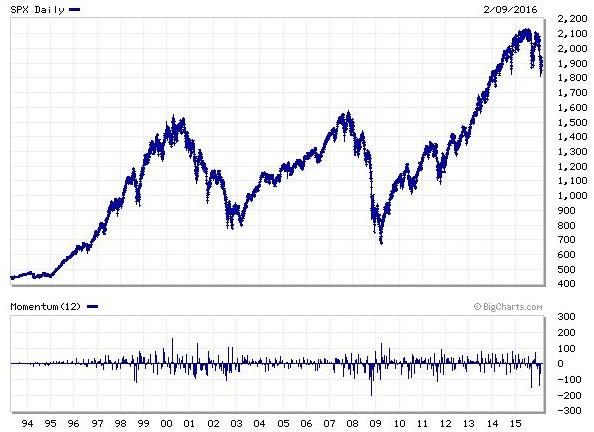 Does the ECB seem to have done an excellent job with a combination of massive QE and negative interest rates in Europe? Not exactly. They have mostly inflated some asset prices (especially stocks) to some extent, while underlying economic conditions have got worse. And negative interest rates have wrecked European banks, which are supposed to be healthy and strong for an economy to grow. Are you waiting for the Fed to save the markets? All I can say is: good luck with that! It's a fallacy to believe that you can print wealth and prosperity. You can't!
Disclosure: I/we have no positions in any stocks mentioned, and no plans to initiate any positions within the next 72 hours.
I wrote this article myself, and it expresses my own opinions. I am not receiving compensation for it (other than from Seeking Alpha). I have no business relationship with any company whose stock is mentioned in this article.