Introduction:
For the last several months, my investment strategy has been driven by a strong US dollar, low oil prices, and uncertainty about interest rate policy at the Federal Reserve. Obviously, these factors are interrelated and interact with each other, but the dominant trend that emerged in my stock ideas was that I wanted US-based, currency neutral, consumer-oriented stocks with strong balance sheets that were priced at a discount. The time frame during which I expect those stock picks to out-perform the S&P 500 was usually about 2-3 years.
With the exception of Gilead (NASDAQ:GILD), which I consider a special case, most of the stock ideas tended to be in different niches of retail. They included Regal Entertainment (NYSE:RGC), Crown Crafts (NASDAQ:CRWS), Target (NYSE:TGT), Duluth Holdings (NASDAQ:DLTH), Foot Locker (NYSE:FL), and one lodging REIT: Chatham Lodging Trust (NYSE:CLDT). I still consider all of these good medium-term investments.
Not surprisingly, given the macro-environment, my best performing ideas over the past four months were short ideas, including Deutsche Bank (NYSE:DB), STAG Industrials (NYSE:STAG), and high yield bonds (NYSEARCA:SJB). I have recommended covering all those, and I now intend to focus exclusively on long ideas going forward into the foreseeable future.
We are now at a point in time where I think cyclical stocks are beginning to become buyable. I recently made my first cyclical purchase, which I will share in a moment, but first I'll outline my basic strategy for selecting and purchasing these types of stocks.
Selection Method
I have been spending a lot of time studying historic economic and political cycles. I doubt my study in this area will ever end because there is so much to learn (and so few who learn it), but based on the research I have done so far, I have developed a model for investing in industrial related stocks during a cyclical downturn.
I have noticed that a few basic patterns tend to emerge during these down-cycles. The first is that if the companies in question do not go bankrupt, then the stock prices tend to recover within 3-5 years. This means that if one purchased the stock near the peak of the cycle, that it could take five years just to get back to even. So timing with these types of stocks is absolutely critical unless one takes a multi-decade view (and multi-decade time-frames have additional risks). If one can purchase the stock near the bottom, however, then usually within 3-5 years, they can expect the price of the stock to at least double. And doubles are what I'm looking for here. Specifically, I am aiming to purchase stocks that have a high probability to double in a 3-5 time period.
The difficulty with this approach is that macro factors surrounding each down-cycle are a little different and companies often change, so a company's relative position in the market may be significantly different from cycle to cycle. For example, ConocoPhillips (NYSE:COP) is not in the same position during this cycle as it was during the last one because of their spin-off of Phillips 66 (NYSE:PSX). Additionally, the issues during the last cycle for ConocoPhillips were demand related (as in, not enough), whereas this cycle they are mostly supply related (too much). When one takes these factors into account, one should certainly expect the price of ConocoPhillips stock to fall farther than it has during past cycles.
As a general rule, I look for companies that have gone through at least three down-cycles, and I prefer companies that have gone through five deep down-cycles. If they have five down-cycles under their belts, often the fifth one (traveling back in time from the present) happened in the early 1970s. I look very carefully at what the prices did during this cycle because the interest rate environment was significantly different then compared to what we have experienced the past 30 years, and it at least gives me some rough idea of what to be prepared for on the downside if the trend in interest rates does change from what we have become used to.
Essentially what I try to do is establish a price range for a company's stock where I think the probability of stock doubling in 3-5 years is in the range of 70-90%, then I pick the prices that I think roughly correspond to a 70% probability, an 80%, and a 90% probability of that double happening. (The lower the price goes, the higher the probability becomes.)
This is more art than science, especially the more precise one wants to get. By spacing my bets out, I am acknowledging that uncertainty. So with each bet being about 1% of a portfolio's value, I make the first purchase when I think there is a 70% chance the price will double in 3-5 years. There is a possibility that I'll buy near the bottom and in that case I will have only made a single purchase of the stock. However, there is also a chance that the stock will fall farther. If it does, I will make another 1% bet when I think the probability has increased to 80%, and another at 90%. The maximum exposure for any individual stock of this type will be 3%.
In addition to establishing these price-points, I also check to see how much debt the company has and whether or not there has been (1) a super-cyclical run-up in price (like we saw in dot.coms in the 1990s), or (2) a true paradigm shift that threatens the structure of company (like digital cameras and Kodak). If I find that those dangers are present, then I avoid the stock. With that, let's examine my most recent purchase.
BorgWarner
BorgWarner (NYSE:BWA) makes parts and components for automotive powertrain applications. Their parts are found in cars and trucks all across the industry and they manufacture their parts all around the world. For example, BorgWarner supplies its inverted silent chain for JATCO's CVT transmission. "This silent chain technology drives the oil pump used to lubricate the system and generate hydraulic pressure to adjust the pulleys that enable TorqTransfer in a continuously variable transmission." And this transmission propels a wide variety of automobiles, including my 2007 Nissan (OTCPK:NSANY) Murano, which I am quite fond of.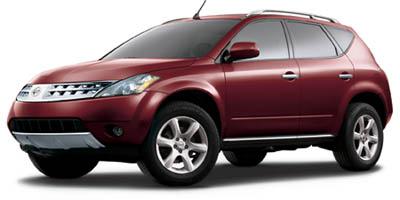 Here is how BorgWarner compares to the First Trust NASDAQ Global Auto Index Fund (NASDAQ:CARZ) since CARZ was introduced: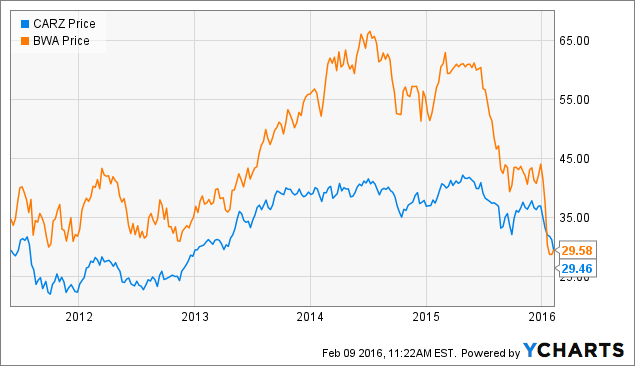 CARZ data by YCharts
As you can see, BWA tracked about the same as CARZ for a couple years, then outperformed near the top of the cycle, and has now underperformed to the downside by quite a lot, especially since the beginning of the year. I think there is some evidence here that BWA has overshot to the downside.
In terms of fundamentals, my model doesn't take into account much other than debt. At the top of the cycle, a measure like p/e is going to look very good for a company like BorgWarner, and after the cycle has hit bottom, a measure like p/e is going to look horrible. So, fundamentals aren't very useful because I am naturally going to be buying when fundamentals are bad, or are expected to be bad.
The measure I care about most is debt, because I want to make sure the company can survive a down-cycle without taking drastic measures that would dilute the value of the stock. In BWA's case, total debt to equity is currently 0.49. I think that ratio could rise as high as perhaps 0.75 during the trough of the cycle, but with about a billion dollars in cash, BWA should be in good financial shape even if auto sales turn down for a couple years. And while this has been a fairly big cycle coming out of the 2009 trough, it hasn't reached ridiculous levels that are high enough to escape the range in which I think my model wouldn't apply anymore.
The only real concern in terms of a paradigm shift the company may face is with regard to extremely low gas prices staying low for an extended period of time. In the Q4 2014 Conference Call, management addressed this question:
John Murphy - BofA Merrill Lynch, Research Division

Okay. And then just lastly on gas prices. I mean, there's a lot of concern we're hearing from investors just on the short run that there could be some pressure on the business. I mean, have you seen anything on mix on a gross basis or on a net basis between the 2 groups that would cause you any concern just in the short run?

James R. Verrier

The quick -- the real quick answer, John, is there's actually no concern from a BorgWarner viewpoint. And I would articulate that in 2 aspects. One, if you take the short run, the short-term stuff that you're alluding to, first of all, as we know, it's predominantly a U.S.-related issue. I think that's fair to say. So that's about 25% of our total revenue. But even so, even when we see that mix shift in a quarter or over a period of time, in the mix between cars and trucks, it's actually neutral to favorable for us. We have a lot of gas price. And if you think about that intuitively, if you look at the typical content that you would see on the larger vehicles, when you think of things like transport cases, you think of turbos and other things, we benefit from the low price in the short run in North America. And then over the long run, which is the other question obviously we're asked, could this influence CapEx pushouts or adjustments, our view on that is we don't see anything meaningful there. We think the trend is in place for continued push on drive on fuel economy and emissions and we're not seeing anything at all in terms of adoption rates of technology or discussions around technologies that will launch in 3 years, 5 years, 6 years out. So quick answer, really in the short run, it's neutral to favorable and in the long term, no change.
While I don't think that answer completely takes the issue off the table, I think that if there is dramatic and more or less permanent change, it will probably take several years to manifest itself.
Investment Strategy
Currently BWA is down around 50% from its recent highs: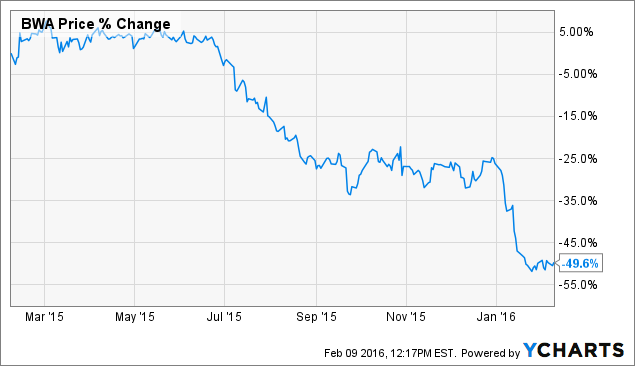 BWA data by YCharts
My model suggests there is about a 70% chance that BWA could double in the next 3-5 years, bringing the price per share back to about $60. I made my first purchase last week at about $30 per share. If the price falls farther, I will make another 1% weighted purchase at $24 per share, at which point I think the stock price has an 80% chance of doubling to $48 per share in 3-5 years. The last price point I'll purchase another 1% stake is $18 per share, at which point I think there will be a 90% chance of a double in 3-5 years.
It is entirely possible that the stock could fall as low as $15 per share, which is 50% lower than the price is right now. So investors should keep this mind. If an investor only has the cash to make a single purchase, I would aim for $24 dollar price point because there is a reasonably good chance the price will get that low, and also a reasonably good chance it will double from there. If an investor can't stomach a 50% loss staring them in the face for a while, then this isn't the type of stock for them. They should stick to utilities, or something similar.
This article has been mostly focused on strategy, if you would like to learn about more details of BorgWarner's operations check out articles by Mark Kusnir "It's The Perfect Time To Open A Position In BorgWarner" and Michael Boyd's "BorgWarner: Look Past FX Issues".
Closing Statement:
I am currently building a simple, long-only, model portfolio, designed in such a way that an average investor could easily construct it in an IRA account. I am long every position I recommend, and while the weightings between my positions and the model portfolio's are not exact, they are similar. Currently, the portfolio is 20% filled. The positions are Gilead 6%, Regal Entertainment Group 4%, Foot Locker 2%, Crown Crafts 2%, Target 2%, Chatham Lodging Trust 2%, Duluth Holdings 1%, and BorgWarner 1%.
If you would like to read about these other investments, you can find links on my profile page. If you would like to receive updates on these investment or future investment ideas, click the 'follow' button near the top of the page.
Disclosure: I am/we are long BWA.
I wrote this article myself, and it expresses my own opinions. I am not receiving compensation for it (other than from Seeking Alpha). I have no business relationship with any company whose stock is mentioned in this article.