Investors have not much to cheer about since we entered 2016. Especially the investors who held 100% long positions in stocks. As the world of academia has covered numerous amounts of times, during the start of any (potential full-blown) bear market, stocks which are greatly overvalued (based on P/E) drop often more in contrast to stocks which are considered undervalued. One sector which has been considered grossly overvalued by such classic fundamentals is the pharmaceutical industry. An industry which will be covered in this article, especially as I've been tracking a variety of pharmaceutical stocks such as Novo Nordisk (NYSE:NVO), Abcam (OTCPK:ABCZY) and I've been looking for ways to profit from a declining market while trying to offset losses in pharmaceutical stocks.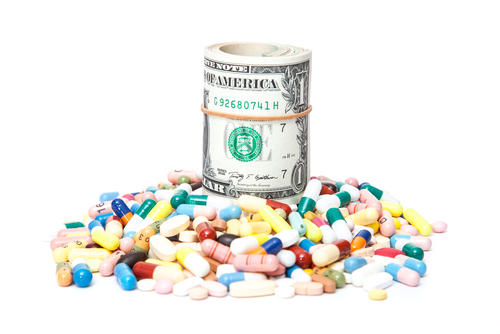 One way of doing so is through the ProShares UltraShort Nasdaq Biotechnology ETF (NASDAQ:BIS). This article will follow up on that specific exchange traded fund.
ProShares UltraShort Nasdaq Biotechnology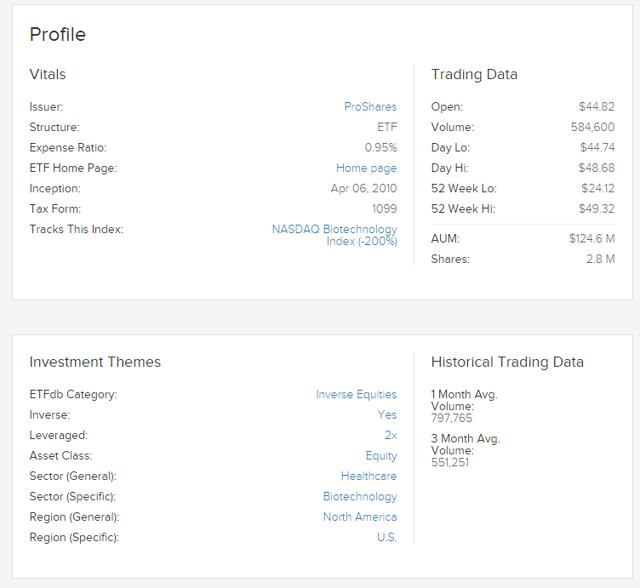 Source: ETFDB
The issuer of this leveraged ETF is ProShares.
The expense ratio of 0.95% is far from cheap, yet not rare as BIS is a leveraged ETF. When considering expense ratios, it's always important to take in consideration the more expensive ETFs, which can be found here.
ProShares UltraShort Nasdaq Biotechnology seeks investment results for a single day only, not for longer periods. A "single day" is measured from the time the fund calculates its net asset value to the time of the fund's next NAV calculation. There is daily rebalancing and the compounding of each day's return over time. This means that the return of the fund for periods longer than a single day will be the result of each day's returns compounded over the period.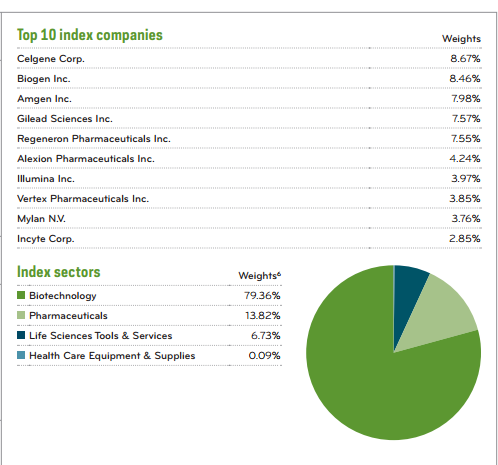 Source: ProShares Factsheet
The current holdings are typical large blue-chip players in the biotech industry. The full prospectus can be read here.
Progress in the pharmaceutical industry? More expenditure yet same amount of drug discoveries
As documented in the Harvard Business Review: from 1988 to 2000, the combined capitalization of the six pharmaceutical firms in the S&P 500 rose spectacularly, from $83 billion to $917 billion, yet at the fall of 2015, the valuation of these 6 sat at $945 billion. In 2009, an article in the scientific journal Nature: "Lessons from 60 years of Pharmaceutical Innovation", covered the topic of R&D expenditure and new amount of drugs approved. R&D spending increased from $1 billion in 1950 to $50 billion in 2008, while the number of drugs approved did not rise.
In similar fashion, during the last few years, R&D expenditure rose significantly while still new drug discoveries remained stagnant: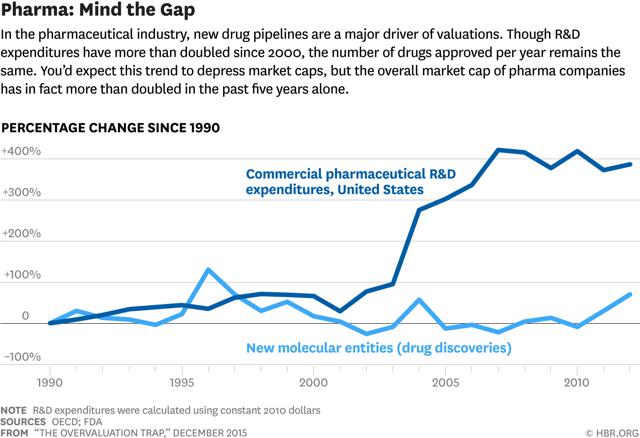 Novo Nordisk & other pharmaceuticals performance 2016
As many readers will know, I follow the Danish firm Novo Nordisk and its competitors extensively.
Unfortunately, so far the performance of these pharmaceutical stocks, like Eli Lilly (NYSE:LLY), Sanofi (NYSE:SNY) and Amgen (NASDAQ:AMGN), have been disappointing year-to-date: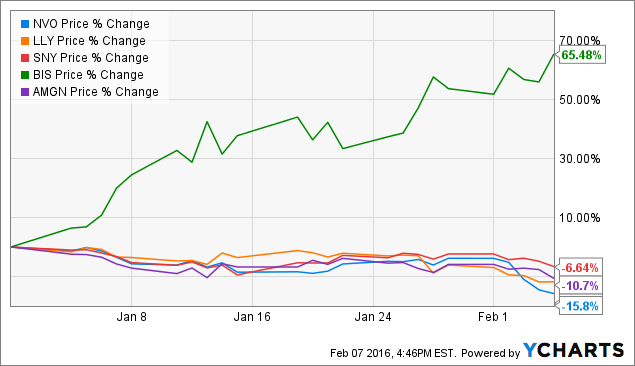 Nevertheless, BIS significantly increased (65% year-to-date), making it a very effective hedging tool and product to invest in during times of a (potential) bear market.
Leveraged ETFs are not for everybody
However, leveraged ETFs are not for everybody. ETFs such as BIS are not long-term holding investments. In my view, this can be considered as an off-set to significant losses in your pharmaceutical portfolio. Or for example a method to profit from a sector which regularly drops more than other sectors during a bear market. The tech-sector would be another sector which often plunges significantly more during a bear market as their P/E is higher than other sectors.
Nevertheless, leveraged ETFs can be very useful in some situations, yet they are expensive and can be extremely harmful to un-informed investors who hold them for an extended period of time.
"The long-term investor has no need to be in these products at all,"
Says Rick Ferri, founder of Portfolio Solutions, an investment adviser in Troy, Mich.
A long term holding in products such as BIS will be detrimental to your overall portfolio. This is captured in the long-term chart of BIS: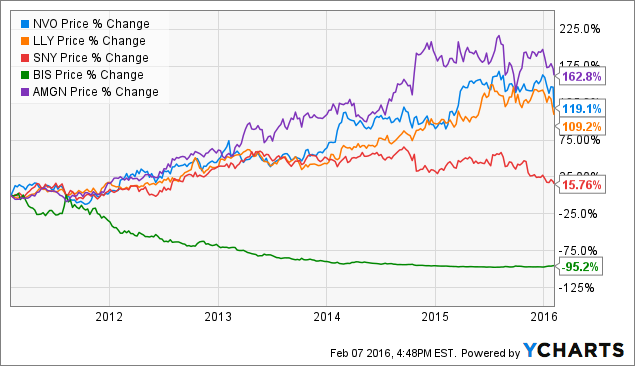 Conclusion
When the stock portfolio comes crashing down, losses are unavoidable. Moreover, by obtaining losses week after week, one might become worried and lose sleep over it. There are 2 solutions to this, either hedge your portfolio or look for products which go up during a bear market. BIS offers a solution to both.
BIS should not be considered a long term investment but will off-set losses in your stock portfolio filled with pharma-stocks. I covered BIS as a potential hedge against long-term holdings such as Novo Nordisk as it's a firm I frequently cover on Seeking Alpha. I realize for anyone following NVO, BIS is not a 100% correlated hedge against the Danish diabetic firm, yet it captures the euphoria in the pharmaceutical industry. And more importantly, when Novo Nordisk might drop as part of this big group, with BIS you are likely to be covered.
There are a variety of other options for hedging your portfolio (or profit from a bear market) such as ProShares UltraShort Health Care ETF (NYSEARCA:RXD) or looking into option/futures, something I'll discuss in another article.
Disclaimer: This article provides opinions and information, but does not contain recommendations or personal investment advice to any specific person for any particular purpose. Do your own research or obtain suitable personal advice. You are responsible for your own investment decisions. This information is not a recommendation or solicitation to buy or sell securities, nor am I a registered investment advisor.
Disclosure: I am/we are long NVO.
I wrote this article myself, and it expresses my own opinions. I am not receiving compensation for it (other than from Seeking Alpha). I have no business relationship with any company whose stock is mentioned in this article.