Alcoa (NYSE:AA) is off to a rocky start this year and while troubles continue to be plentiful in the aluminum operating environment, the company is seeing excellent results in the value-add portion of the business. While that likely dictates investors to keep the value-add shares come the company's split in 2H 2016, there are several strategies worth examining with regards to the equity beforehand.

#1: Buy And Hold, Decide Post-Split
The first strategy would be to go long Alcoa and hold it throughout the next several months, but to not sell when the split occurs. Rather, wait until one of the segments outpaces the other several days or weeks after the split and sell the laggard. It's a slight arb opportunity (albeit not the best one in today's market), considering that if one of the entities outpaces each other, ceteris paribus, you can clear a return by just looking at your trading screen. This is likely the strategy of Elliot Management, who now owns over an 11% stake in the company, according to SEC filing. Furthermore, George Soros has a stake in the company. As a sidebar, Elliot management now has three board seats on the company. If both entities decline when the split occurs, then naturally there is no arb opportunity present.
If you buy right now, you have a few things going for you, technically speaking. The risk-reward is improved, again, considering the YTD decline of 20.87% and the 2015 decline of 37.85%. Furthermore, we've been on a multi-year commodity downtrend and we need to constantly remember that commodities are cyclical. While there's no way to predict an exact turnaround point as every cycle is different, runs like this usually aren't sustained for much longer before cooperation starts to occur in a meaningful manner.
We're also seeing an increase in the U.S. Midwest premiums for aluminum, which will help Alcoa to improve its margins. As of now, Alcoa has a gross margin of 16.03%, an operating margin of -6.90% and a profit margin of -9.53%. Below you can see those premiums, against Alcoa's stock over six months (there's no correlation, but it is worth viewing, nonetheless):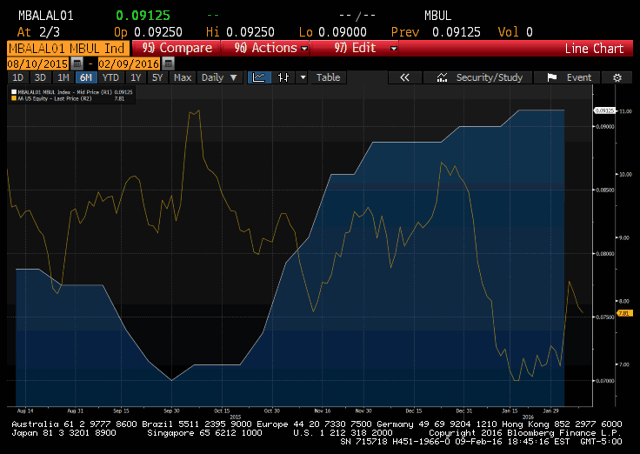 Source: Bloomberg
Naturally, when the split occurs, with this strategy you'll stand on the sidelines and watch the first day of volatility take its course, perhaps even making a play as soon as intraday.
The upstream situation hasn't changed and there's two clear problems affecting aluminum, despite what Alcoa is forecasting. The global market for aluminum consistently shows high inventories, as well as relentless production levels. Alcoa is somehow forecasting an aluminum deficit in 2016, based upon the intelligence gained on the ground in China, but many of the banks are stating that there is still a large surplus. So, who do you believe? I will not make the decision for you, but I side with the banks on this one. Furthermore, LME inventories are still incredibly high and those need to see significant withdrawals before investors can have confidence in the demand side for the upstream.
Additionally, the fears over a slowdown in China are not just going to go away overnight and shareholders need to be realistic with that, especially considering the financial deals that may unleash more aluminum onto the primary market. Until expectations change, which will likely not happen in the near-term, Alcoa's upstream will continue to remain suppressed.
If you buy now or remain in your current long position, you're going to still be prone to the heavy correlation that Alcoa has to aluminum. Please enlarge the below image so you can see the specific statistics revolving around the company's correlation to aluminum prices so you can see just how strongly the movements mirror each other.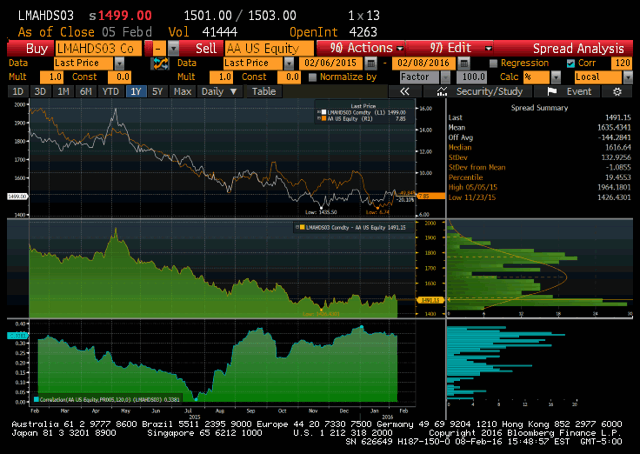 Source: Bloomberg
The value-add, on the other hand, is betting on the aerospace and defense market, as well as the automotive market. As I've said before, this will likely be overshadowed until a high volume of speculation occurs just a few sessions prior to the split.
An incredible statistic to think about is the $10 billion worth of aerospace deals signed in the LTM. There's also the $1.5 billion contract with General Electric (NYSE:GE) to supply various parts for plane engines. There's also the new Boeing (NYSE:BA) deal providing components for various models, including the Dreamliner. We also can't forget previous Boeing, Lockheed Martin (NYSE:LMT), and Airbus (OTCPK:EADSF, OTCPK:EADSY) contracts, with all of these fetching price tags of $1 billion or greater over multiple years.
Now, revenue for the value-add segment fell 3% last quarter, but the real pain was experienced in EBITDA, down nearly 12%. That's a real pessimistic streak to an area of the business that's so highly regarded. Nonetheless, there's the Ford (NYSE:F) deal for Alcoa to use micromill in the 2016 F-150s. Now, this is a very promising growth market, as aluminum-based automotive is on track to capture additional 20% in market share over the next 10 years. When micromill can be marketed worldwide to multiple customers, Alcoa's deal flow could increase in a large manner and it would certainly be smart to be holding value-add shares.
There are catalysts for the stock leading up until the split, particularly the delay of the curtailment of the Intalco smelter, or even this smelter's potential reopening. It just depends on the input costs in the short-term. It'd be ideal to see a domestic producer not curtail output further, as to compete better on the global scale. Alcoa has taken 25% of its smelting capacity offline already, as well as 20% of its refining capacity. As a side note, if this smelter gets curtailed, it'll likely bring impairments to the next ER and impairments have dented earnings in the past, especially visible over the 2015 operating year.
#2: Capture Volatility On The Split Date
When it gets announced and you are a volatility-seeking individual, you can sell both shares, retain both shares, or sell one and buy the other. Either way, orders sent into before market open on that fateful day will be subject to heavy volatility and it's a very real possibility that you could end up unhappy. The week of the split will be a wild week of day trading, I can assure you that much.
Moody's recently placed Alcoa on review for downgrade in relation to their LT debt. Now, Alcoa did respond in the manner that they felt Moody's was singling out the upstream portion of its business and failed to understand the potential behind the value-add shares. So, how does this create volatility on the split date? Well, it largely depends on what institutional investors with cash on hand ready to invest are seeing in the upstream and value-add environments. What I can gauge from my computer is likely entirely different from what they're seeing. While we see a lot of strategies revolving around selling the upstream shares and buying the value-add, the larger current shareholders as well as potential large investors may have something completely else in mind.
If you the investor can gain color on how these entities will react during the first week after the split, let alone the first day, you'll be a large advantage. Unfortunately, doing so is incredibly difficult, thus making the split all the more risky. It seems like a real gamble in the short-term. We will definitely experience one, maybe two earnings reports before the split and with earnings volatility for this company, it's pivotal to be vigilant in understanding the implications of these reports.
Furthermore, since we now know what a significant positive effect a depreciating dollar can have on domestic companies with foreign customers and competitors, we have to keep in mind that currency fluctuations will continue to dictate underlying trends in Alcoa's business. This will affect long-term returns, regardless of which entity you choose to pursue post-split.
#3: Wait Patiently, Examine Post-Split Volatility
And then make your bet. By taking the time to gauge the factors driving each of the new public entities, you can accurately place a position on a longer investing time frame and hopefully earn a sizable return. With the strong correlation that AA currently holds to aluminum prices, it's hard to separate how the value-add might trade on its own. It's also difficult to gauge that entity's beta. By removing yourself from the initial volatility, you can make a much more clear long-term bet. Weight the value of the contract growth in those respective industries versus the continual cyclical lag of aluminum and make your trade when you are ready. As an interesting chart, take a look at Alcoa versus its customers over the last year: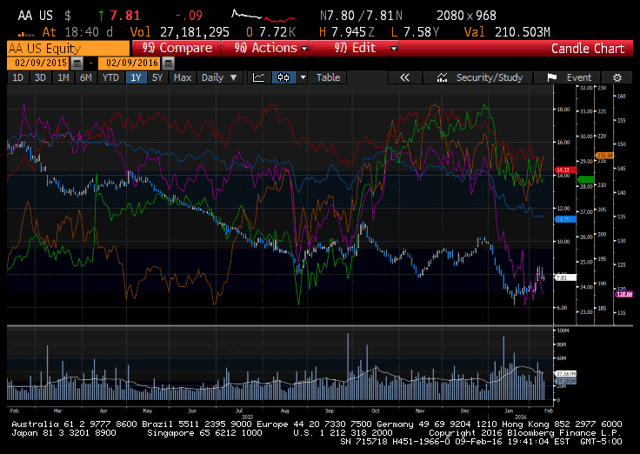 Source: Bloomberg
Conclusion
A friend in my class went long in Alcoa this week and after that, I considered taking on a position because of the risk/reward scenario, but I'm hesitant to buy in with the broader market's instability and will likely wait for an even more attractive level before executing. Furthermore, the strategies I've listed above are not the end all be all, as there are various derivative strategies you can implement at your own risk, as well as various bond strategies.
Disclosure: I/we have no positions in any stocks mentioned, but may initiate a long position in AA over the next 72 hours.
I wrote this article myself, and it expresses my own opinions. I am not receiving compensation for it (other than from Seeking Alpha). I have no business relationship with any company whose stock is mentioned in this article.