SolarCity (SCTY) showed what a financial basket case the company is in its 2015 Q4 earnings results. Critics of SolarCity have mostly been proved right. Despite a massive 30% selloff after hours, the company still has a market cap of about $1.8 billion. Are SCTY investors merely financially naïve? I suspect that many SolarCity investors are motivated not so much by profit as the desire to promote renewable energy sources and lowering greenhouse gas emissions.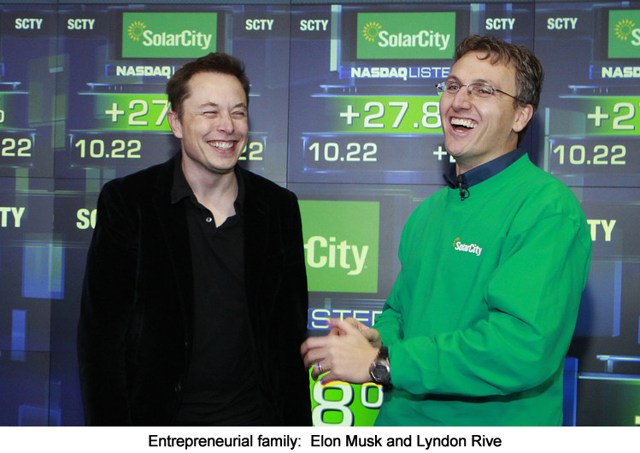 Source: WSJ
Upfront Disclaimer
Before I launch into my discussion of SolarCity, I want to reiterate up front my disclosure that I don't currently own SolarCity nor do I have any intention to buy it in the near future. I'm doing this because I've noticed from comments on my Tesla (NASDAQ:TSLA) articles that people assume that if I defend Tesla, it must be because I own the stock. Many of these commenters appear not to actually read the article, and therefore never get to the disclosure at the end. Likewise, I don't want any positive statements I may make in this article interpreted as being due to owning SolarCity.
Not that I have a great deal of good to say about SCTY. There have been some very thoughtful, well-written critiques of SolarCity by Rogier Van Vlissingen and EnerTuition. I couldn't begin to reproduce their detailed financial analysis and criticisms of SolarCity. Instead, I want to focus on the big picture issues: financial performance, viability of the business model, and the concept of values-based investment since it clearly is a driver for the stock.
Financial Performance
It doesn't take a degree in accounting to see that the financial performance of the company is just plain lousy, but it may require a said degree to sort through the various rationales presented by management for this performance.
SolarCity is bleeding money. In Q4, SCTY posted an operating loss of $198 million. Operating expenses totaled $227 million while gross profit was only $28 million on total revenue of $115 million. Most of SolarCity's cash comes from tax equity investment and debt financing. But even this wasn't enough to cover costs.
The company expresses many metrics in terms of cost or income/watt. In Q4, SCTY installed 272 MW of solar-generating capacity. It calculates that it cost $2.71/W to install that capacity while asset financing only covered $2.40/W of that.
The operating loss of $0.72/W includes the delta of $0.31/W plus operating expenses not directly related to the cost of producing and installing the solar capacity, such as R&D. SolarCity's management claims in the Q4 Shareholder Letter that the capacity it built is worth over its lifetime $3.64/W. This would seem like a good deal, but this value trickles in over the course of a 20- or 30-year contract with the homeowner or business that installed the solar panels.
In the mean time, SCTY is bleeding cash at an accelerating rate. While revenue grew for 2015 by 56% y/y to $399.6 million, the operating loss increased by 94% to $647 million. We've seen this before, right? It's the Tesla factor, as in, the more cars it builds, the more money it loses.
Business Model
This would have been an easy article to write, and I'd have stopped right here and declared the company an unequivocal sell, were it not for SolarCity's business model. This is where it gets really interesting, although not necessarily in a good way.
For the most part, SolarCity is an electrical utility that is building its power-generating capacity on the roofs of people's homes and businesses. SCTY owns (or at least has legal control of) the solar panels and leases the use of the electricity generated by them to the home or business owner through a long-term Power Purchase Agreement (PPA).
The company has started offering an alternative to the PPA called MyPower, in which the homeowner owns the panels, and pays SCTY a month fee in the form of a per kW-h charge that pays off a no-down loan over a period of up to 30 years.
Both forms of financing are of questionable financial value to the customer. It's been pointed out that under most circumstances, it would be preferable for the customer to just buy the solar equipment outright and have it installed. Total installed cost for a typical 4 kW system would be about $15,000.
Whether solar power (however financed) is in general lower cost than simple grid power is very sensitive to regulatory decisions by individual states, tax credits, and the local cost of grid power. One of the most important regulatory decisions bearing on SCTY is net metering, which allows the solar consumer to sell unused solar power back to a conventional power company. This reduces the ongoing expense and makes adding solar power more attractive.
Another key regulatory benefit for SCTY is the Investment Tax Credit (ITC), which fuels the tax equity part of its asset financing. The stock jumped considerably in December 2015 following favorable decisions on the ITC (extended by Congress) and the extension of net metering in California.
SCTY's business model can in large part be explained by the unique conditions of California culture and economics. Much of the cumulative 2,000 MW of generating capacity SolarCity had built as of Q4 probably would not have occurred except for the zero upfront financing offered by SCTY (in either PPA or MyPower form).
Californians (I lived in Los Angeles most of my life) tend to be environmentally aware and sympathetic to causes such as reducing greenhouse gas emissions. They want to do the right thing, but most homeowners can't afford the upfront cost of solar panels. Real estate is so expensive and appreciating so rapidly that people tend to buy as much home as they can afford. This doesn't leave much cash or even available credit left over for non-essentials such as solar arrays.
SolarCity's business model was designed to work in this context, and it has been working very well in terms of stimulating demand for solar installations.
Values-Based Investment
The fact that the installation of 2,000 MW of solar-generating capacity probably wouldn't have happened without SolarCity must weigh in the minds of values-based investors seeking to promote adoption of solar power. I have to believe that this is much of the motivation for owning the stock since it sure isn't the attractive financials.
For such values-based investors, the concern here is not so much the return on investment since owning the stock is almost a charitable contribution, but rather the survival and long-term viability of the company. After all, if the company goes under, the cause is no longer being promoted.
SolarCity's long-term viability is questionable at best. The critics that have claimed that its business model is not sustainable in the long term are almost certainly correct. It's open to challenge, of course, since any model of SolarCity has to factor in assumptions about things like discount rates and contract renewal rates.
Based on the shareholder letter and the earnings conference call, it's clear that the management also realizes that it has a long-term viability problem. In the shareholder letter, it states the problem very succinctly:
Our long-term vision is to lead the way in driving distributed solar to a plurality of U.S. (and ultimately global) electricity generation. Such an ambitious goal will likely take decades, and we simply will not be able to accomplish it unless we begin generating positive cash.
Management set forth the goal of being cash flow positive (non-GAAP, but it's better than nothing) by Q4 2016. Partly this will be achieved by reducing the $2.71/W cost of deploying solar panels by $0.40/W. At the rate that SCTY has been reducing costs, this is probably achievable.
But that doesn't completely close the gap (recall the GAAP operating loss of $0.72/W in Q4), so management has a new idea for monetization: cash equity monetization of up to 100% of the contracted value of a solar panel. Essentially, SolarCity will sell off the rights to its recurring contract cash flow for the life of the contracts.
It's not clear what portion of the contracts would be sold off, but you see the problem here don't you? For the sake of much needed upfront cash, SolarCity will forgo the long-term contract revenue that was supposed to be the heart of the business.
Whether this makes any sense at all depends on the terms being offered for the contracts. When asked about it during the conference call, SCTY's management wouldn't offer any details. So it's not clear that SCTY is being offered anything close to the $3.64/W valuation of its generating capacity.
Investor Takeaway
I decided to approach SolarCity somewhat from the standpoint of the values investor because I am sympathetic to the overarching goal of solar electrification. Although it's been pointed out that utility scale systems have lower cost/watt to build than residential or roof-top installations, the fact is that utilities have had only a lukewarm interest in solar. Total photovoltaic plant capacity in the U.S. is about 2,900 MW, not that much more than the 2,000 MW SolarCity has installed. So the company's efforts have made a difference. If SolarCity grows as it expects, it will deliver well over another 1,000 MW of capacity in 2016.
For the values investor, the concern is necessarily the long-term survival of the company and its continued growth. Even that looks dubious right now. And there should be the concern that, no matter what happens to SolarCity, senior management will walk away with a considerable amount of cash from salaries and stock sales. That's just the way it is. But values investors will probably hang on no matter what. Maybe, in the end, it will have been worth it.
For traditional investors, if there are any left, this is a terrible high-risk stock. You might as well just sell right now.
Disclosure: I/we have no positions in any stocks mentioned, and no plans to initiate any positions within the next 72 hours.
I wrote this article myself, and it expresses my own opinions. I am not receiving compensation for it (other than from Seeking Alpha). I have no business relationship with any company whose stock is mentioned in this article.