With yet another strong quarter, there is a good chance that Open Text Corporation (NASDAQ:OTEX) stock will have completed the transition from market laggard to undervalued, and now a top stock opportunity in just one year's time. After falling 35% in the first six months of 2015, OTEX has since rallied 30% since the end of July 2015, vs. a 15% loss for the NASDAQ during the same span. And thankfully for investors, this good performance is likely to continue.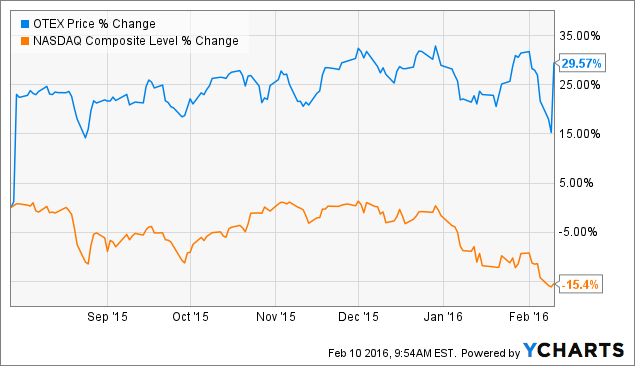 OTEX data by YCharts
I first wrote about OTEX on July 30, 2015, to Tipping the Scale subscribers, identifying it as a stock that "tipped the scale" with a rating over 90. What made OTEX so appealing was how quickly it managed to reverse the bad fortunes that pushed its stock lower in the six months prior to my coverage.
Back during that fiscal fourth quarter of 2015, Open Text, a business intelligence cloud company that offers customers products with an average return on investment of 68%, outperformed top line expectations by 800 basis points, won 26 new contracts worth more than $1 million each, and signed a deal with SAP (NYSE:SAP). In other words, Open Text was performing very well, and with it trading at just 11 times forward earnings, it scored very well on my numerical rating system.
Now, fast-forward six months to Open Text's blowout fiscal second quarter and the company's revenue growth has continued to accelerate with the continuation of big, high dollar contract wins. While total revenue fell 1% year-over-year, it rose 6% in constant currency, which is far better than the double-digit declines it saw to start 2015.
All things considered, there are four big reasons to be bullish long term on OTEX stock.
First, it is a very profitable company. Its operating margin has quickly risen over the last year from 27% to 31% and now 37% during this most recent quarter. Last year, management guided for operating margins above 34% on a consistent basis, which it has now exceeded.
Second, Open Text has a goal to spend $3 billion on acquisitions. Given that it has trailing 12-month revenue of just $1.8 billion, spending such cash should have a profound effect on both the business and the stock. And best of all, because the company is very profitable, it can fund these long-term acquisitions from operations without tapping debt markets.
Third, 82% of Open Text's $465 million in last quarter revenue was recurring, but its smaller license business continues to be a bright spot. Specifically, licensing revenue accounts for the remaining 18% of Open Text's business, and its success is a direct reflection of the future performance of its recurring revenue business. That's good news since its licensing revenue rose 6.5% during this last quarter and a whopping 19% in constant currency. This suggests more bright days ahead for OTEX.
Lastly, OTEX stock is still cheap. It traded at just 11 times forward earnings when I initiated coverage, but thanks to margin appreciation and much bigger profits, OTEX stock trades at just 12 times forward earnings despite being significantly higher since last July. Hence, OTEX stock trades at a huge discount to other cloud stocks, especially when you factor in its margins, licensing revenue growth, and the effect that $3 billion in acquisitions could have on Open Text's business.
When you put it all together, OTEX is presenting just as good of an opportunity as it was back in July, if not better. After all, now we have three strong quarters in the book, not one. Therefore, we can conclude that Open Text's strong performance is a rule, not an exception.
Disclosure: I am/we are long OTEX.
I wrote this article myself, and it expresses my own opinions. I am not receiving compensation for it (other than from Seeking Alpha). I have no business relationship with any company whose stock is mentioned in this article.