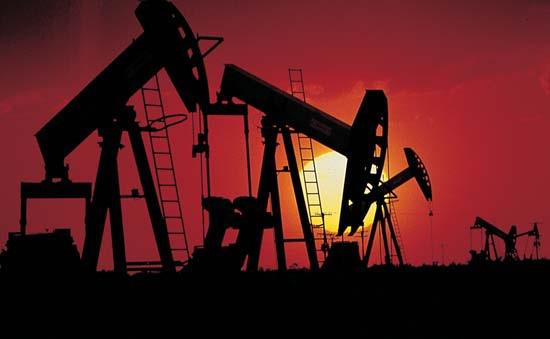 (Image Source: Texas Department of Commerce, Tourism Division)
Over the course of the last 20 months the oil patch has faced notable head winds; oil prices have fallen from a high of around $107 per barrel in June 2014 to a current spot price of about $30 per barrel. Obviously, as a commodity, oil is subject to the most extreme and immediate forces of supply and demand. This fact is clearly illustrated by the chart below.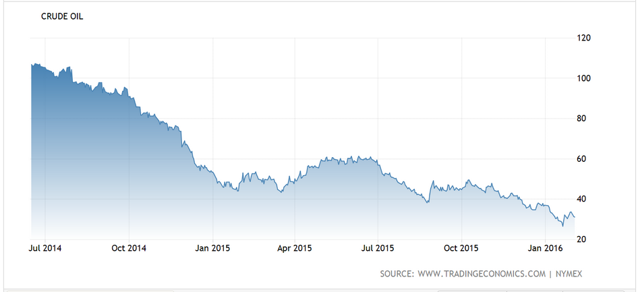 For well over a year, oil valuations have been under pressure on the supply side as a result of a number of factors. There have always been your tried and true large cap multinationals such as Chevron (NYSE:CVX), Exxon Mobile (NYSE:XOM) and Phillips 66 (NYSE:PSX). In addition, there have also been speculative players such as Seadrill (NYSE:SDRL) and Diamond Offshore Drilling (NYSE:DO) who operate in the deep sea drilling space. However, in recent years there has been a notable increase in the number of companies focusing on shale oil. This has occurred for a number of reasons.
First, there have been several large shale oil field discoveries, particularly in North Dakota with the Bakken Formation. This has increased the number of real and perceived opportunities for speculative companies to exploit. Second, there have been advancements in horizontal drilling and multi stage hydraulic fracturing which allowed many exploratory projects to be more profitable, especially when crude oil was trading well above $80 in 2013 and 2014. Third, oil prices rebounded in 2010 after the global financial crisis. These prices remained high until late 2014. In this context oil exploration and production provided viable investment opportunities in an otherwise barren economic environment. Lastly, during this time the Federal Reserve maintained extremely low interest rates for an unprecedented period of time. The low interest rate environment provided an opportunity for smaller companies to take advantage of leverage. Unfortunately, this may have encouraged excessive risk taking.
I would submit that all of these factors have contributed to excessive speculation and production in the oil industry. As we can see in the illustration below, oil production began to increase in 2013 concurrent with an increase in tight oil production. It is also important to note that other sources of crude oil production in the United States have remained relatively stable during this period. Despite this, the overall increase in production caused by shale producers coincided with the decline in the oil markets.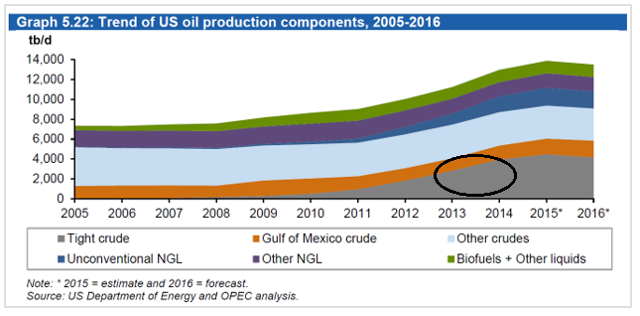 In addition, many investors operate under the assumption that there has been a major decline in oil production in the United States as a result of lower rig counts. Although there has been a reduction in production rates since oil peaked in July 2015, there seems to be a disconnect between the rather large rig count drop and actual US oil production. Let's take a deeper look at some major shale oil regions.
The Bakken region in North Dakota produced $1.18 BBL/D/1K with 63 wells in Oct 2015 which approximates to 13% of total domestic production in the US. As anyone would expect, there has been a notable drop in rig count since the beginning of 2015. However, the illustration below from The US Energy Information Administration clearly shows that there has been an increase in productivity per new rig during this time period.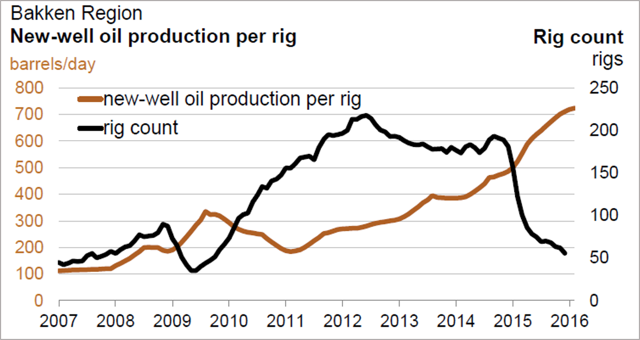 This data implies that shale oil producers have simply shuttered their least productive wells. Obviously, this has likely had only a nominal impact on total production in recent months.
Let's take a broader look with data from Baker Hughs and EIA through OPEC's Monthly MOMR Report. Below we can clearly see that rig counts have dropped in all of the major shale producing regions. However, overall US production has again remained fairly level in recent months.

So what does this aggregate data tell us? I believe that it frames shale companies as nimble producers in response to changes in oil prices. Although this does not mean that the picture for shale producers is particularly upbeat, I do think this certainly has implications for oil market dynamics going forward. More specifically, I believe that surviving shale companies will become swing producers, increasing production as oil prices rise above $50 to $60 per barrel. I will address this later in the article with breakeven analysis. For now lets stay the course and take a look at some of the major producers relative to US production over the last 20 months. As expected, there has been a notable increase in production for all four of the world's major oil producers since 2014. However, more recently we can also see that these producers have begun to cut production since July 2015. Although the Unites States has not decreased its oil production, producing 9,347 BBL/D/1K as of October 2015 in recent months, Saudi Arabia, Russia and China have cut production by a combined 461 BBL/D/1K.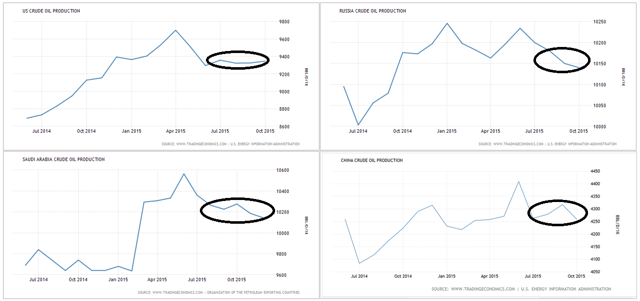 These producers represent roughly 42% of the worlds oil production and they are not increasing production notably. So why is crude still under pressure? Some analyst might point to Iran's productive capacity in the context of the January 16th sanctions relief. According to the EIA, Iran has a productive capacity of 2,800 BBL/D/1K and expects this capacity to increase to 3,300 BBL/D/1K by the end of 2016. This represents about 9% of OPEC's total production.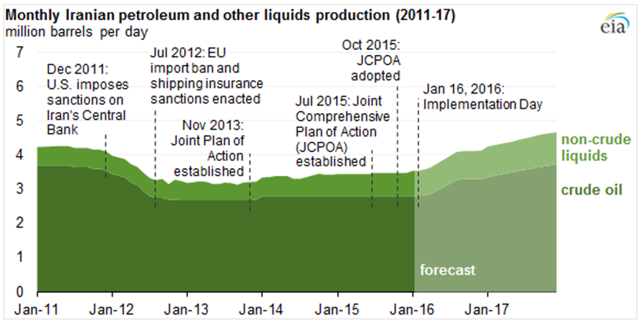 Iran will certainly add to the supply side of the equation and has likely put additional pressure on crude in January and February. But lets look at some additional data points from EIA. In the data below we can see that global year over year production was flat at the end of 2015. There was a YOY reduction in non-OPEC countries but this was offset by YOY production increases in OPEC countries. In addition, YOY consumption dropped in Q4 2015 for OECD countries while consumption remained practically flat in non-OECD countries; a net drop in consumption. It is also clear that the projections in the charts below show a rather "rosy" expectation of reduced production in non-OPEC countries. If the projections were true, there would be less downward pressure on oil in January.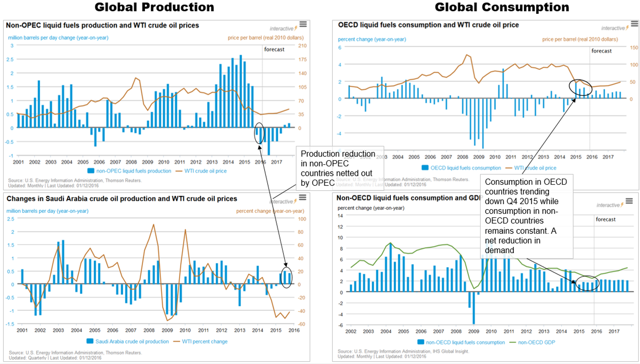 We can also look at production rates as they correlate to global supply. The chart below from the OPEC January MOMR Report clearly shows the correlation between lower OPEC production and lower global supply at the end of 2015.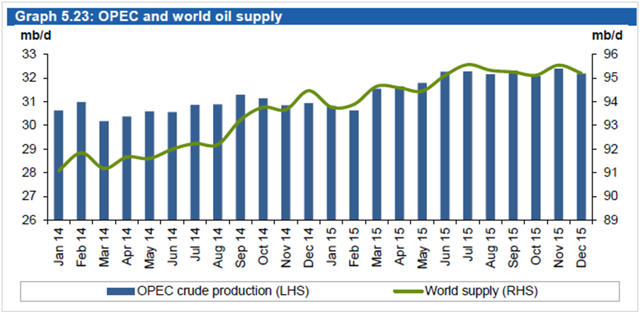 The data in these charts show that global supply did not spike at the end of 2015. So what might be missing from the picture? I believe that consumption in January dropped concurrently with additional supply from Iran coming on line. In short, forecasts from EIA in the previous charts and the one below likely got January production correct. However, they may have missed the mark on consumption projections in light of slowing growth in both the United States and abroad.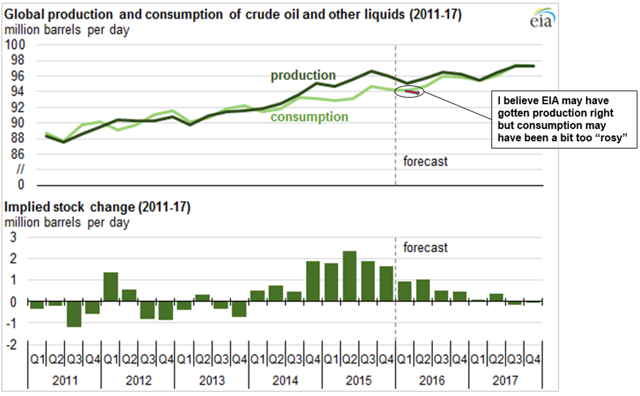 If we look at recent developments, it is becoming more and more likely that industrial and manufacturing activity is slowing both in the US and oversees.
In the context of domestic economic activity, ISM recently reported that US manufacturing activity contracted for the 4th consecutive month in January. What about the service industries? This section of the economy makes up approximately 60% of US economic growth. ISM shows that US service related industries continued to expand but at a slower rate with a reading in January of 53.5, notably down from 55.8 in December. This data follows an unimpressive annualized US GDP growth rate of 0.7% Q3 2015, down from 2% in Q2 2015.
Internationally, there are also signs that developing countries continue to face economic headwinds according to Trading Economics. For instance, Brazil, Russia and China continue to have contracting manufacturing sectors with January PMI readings of 47.4, 49.8 and 48.4 respectively. Only India stands out with a PMI of 51. Furthermore, both the IMF and the World Bank have repeatedly downgraded global growth projections for 2016. The IMF has revised global growth projections down due to emerging market challenges, particularly related to decreased growth in China, a strenghening dollar and risk aversion. Managing Director of the IMF, Christine Lagarde, addressed these concerns with several points in her recent speech dated January 12, 2016:
Developing countries have produced 80% of post recession global growth
Oil/commodity prices are depressed, projected to continue due to fundamental forces
Many developing countries are commodity exporters under notable economic stress
Nominal growth rates in developed countries can be severely impacted by emerging markets, estimated drop of 0.2% for every 1% drop in developing countries
Similarly, the World Bank sited weak emerging market growth as well as additional productive capacity when it lowered its projections for 2016 oil prices from $51 to $36.
So what does all of this data mean? In the context of basic supply and demand, oil prices will likely not be moving up notably in the near future. Of Course, this excludes an imponderable number of possible geopolitical conflicts that could disrupt oil supply or production. Although I believe the upside range of the estimate below from EIA is overly optimistic, I do feel that the average projection noted by the blue line is a reasonable prediction for oil prices in 2016. In addition, it also dovetails closely with the World Bank data mentioned earlier.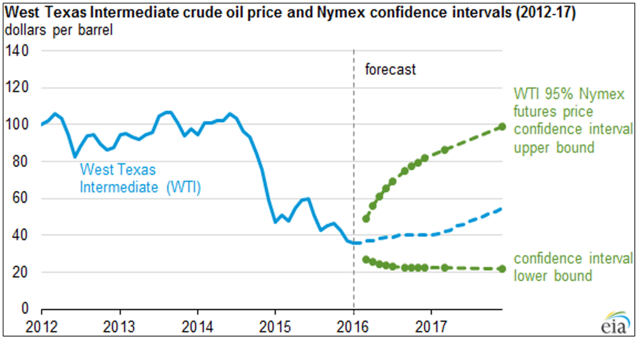 If we set aside near term supply and demand forces, the projection also make sense from the standpoint of breakeven analysis. In this context, I have compiled data on estimated breakeven prices from The Economist, Reuters, EIA, IMF, and RBC Capital Markets. It is important to note that the majority of these data points are averages of estimates derived from at least three of the sources above. Therefore, I believe they provide the most complete picture of breakeven estimates for producers throughout the globe.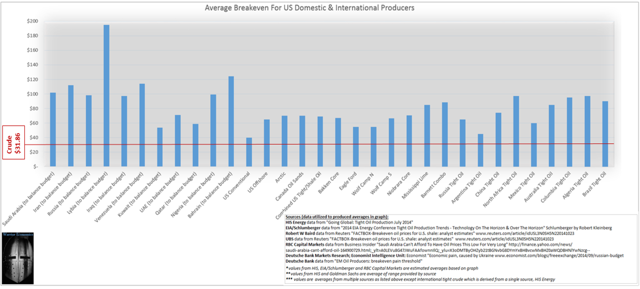 This chart clearly illustrates that virtually every type of oil producer is loosing money at current spot prices. I know that some analysts may point out that oil producing entities within Saudi Arabia can make money at current spot prices. However, the chart above clearly illustrates that Saudi Arabia actually needs oil to be trading at just over $100 per barrel to balance its budget. We can see the consequences in the chart below derived from IMF data. Saudi Arabia has drawn down an astronomical $107 billion in reserve assets between October 2014 and Nov 2015 to cover budget deficits related to oil revenue.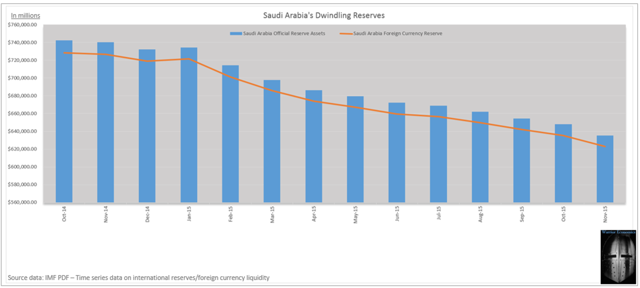 So Saudi Arabia clearly has a war chest of assets but it is burning through them rapidly. There are a number of tools available to the kingdom which would buy it additional time. The country could reduce subsidies, issue additional bond offerings (it is beginning to do this), institute long term social and structural reforms and decrease entitlement spending. Combined, these possible actions could buy Saudi Arabia additional years before it reduces it reserves to an unsustainable level. Consequently, Saudi Arabia is betting that it can win a war of attrition backed by its large reserves and policy changes.
However, can other producers outlast Saudi Arabia? If so, do these players present possible long term investment opportunities?
First, lets summarize the state of the more speculative players. Rather than sifting through data on hundreds of obscure companies, I decided to pull up the Haynes & Boone, LLP Oil Patch Bankrupcy Monitor for January 2016 and its a doozy. This first slide below shows a small sample of some of the 42 oil and exploration companies who filed for bankruptcy protection in 2015. All of these names are either tight oil/shale oil companies or deep water exploration companies. Some examples of the companies listed below are WBH (small Texas shale oil company), American Eagle (shale oil producer in North Dakota), RAAM Energy (small onshore and offshore producer in Louisiana) and Magnum Hunter Resources (shale company in West Virginia and Ohio).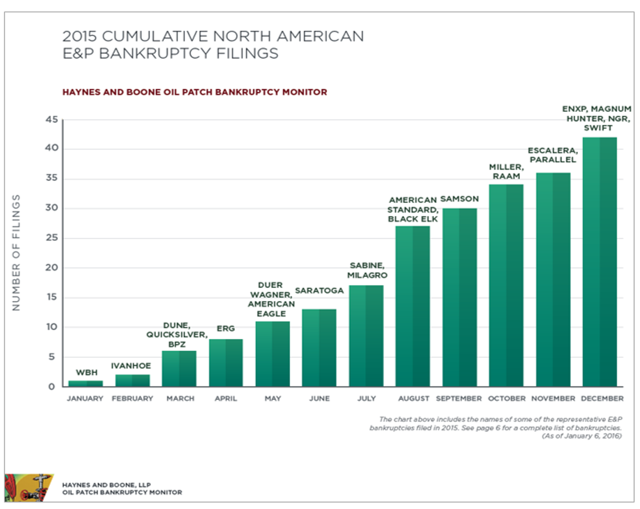 As we dig deeper into the Haynes & Boone, LLP data we can see just how much trouble the small producers are in. The list below shows all 42 of the 2015 E&P bankruptcies representing a grand total of $17.2 billion in debt.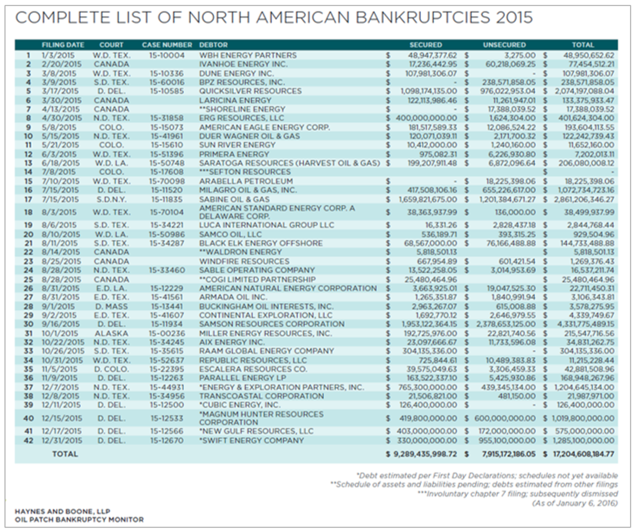 Although I am sure some of the healthiest of the shale oil companies will survive, trying to pick them out right now would be a fool's errand. The prospect of prolonged, depressed oil prices will likely cause this segment of the oil industry to be increasingly volatile. In this respect, there are already signs of risk aversion in the high yield bond market. For instance, the chart below shows widening credit spreads between lower risk bonds and higher risk bonds. This is a clear indication of risk aversion in the high yield bond market which these companies use to fund their operations. This reality will likely make it more and more difficult for these companies to acquire funding and service existing debt.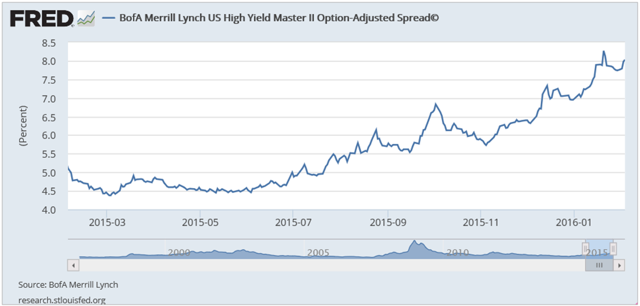 Next, we take a look at well capitalized large cap oil companies such as Exxon , Chevron , Schlumberger (NYSE:SLB), ConocoPhillips (NYSE:COP), and a number of other companies. However, instead of sifting through endless amounts of data, lets take a more diversified approach. For instance the Energy Select SPDR Fund (NYSEARCA:XLE) holds 40 E&P companies with a weighted average market cap of $109 billion and a median market cap of approximately $11 billion. The fund has a gross expense ratio of 0.14% and it has a fairly liquid trading volume of about 8.7 million shares. It also has a fund yield of about 3.5% which is comparable to the dividend yield of the underlying companies. For a prudent investor, investing in a diversified ETF within this sector makes more sense than taking on the idiosyncratic risk associated with simply owning one of the underlying stocks.
Also, in the context of Saudi Arabia's war of attrition strategy, the rather large, well capitalized companies within this fund seem relatively well suited to weathering the proverbial storm. Although we could compare the fund or some of its underlying companies to Saudi Aramco, I don't think this is the right approach. Saudi Aramco can extract oil for a profit below the current spot price. However, Aramco is a nationalized company and proceeds are used to help balance Saudi Arabia's budget. Consequently, I have taken what I believe to be a unique approach. We know that earnings are down in both the oil sector and the broader equity markets. However, I believe strong balance sheets are the key to beating Saudi Arabia at its own game. Below I have compiled 12 months worth of trend data containing the combined total assets and combined current assets of the five largest holdings in the Energy Select SPDR ETF. In addition, I have compared this data to the draw down that we have seen in Saudi Arabia's reserve assets. The orange line shows the draw down of Saudi Arabia's international reserve assets. In contrast, the blue line tracks the total assets of the five largest holdings within the ETF for the same period. Similarly, the blue bars show trend data for the combined current assets available to pay short term debt obligations for these five holdings. The data on Saudi Arabia was compiled from the IMF and the data for the five companies was compiled using Yahoo Finance and the SEC Edgar Filings website.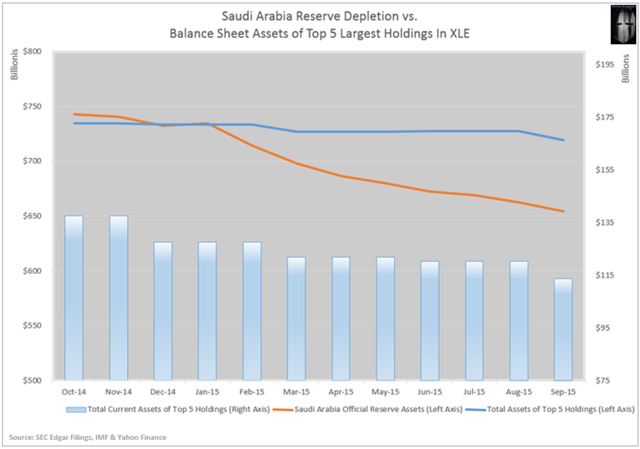 As the graph illustrates, both Saudi Arabia and the representative large cap oil companies are drawing down assets. However, Saudi Arabia is drawing down assets much more rapidly.
What does all of this mean? I believe that the data tells us that there may be opportunities in the "oil patch" for investors who are interested. However, quality, not deep value opportunities, appear to be the best path for prudent investors. It is more likely that extremely large, well capitalized companies will be best equipped to outlast Saudi Arabia. Furthermore, these types of companies will be in a position to acquiring cheap assets and increase market share as oil rebounds in the long term.
Although there will continue to be oil price volatility, it is very likely that oil will be range bound between $30 to $50 per barrel for the near to mid term? Supply has not currently dropped off and demand is likely softening. As this occurs more producers will leave the industry or reduce their overall production. This will take time but production will eventually drop and oil prices will rise. Then surviving tight oil producers will step in to cap prices. However, at some point in the future, likely in the next few years, Saudi Arabia will have to cut production to balance its budget or risk drawing down reserves to a dangerous level. When this occurs oil will likely to be trading well above $80 per barrel.
Saudi Arabia has entitlements to fund, infrastructure to build, and armies to feed. If the Saudi government fails to fund these endeavors, there are severe consequences. In contrast, large cap domestic producers like the ones found in the Energy Select SPDR ETF don't have to worry about these factors. Instead, these companies can focus on gaining efficiencies, finding new oil and extracting it from the earth. In the long run I believe a selective yet diversified approach to investing in this sector is key. This can be done by focusing on a basket of well capitalized large cap oil producers like the ones found in the Energy Select SPDR ETF.
Disclaimer:
This article is a publication intended to give information in the form of opinion to the investment community within Seeking Alpha. The author is not a registered investment advisor and is not in the business of giving out individual investment advice. As such, this article is not rendering individual investment advice based on your personal financial situation. Furthermore, the information in this report has been proofread and every effort has been made to validate all data. However, no representation is made that every data point in this article is error free. This article is for informational purposes only and is not intended as primary research. You should conduct your own research with the assistance of your personal, investment and/or tax advisor prior to initiating any investment strategy mentioned in this article. Only you and your personal advisor can review your individual situation to decide whether or not a strategy is right for your portfolio.
Disclosure: I am/we are long XLE.
I wrote this article myself, and it expresses my own opinions. I am not receiving compensation for it (other than from Seeking Alpha). I have no business relationship with any company whose stock is mentioned in this article.