What's happening?
World Wrestling Entertainment, Inc. (NYSE:WWE) will releasing its Q4 CY 2015 results covering the period from October 1, 2015 through December 31, 2015. Technically, the company's Annual Report covering the full 2015 year won't be released until a few additional business days later. However, we'll have full-year financials for 2015 available from the four quarterly reports, which paints a fairly complete picture.
In addition, WWE will hold a conference call to discuss its results. These calls usually feature chairman and CEO Vince McMahon and Chief Strategy and Financial Officer George Barrios. The prepared statements are read, and then analysts and investors ask them questions.
Barrios usually takes the lead with the Q&A unless someone (often Laura Martin) specifically asks for Vince McMahon's take on things.
What will they talk about?
The discussion will concentrate on the financial, not on the creative product.
You'll hear a lot of talk about adjusted OIBDA (Operating Income before depreciation and amortization), which is WWE's "primary measure of segment profit or loss".
Questions usually focuses on the potential for worldwide WWE Network (sometimes referred to as OTT - over-the-top) subscriptions. On these calls, the company tends to be incredibly optimistic. It will refer to the "large addressable market of 159M households with affinity for WWE". Expect comparisons with Netflix (NASDAQ:NFLX) and possibly Amazon Prime (NASDAQ:AMZN). International markets, especially India and China, are lauded as potential hotbeds for further expansion.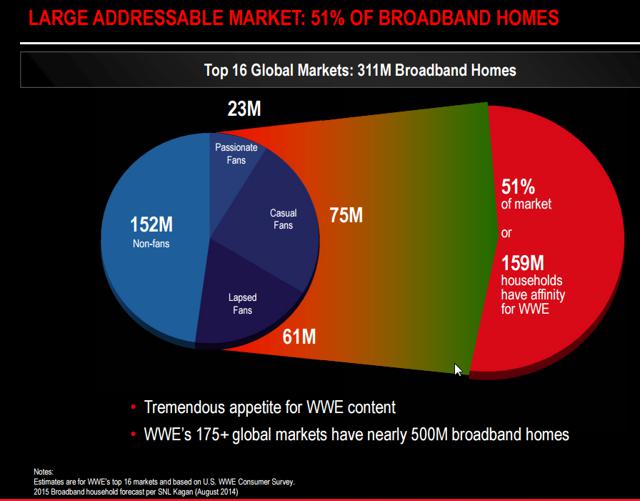 WWE Investor Presentation, December 2015 (page 13)
Barrios is fond of stating that, "we believe over time we can get to three to four million subscribers globally". While those that closely follow popularity of professional wrestling may argue this seems like a far-fetched claim, do not expect to hear much dissension on the call. WWE has been pitching a very specific narrative built on its enormous social media following.
You can read transcripts of the previous calls. While someone will inevitably mention the developmental NXT brand, there rarely is much other talk of whether the actual television content being produced is strong or weak. Likewise, WWE is unlikely to address its current weakness in the television ratings or the spate of injuries to its top stars (John Cena, Randy Orton, Daniel Bryan).
How does WWE look at its business?
WWE breaks down the business into five buckets:
Media Division (which includes WWE Network, traditional Pay-Per-View, Domestic and International TV Rights, Home Entertainment and Digital Media)
Live Events (which includes ticket sales to all live WWE events and Travel Packages)
Consumer Products (which includes Licensing, Venue Merchandising and WWEShop)
WWE Studios
Corporate and Other
The Media Division is the biggest slice of the pie and represents almost two-thirds of total net revenue. That segment includes juggernauts WWE Network (about $36 million/quarter) and Television Rights (more than $60 million/quarter). Home Entertainment is the DVD/BluRay sales, which continues to limp along (down to about $3 million/quarter). Pay-per-view is still doing several million in sales, based on 70,000+ domestic and international PPV buys each quarter. Digital Media is a sort of online "catch-all" category, which includes the former WWE Magazine publishing revenue, former WWE.com PPV webcast revenue, advertising sales on WWE.com, advertising revenue from YouTube videos and "sales of various broadband and mobile content". Despite the company's billions of free video on demand views and hundreds of millions of social media followers, Digital Media only generates about $6 million/quarter. Since the company's core television program's TV rights have built-in escalators and it is concentrating on growing its WWE Network subscriber base, the Media Division revenue continues to grow year over year. There are always some timing fluctuations, based on which quarter WrestleMania lands and when programming such as Total Divas airs.
Live Events is the ticket sales to all WWE live events. For a non-WrestleMania quarter, it's usually about $26 million/quarter, though it varies depending on how many domestic and international events are being run, actual attendance at the events, ticket prices (which have been going up in 2015) and whether there are negative impacts from foreign currency exchange. There's also a few million in supplemental revenue from travel packages to WrestleMania and SummerSlam each year.
Consumer Products revenue "consist principally of royalties or license fees related to various WWE themed products such as video games, toys and apparel". Licensing covers WWE's agreements with major companies, such as toy maker Mattel (NASDAQ:MAT) and video game producer Take-Two Interactive Software (NASDAQ:TTWO). Venue Merchandise covers all of the t-shirt, hats, New Day Unicorn horns and all other WWE-branded products which are sold at WWE live events. WWEShop is the e-commerce portal for the company. Licensing revenue usually peaks in the first quarter, venue merchandise goes up during the WrestleMania quarter, and WWEShop has its biggest quarter at the end of the year due to Christmas.
WWE Studios revenue comes from distributing, producing and investing in filmed entertainment. The best breakdown of WWE Studios' projects actually comes in the quarterly 10-Q filing, where the company outlines every project (from Scooby Doo! WrestleMania Mystery to See No Evil 2 to The Marine 4), details the production costs and discusses revenue, profit and production incentives. Many of these projects have a very long tail. WWE can be recording revenue or taking impairment charges years after the initial release. Consequentially, revenue can vary greatly based on the timing of projects and payments.
What should we expect?
Media Division
The WWE Network is going to generate a lot of monthly revenue (it's also very expensive to run).
In Q3 2015, revenue for the WWE Network was $36.4 million, based on an average of 1,173,000 paid subscribers over the quarter. Initial guidance provided by the WWE for Q4 2015 was that it would remain flat, ending at approximately 1.2 million paid network subscribers. I actually estimated that WWE Network subscriptions may be up slightly in Q4 to 1.3 million.
People will be very interested in both the number of network subscribers as of December 31, 2015 (will it be above or below 1.2 million?) and the average number of paid network subscribers throughout the fourth quarter. Also, there is a question around how WWE will account for all of the new 3-month pre-paid gift cards that it sold in the U.S. at Wal-Mart (also available at GameStop starting in 2016) and on WWE.com. How many new subscribers came from this project? How many cards were sold? How many were redeemed? I'd wager we'll be around $37 million in WWE Network revenue.
According to the monthly KPIs, pay-per-view buys have been trending near where they were in Q4 2014 ($3.9 million). It's also trending at about 75% of Q3 buys ($4.5 million). I'll guess that we'll see about $3.7 million in PPV revenue in Q4 2015.
WWE's contract for television rights for Raw and SmackDown goes up each quarter regardless of ratings. As long as TV rights holders pay their bills ("counter-party risk", an issue WWE has struggled with its Thai distributor, CTH), WWE earns more every year.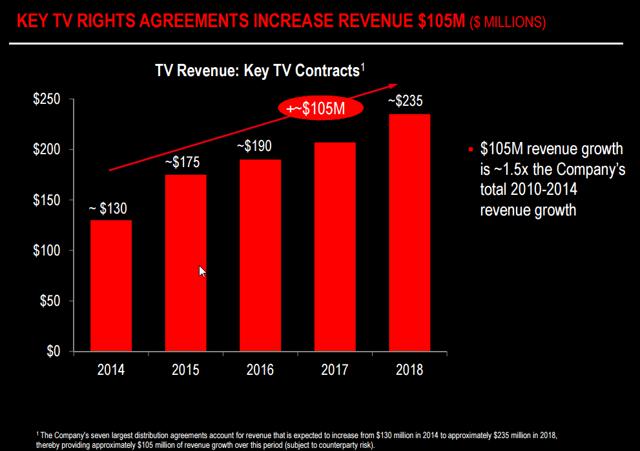 WWE Investor Presentation, December 2015, page 24
WWE estimated its full-year key TV Contracts at $175 million for 2015. This represents the company's top seven agreements (US, Canada, India, UK, Thailand, Mexico, UAE). Total TV rights for 2014 stood at $176.7 million, so there's a little under $50 million in TV rights that aren't part of the "key TV contracts" bundle. Q4 2015 TV rights would probably be above $60 million.
Home Entertainment hasn't shown many signs of dramatic recovery. The Q4 2014 uptick involved "minimum guarantees" from the company's home video distributor. In Q1 2015, WWE switched distributors from Cinedigm to Warner Bros. There will probably be about $3 million in Home Entertainment revenue in Q4.
Digital Media is always a wildcard with WWE. When you strip out the non-reoccurring segments (Magazine Publishing, PPV webcasts), it's been a relatively flat affair. It will probably report about $5 million in revenue for Q4.
Q4 Media Division Revenue Estimate: $111 Million
Live Events Division
The WrestleMania quarter is always an outlier. Q4 is not a WrestleMania quarter.
Brandon Howard and I worked on a detailed attendance overview of all WWE shows in 2015, which estimated that Q4 was up for domestic attendance (6,900/show) and international attendance (8,300/show). Combined with higher ticket prices, that could be a strong Q4 quarter for live events. Last year, total attendance in Q4 (525k) was about 25% higher than total attendance in Q3 (419k). Likewise, revenue was about 23% higher ($26.9 million versus $21.8 million). If you apply that same logic for Q4, that would suggest Q4 live event revenue could be almost 30% above the Q2/Q3 numbers. I'm not taking into account any international revenue downsides, so I may be overestimating revenue here.
Q4 Live Events Revenue Estimate: $34 Million
Consumer Products Division
Licensing bounces around a lot from quarter to quarter. I'll play it safe and guess $11 million, which is the midpoint of Q2/Q3 2015 but well above the median revenue for this segment in 2014.
If we looked at Venue Merchandising as a percentage of live event revenue, the historical average for a non-WrestleMania quarter is around 18%. That would suggest that strong live event revenue correlates to higher venue merchandise at $6 million (up from the sub-$5 million quarters in Q2/Q3). I'll hedge my bet and put it at $5.5 million.
WWEShop is the strongest in December. Online merchandise sales through November were at 107k orders, which suggests 2015 would be at/above 2014 levels by the time you factor in a strong Christmas. Last year was $7.7 million, so I'll guess $8 million (this also depends on whether the WWE Network gift cards sales are put in the WWE Network revenue or the WWEShop revenue segment).
Q4 Consumer Products Revenue Estimate: $24.5 Million
WWE Studios
This is a hard segment to estimate because the myriad of factors that control when WWE actually sees revenue on projects. The company got a $35 million secured loan from Bank of America in May 2015, so I don't expect it to be exiting this segment anytime soon. I would expect that a project like the Flintstones movie might start showing returns in Q4 2015, so let's guess $1.5 million for the quarter.
Q4 WWE Studios Revenue Estimate: $1.5 Million
Corporate and Other
"This includes revenue associated with talent appearances."
Five-quarter average has been $800k. Let's go with that.
Q4 Corporate and Other Revenue Estimate: $0.8 Million
Combined Estimate: WWE Overall Q4 2015 Revenue Estimate: $171.8 million
What sort of questions should analysts be asking WWE?
Record revenues are always exciting, but there's a lot more to the equation. Here's a group of things I'd want the company to expand on:
How is WWE accounting for NXT revenue, and how profitable is that segment? WWE's trending report notes that North American Live Event Metrics excludes NXT events, but when the brand does draw a significant house, such as 15,000 people at the Barclay's Center, it's worth understanding how the company is accounting for that revenue and cost.
What's WWE's response to its lowest Raw ratings in decades, and what impact does declining television viewership have on the ability for the company to continue to grow WWE Network subscriptions, considering that the majority of subscribers are still domestic users?
Specifically, how does WWE intend to translate its large social media footprint into digital media revenue? When will investors start seeing that impact? How does the company account for the large number of repeat users that are being represented in its social media follower counts?
What are WWE's plans for its Tapout joint venture? Which segments will be affected?
Besides CTH, are there any other international television partners that are significantly behind on paying their bills?
Can the company give tangible examples of what initiatives it is pursuing regarding distribution for the WWE Network in China? Is it considering using services of companies such as YOU On Demand (YOD), whose key officers include WWE CEO's Vince McMahon's son Shane McMahon?
Can WWE give clear updates on the status of the various lawsuits it is dealing with, including the concussion lawsuits and the shareholder lawsuit? Is the company instituting any new levels of concussion-testing and risk aversion?
With cord-cutting and the declining Raw ratings, will we see a lower appetite for bidding on sky-high television rights when WWE's contract is set to be renewed in a few years?
What is the company's outlook for WWE Network subscription levels in 2016? Will WWE be considering any pricing changes to the service in 2017 (including whether it will keep the UK marketplace at a 50% premium)? What have been the redemption rates on the WWE Network gift cards? Will that concept be transferred abroad? How has the adoption rate in Germany, Japan and India been compared to other global markets? Will WWE follow Netflix and work on additional international VPN restrictions? Will the company be cutting down on account sharing?
What's going on WWE Network churn, and when will the company have things under control? While subscriptions will always grow rapidly during the lead-up to WrestleMania, what else can the company reasonably do to attract new subscribers during the rest of the year?
Tomorrow's conference call is likely to be chocked full of Barrios-isms (refusing to go into "granularity", optimistic chatter about China and India as the glorious future, bragging about the enormous social media footprint). Vince McMahon usually hangs back and says little, which is a shame, because his take on whether his programming or working or not tends to be brutally honest.
Chris Harrington is an analyst who covers the business of professional wrestling on his blog. Reach him at chris.harrington@gmail.com or follow him on Twitter at @mookieghana
Disclosure: I/we have no positions in any stocks mentioned, and no plans to initiate any positions within the next 72 hours.
I wrote this article myself, and it expresses my own opinions. I am not receiving compensation for it (other than from Seeking Alpha). I have no business relationship with any company whose stock is mentioned in this article.