After losing 7.5% off its share price in the last 30 days, Constellation Brands (NYSE:STZ) was a definite buy for us. Some may argue that the stock is trading at high multiples, and despite the fall is still comparatively expensive, but we see the amazing growth it is displaying as being vindication for paying what might not even turn out to be a premium.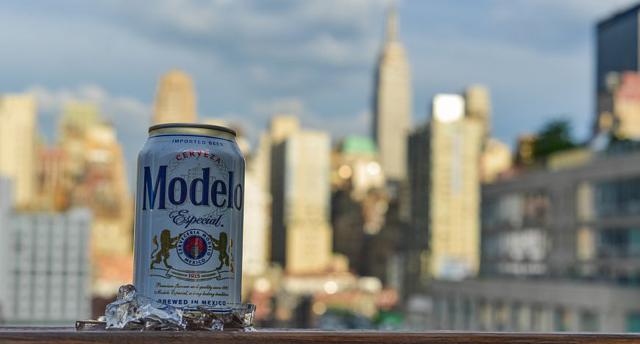 Year to date in fiscal 2016, the company has reported an increase in revenue of 7% YoY, pulling in $5.523 billion. We feel the impressive product assortment on offer is part of the reason for this growth. Constellation's drinks portfolio is diverse, and there really is something for everyone. Not that you necessarily need something for everyone when you have the Modelo Especial and Corona Extra brands in your arsenal. The overwhelming demand for these two brands has led to the construction of a new brewery in Mexico. While tastes do invariably change over time, we feel this demand is still at an early stage.
The construction of the new brewery appears to very necessary considering the beer depletion numbers the company reported. We feel the warmer weather will have played a small part in the increased consumption, but the numbers do make excellent reading. The consolidated beer depletion figure was growth of over 16%, indicating demand is outpacing supply.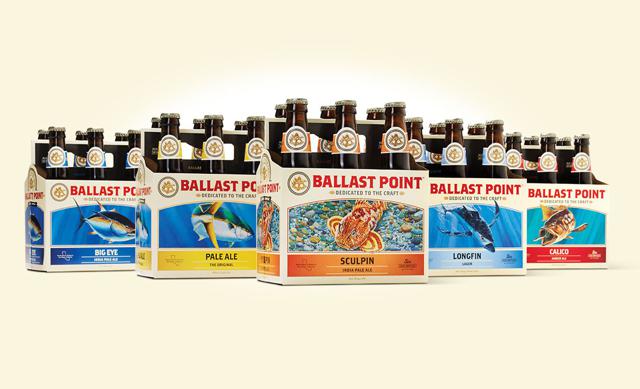 The acquisition of Ballast Point Brewing Company is a sign of the demand the company sees in the craft beers. At $1 billion, which is thirteen times EBITDA, it might seem a little steep, but the $115 million of sales Constellation is expecting this year gives us the impression that this will end up providing a strong return on investment. On the Q3 earnings call, management had this to say about the acquisition:
"Ballast Point provides a high growth premium platform that will enable Constellation to compete in the fast growing Craft Beer segment, further strengthening our position in the high end of the U.S. beer market. Now Ballast Point is currently growing at more than 125% in IRI channels and remains on track to sell nearly four million cases and generate approximately $115 million in net sales for calendar 2015, representing growth of more than 100% versus the prior calendar year."
This growth is incredible, and while naturally it will slow down as it grows, we believe it will contribute significantly to the company's long-term earnings growth. Craft beer is showing no signs of slowing, and in our opinion, is still in its infancy. For the first half of 2015, 12.2 million barrels of beer were sold by craft brewers, which was up 15% from the 10.6 million barrels sold during the first half of 2014. We feel this supports our view that there is still significant potential in the industry yet to be realised.
Away from the sales side of the business, commodity prices are looking favourable for Constellation Brands. We feel this could lead to margin expansion, further enhancing the bottom line. Barley prices are still remaining low, as are diesel prices, as shown below.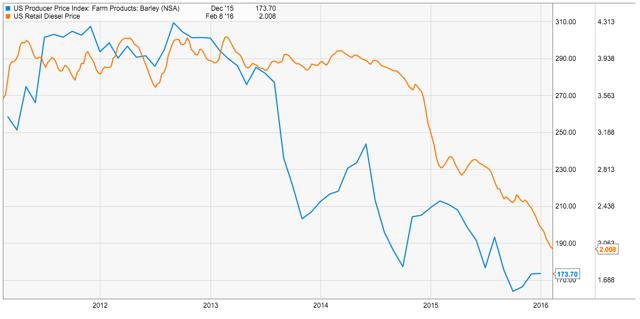 (Source: YCharts)
We like to invest in companies with good liquidity and little debt. Constellation Brands has a robust balance sheet, and despite having $7.4 billion of long-term debt, the times interest earned ratio is a very healthy 5.6, so we're not too concerned with that. It is also able to generate ample free cash flow whilst investing in operations, which is very encouraging.
Finally, investors should take heart from the view of the stock from the major research firms. As demonstrated below, courtesy of Finviz.com, the recommendations issued by these research firms have been overwhelmingly positive.

(Source: Finviz)
For the full year, management raised its prior guidance of earnings per share of $5.00-5.20, up to $5.30-5.40. The market is expecting Constellation Brands to report earnings on the upper side of the estimate at $5.36. We actually think that after four straight quarters of earnings beats, the company is going to do the same again and hit $5.40. The demand for its beers is quite incredible, the marketing campaign aligned to the NFL season appears to have been very successful, and favourable commodity prices all should assist the company achieving this forecast.
In terms of valuation, we have a target price of $160 for Constellation Brands, representing over 17% upside. Based on the $5.40 earnings estimate, this would put the shares at 29.62 times earnings. As we said at the start, this may be higher than normal and scare some from investing, but we're comfortable with this. On a peer analysis, this places the stock in the same range as many of its competitors:
Brown-Forman Corporation (NYSE:BF.A) - 32.42 times earnings
Davide Campari-Milano (OTCPK:DVDCY) - 27.49 times earnings
Molson Coors Brewing (NYSE:TAP) - 37 times earnings.
Takeaway
For us, Constellation Brands is a fantastic investment today, following its recent drop. The growth from its key brands as well as the craft beer market will help maintain earnings growth in the mid-teens for at least the next five years.
Disclosure: I am/we are long STZ.
I wrote this article myself, and it expresses my own opinions. I am not receiving compensation for it (other than from Seeking Alpha). I have no business relationship with any company whose stock is mentioned in this article.