In a recent article, I had pointed out how an improvement in the copper market's dynamics will allow Freeport-McMoRan (NYSE:FCX) to improve its EBITDA performance remarkably this year. But, the strength in copper prices on the back of an improving demand-supply equation is not the only reason why investors should consider going long Freeport. In my opinion, the recent recovery in gold pricing is another key reason why Freeport will improve its financial performance this year. Let's see why.
The gold rally has just begun
On February 9, gold prices clocked eight-month highs on the back of a sustained rally in the price of the yellow metal, which is now up around 10% this year. Gold now trades just under $1,200 per ounce, and I won't be surprised if the rally gains more momentum going forward. Now, there are a number of reasons why the rally in gold prices will continue, including demand-supply factors and macroeconomic movements.
For instance, the Chicago Board Options Exchange (NASDAQ:CBOE) Volatility Index (VIX) has risen almost 41% in 2016 to 25.67, as shown in the chart below.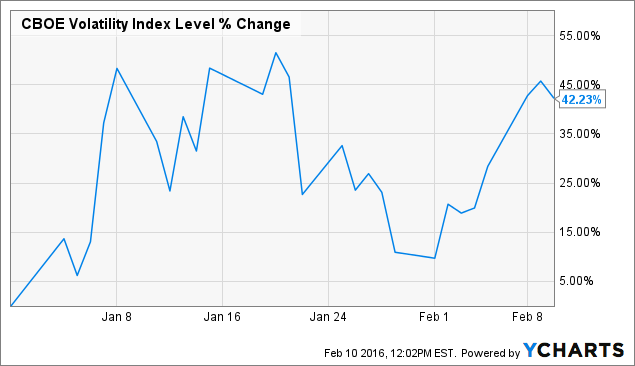 This is closer to the value of 30, which is considered as an indicator of volatility and unrest in the financial markets. As a result of this increased volatility, the price of gold has increased this year. Looking ahead, it is likely that the pricing will continue getting better as concerns regarding economic growth in key countries such as China, Russia, Brazil, and even the U.S. will weigh on the stock markets.
For instance, Federal Reserve chairwoman Janet Yellen is of the opinion that "while the U.S. economy has continued to make progress, but tighter financial conditions due to heightened market volatility, have become less supportive of growth, and if they continue, they could impact further growth." As such, it is not surprising to see that the World Bank has tempered its global GDP growth forecast for 2016. Now, as a result of the increased volatility in the end market, the demand for gold will increase since it is a safe haven asset in difficult times.
As a result of the prevalent volatility in the end market, traders have been increasing their long position in the yellow metal. In fact, for the week that ended on February 2, the speculative gross long position in gold futures increased by 4,821 contracts, while at the same time, short positions declined to the tune of 7,412 contracts.
The increase in long positions and the decline in short positions is a positive indicator for gold prices going forward, which is why it is not surprising to see that the likes of Capital Economics and Jeffrey Gundlach expect prices to rise to $1,250/ounce and $1,400/ounce, respectively.
The impact of improving gold prices on Freeport
Last quarter, gold accounted for almost 10% of Freeport's overall revenue as the company sold 338,000 ounces at an average price of $1,067 per ounce. In all, Freeport sold 1.25 million ounces of gold last year, a number that's expected to increase in the coming two years as shown in the chart given below:

Source: Investor presentation
Thus, in 2016, Freeport's gold sales will rise by 44%, along with a similar rise in 2017. When combined with the expected increase in prices, gold's share of Freeport's overall revenue should increase going forward. Moreover, the increase in gold prices and higher shipments will positively impact the company's margin profile.
This is because for each $50 per ounce increase in gold prices, Freeport's EBITDA will increase by $110 million, while its operating cash flow will increase by $65 million. Now, when Freeport had drawn up its forecast for 2016, it expected gold prices to average $1,100 per ounce, while copper prices were expected to average $2.00 per pound. At these price levels, the company expected that its operating cash flow for the year will come in at $3.4 billion.
Now, gold prices are already trading close to $1,200 an ounce. This means that at current price levels, Freeport's operating cash flow will increase by $130 million and EBITDA will increase by $220 million as compared to its projected levels, though these numbers can increase since gold prices are expected to get even better.
Conclusion
Thus, apart from a recovery in the copper market, gold will also play a key role in enhancing Freeport-McMoRan's financial performance this year. So, in my opinion, investors should continue holding Freeport stock as it is capable of delivering upside going forward.
Disclosure: I/we have no positions in any stocks mentioned, and no plans to initiate any positions within the next 72 hours.
I wrote this article myself, and it expresses my own opinions. I am not receiving compensation for it (other than from Seeking Alpha). I have no business relationship with any company whose stock is mentioned in this article.