Shares of Prospect Capital Corporation (NASDAQ:PSEC), which were heavily slammed on Tuesday, rebounded strongly on Wednesday after the business development company reported better-than-expected second quarter results. If you remember, Prospect Capital plummeted 7.4% on Tuesday and crashed to a new 52-week low of $5.21 ahead of earnings. Prospect Capital's strong recovery rally on Wednesday saw the stock shoot up 10.7% and close at $5.82. Hence, all losses sustained on Tuesday were recovered just a day later.
Never be a panic seller
Investors were widely skeptical about Prospect Capital's second quarter results since the conditions in the energy market continued to deteriorate in the last quarter of 2015. As a result, the market speculated that Prospect Capital would not be in a position to report robust financial results.
That was not quite right, though.
Prospect Capital pulled in $0.28/share in net investment income in the second quarter, which was way ahead of the consensus estimate that called for $0.25/share in NII. That's an important point to make here because the market largely expected that Prospect Capital would just about manage to cover its dividend payout, which in the second quarter was also $0.25/share. As a result, Prospect Capital's NII beat was a big win for shareholders.
Higher-than-expected net investment income has also had a positive effect on Prospect Capital's YTD coverage ratio: In the first six months of the current fiscal year Prospect Capital raked in $0.54/share in NII, one penny more per share than in the same period last year, and the company paid out $0.50/share in total dividends. This brings Prospect Capital's YTD dividend coverage ratio to 1.08x. That's not bad for a company whose stock has been as clobbered as much as PSEC.
Prospect Capital demonstrated confidence in its future net investment income, too, by declaring sustained monthly dividends of $0.08333/share for the next three months. Put that on top of the NII beat for the second quarter, and one can easily see why Prospect Capital staged a strong rebound on Wednesday, gaining more than 10%.
Prospect Capital's meltdown on Tuesday was largely driven by expectations that the business development company would bomb with its earnings release. Put differently, investors panicked in anticipation of weak Q2 results. As a result, Prospect Capital's discount to Net Asset Value expanded to almost ~50%.
It has been demonstrated that panic selling is a losing investment strategy over a long period of time. Panic selling produces (substantially) inferior investment returns compared to a simple indexing strategy, which delivers a powerful message to investors: Don't sell into weakness, and learn to keep your cool.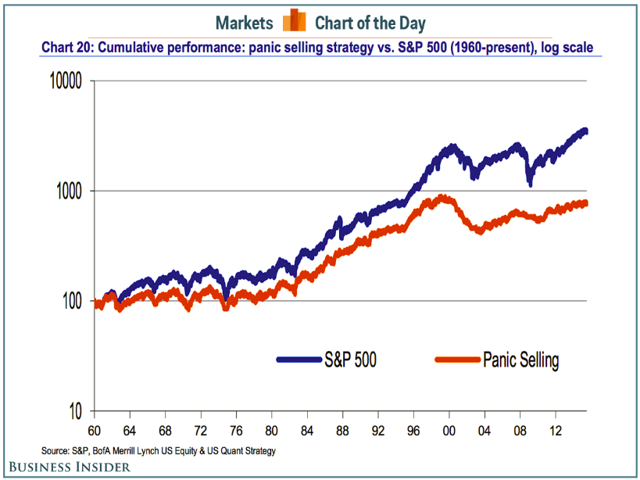 Source: S&P, BofA, Business Insider
Your Takeaway
Though Net Asset Value took a hit in the second quarter, Prospect Capital's results were actually quite respectable. In particular, strong net investment income and a sizable NII beat, as well as the declaration of three more monthly dividends demonstrate that investors have become way too fearful about Prospect Capital's stock. Prospect Capital's high YTD dividend coverage ratio is another positive takeaway from its latest earnings release. The strong rebound on Wednesday further shows that speculative panic selling is (expectedly) not a winning investment strategy.
Disclosure: I am/we are long PSEC.
I wrote this article myself, and it expresses my own opinions. I am not receiving compensation for it (other than from Seeking Alpha). I have no business relationship with any company whose stock is mentioned in this article.