The saga of Aircastle Ltd. (NYSE:AYR) through the last bear market is one of my favorite "lessons learned" stories. The morale of the story is that a bear market does not discriminate, taking share prices of good companies down along with every other stock. Now that the market is again close to bear market territory, in a bear market for several sectors, and really feels like a bear market, I think looking at the past and present for Aircastle can show some lessons and some profit potential.
Great Recession Bear Market
Aircastle own commercial passenger and cargo aircraft. The planes are leased to airlines all over the world. The company came to market with an August 2006 IPO. As was the fashion for finance companies in those pre-recession days, Aircastle rapidly increased its quarterly dividend rate, with the payout growing from $0.44 per share up to $0.70 in its first full year as a public company. At the time of that $0.70 dividend, the most recent 2007 Q3, earnings were $0.49 per share. However, adding in the non-cash depreciation on the income statement brought free cash flow up to just over $1.00 per share.
With the financial crisis fully under way by late 2007, the Aircastle management decided to reduce the dividend rate and conserve cash. First, it was dropped to $0.25 for three quarters, then down to $0.10 at the end of 2008. This was a defensive, cash hoarding move. The actual Aircastle business stayed strong. For the full-year 2008, the company reported net income plus depreciation (our free cash flow number) of $352.6 million, or $4.53 per share. The company could have continued the $0.70 quarterly dividend with 1.6 times cash flow coverage. Yet, as a leasing company, Aircastle was lumped in by the market with all of the financial stocks, and the AYR share price lost over 90% of its value from the mid-2007 peak to the bear market bottom in March 2009.
Here is the part that I found interesting and amazing at the time and when discussing bear markets I like to share with investors. At the bear market bottom, AYR traded for less than $3.00 per share, with a lowest daily close of $2.69 on March 5, 2009. In contrast, for the full-year 2009, the company generated free cash flow (net income plus depreciation) of $325 million or $4.10 per share. Think about that. At the low, someone could have purchased the whole company for about $215 million and put $325 million in cash in their pocket in just the next year. And still would have owned the whole, strong cash generating company.
Since the bear market bottom, Aircastle has remained conservative. The dividend was not again increased until mid-2011, when it was boosted from $0.10 to $0.125. The dividend is now $0.24 after an increase last fall. Through the whole period from IPO to the present, the company has been a cash flow machine. Here are the annual per share cash flow numbers using the definition discussed above:
2010: $3.87 per share
2011: $4.66 per share
2012: $4.28 per share
2013: $4.27 per share
2014: $4.97 per share
Since the financial crisis and resulting bear market, Aircastle has continuously improved its operating results. The dividend is growing and if you had the foresight to buy AYR shares at that March 2009 bottom, you would have realized a 50% annual compound return through the recent share price peak in May 2015. Or put another way, $1,000 invested at the bottom turned into $12,556 including dividends in just over six years. Of course, there are few, if any, investors who got in right at the bottom and sold at the recent top. But there are many opportunities to generate three or four baggers along the way.
It's Deja Vu All Over Again
Since that mid-May 2015 peak, the AYR share value has dropped by 39%, even with an 8% dividend increase last fall. I viewed the stock as a good value when it dropped below $20, especially last summer, with the high probability of that dividend increase in the fall. With what now is starting to look like a good old fashioned bear market for the whole stock market, AYR continued to drop and is now trading at $15.40, with a 6.2% current yield.
Aircastle is a specialty leasing company. When there is bad news, the market may view it as a finance company. It is also often tied to the airlines - which should currently be good news with the current low fuel prices, but that does not seem to be helping. Most of Aircastle's client airlines operate in the developing world, so global economic worries can hurt the share price. Here are the top aircraft lessor countries from the 2015 third quarter earnings presentation: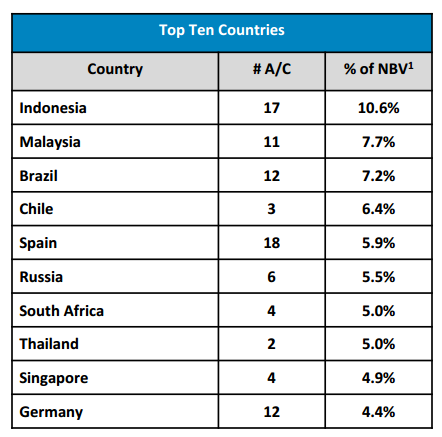 In spite of what the market thinks about Aircastle - as indicated by the large share price swings - the company has continued to reinvest that free cash flow to grow the fleet, reduce its debt load, and modernize the aircraft fleet. This chart shows the improvement in the fleet profile over the last five years:

Aircraft utilization has been above 95% since the IPO, with just six quarters dipping below 98%. Leasing aircraft to developing world airlines is also highly profitable. Since 2010, Aircastle has averaged a 12.2% trailing twelve month cash return on equity. As of the 2015 third quarter, the TTM ROE was 14.5%. The modest level of debt - net 2.2 times secured and unsecured debt to equity - further boosts profitability. The company reports a net interest margin - lease rental yield minus interest on borrowings, net of settlements on interest rate derivatives - of 9.2%.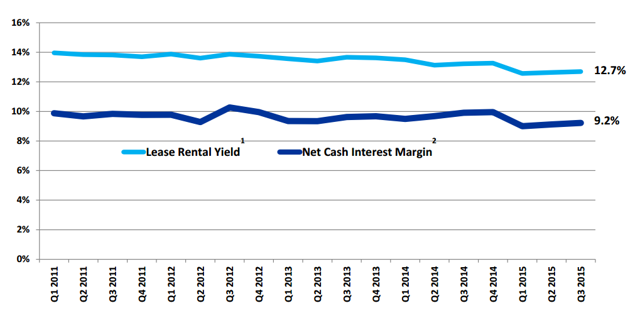 I have followed Aircastle almost since the IPO, and the steady and growing business results are due to a management team that deeply understands the aircraft leasing industry and does a very good job of getting ahead of changing trends. For example, the company is moving out of the freighter business because it is not as profitable as in the past. Current aircraft purchases are focused on fairly new narrow body airliners which are in the highest demand. Through the first three quarters of 2015, Aircastle sold 20 aircraft with an average age of 15 years for $340 million and bought 32, averaging four years old, for $1 billion. Narrow-bodied planes made up 31 of the new purchases.
Through the first three quarters of 2015, Aircastle reported adjusted EBITDA of $621 million, up 11% compared to the same period in 2014. The company reported $408.5 million of net cash from operating activities for the three quarters. My simple income plus depreciation cash flow calculation gives $308 million for the period. That's $3.83 on a per share basis and $5.10 per share annualized out to four quarters.
What's Not To Like
I think the evidence provided above shows that Aircastle is a stable, growing, high cash flow generating company. At the current $15.41 share price, it's trading at just three times free cash flow. It's not 2009 all over again, but there is tremendous value in AYR at these prices. Throw in a 6% dividend, that should grow by 8% to 10% per year, and the value is apparent. Just to save you from doing the math, Aircastle now generates free cash flow to provide five (500%) times coverage of the dividend.
Bear markets allow values like Aircastle to build to levels that can produce those multi-bagger returns over the next few years after the market recovers. The expected dividend growth combined with a return to a more reasonable sub-5% yield will produce a total return investment double in less than three years.
Disclosure: I am/we are long AYR.
I wrote this article myself, and it expresses my own opinions. I am not receiving compensation for it (other than from Seeking Alpha). I have no business relationship with any company whose stock is mentioned in this article.