Armanino Foods of Distinction has been mentioned in several value investing blogs as a Buffett-style, small cap.
As sales continue to steadily increase, so do the margins.

AMNF seems to be a real gem and rarity - a shareholder friendly OTC stock.
Armanino Foods (OTCPK:AMNF) has paid regular quarterly dividends for 15 years, and has even paid 10 special dividends when profits support it. They buy back shares. They file quarterly/annual reports (rare for many OTC stocks). Sales were recession-resistant in 2008/09. The original family still owns a fair amount of stock.
Here's a table of info and my calculations from Armanino's available recent financial reports: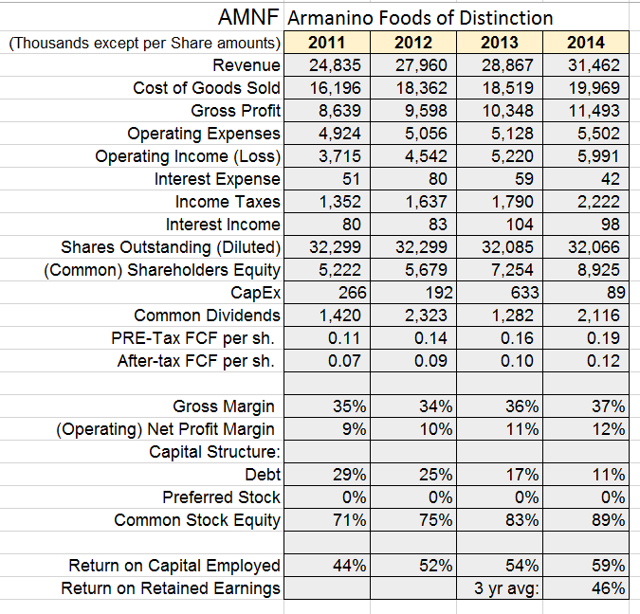 If Armanino sold chocolate, I'd say they might be similar to See's Candy when Buffett purchased in 1972 (maybe better - See's was returning 25% on capital when Buffett purchased, AMNF returned 59% in 2014). Instead, they sell Italian food, primarily wholesale, to restaurants. They have slowly and steadily increased sales over the years. And they've grown sales on basically the same asset base (a single manufacturing plant), so a 5% increase in sales results in significantly better margins and cash flow. Management treats retained earnings extremely well too, earning a whopping 46%. The long-term return of a stock will gravitate towards this 'Return on Retained Earnings'. If opportunities continue and management can keep reinvesting at this rate, shareholders will be rewarded handsomely.
Armanino had a hiccup in the 3rd quarter of 2015 as international sales fell (perhaps mostly currency translation due to dollar weakness). Their December 2015 press release indicated 4th quarter was doing well and back on track for the year. Edmond J. Pera, President and CEO of Armanino Foods stated "As we stated in our 3rd quarter press release on October 19th, we saw indicators of strong sales at the beginning of the 4th quarter. Those indicators have continued and give us optimism that 4th quarter financial performance will meet or surpass the then record financial performance posted by the Company in 2014. Of course, with approximately one month to go before final 4th quarter results are in, we cannot predict the quarter's outcome. Nonetheless we remain optimistic that 4th quarter and year end results will meet our expectations."
The best source of information on the company is the OTC Markets website (http://www.otcmarkets.com/stock/AMNF/company-info) or the company website (http://www.armaninofoods.com). From the company website: "Families and businesses have depended on the quality of Armanino products since the 1920s,when Guglielmo Armanino provided fresh vegetables and herbs to the growing Italian community in San Francisco. By the '50s, the family had adopted freeze-drying and a few years later became a forerunner in providing frozen convenience to consumers and the food industry."
With a market cap of only $61 million, Armanino is a micro-cap stock. Info is difficult to find on this (or any) OTC stock. Do plenty of diligence to get comfortable with a purchase.
AMNF is selling at around 10% pretax earnings yield. I bought an initial position this week. Would look to increase on any weakness.
Editor's Note: This article covers one or more stocks trading at less than $1 per share and/or with less than a $100 million market cap. Please be aware of the risks associated with these stocks.