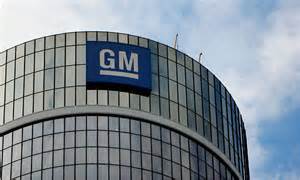 General motors (NYSE:GM) has been one of many very frustrating stocks to own in the recent past. The company emerged from an embarrassing bankruptcy stronger than ever and is making lots of money but it seems as though the market simply doesn't care. GM made almost $10 billion in 2015 and yet, the stock trades at a market cap of just $43 billion. That is the kind of valuation you'd expect for a private company and to be honest, maybe GM is better off taking that route. At any rate, the company's yield is well in excess of 5% and it continues to produce lots of cash to return to shareholders.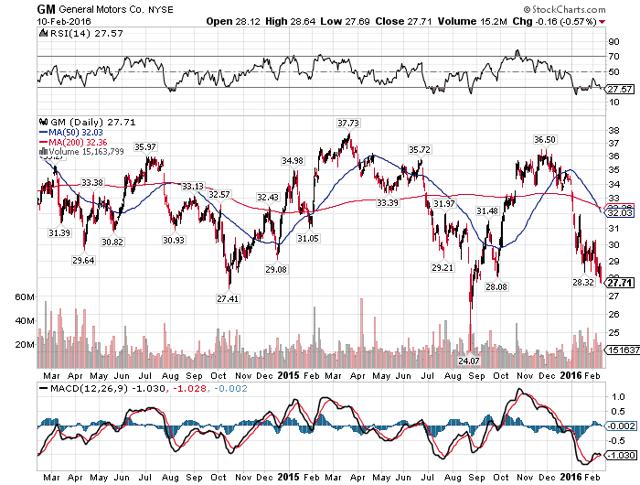 GM has appealed to the value investor in me because it has a strong market position, an absurdly cheap valuation such that the word 'cheap' doesn't really do it justice, and an enormous yield. Normally in this kind of situation the company is heading towards the scrap bin but in GM's case, nothing could be further from the truth. The company's results continue to strengthen and so do its capital returns but the market simply doesn't respect it.
GM's revenue was flat in Q4 but excluding forex, would have risen something like 6%. GM is certainly not immune from the pounding the strong dollar can inflict on US multinationals and it certainly was impacted in Q4. The dollar has weakened materially in recent weeks as the Fed's rate hike cadence has been all but dismissed by the markets so GM should see a tailwind from that development so long as it persists. I, for one, was building in a stronger dollar in 2016 but as we have begun the year, that hasn't been the case. This is something I'm happy to be wrong about because it should boost GM's top line.
Apart from a rosier revenue outlook, GM also continues to build its adjusted EBIT margin, which came in at 7% during Q4. This is congruent with the company's full year number and is an enormous improvement over 2014's 4.2% adjusted EBIT margin. That level of profitability is very strong in an industry that historically sports razor-thin margins and GM is certainly keeping costs under control and maintaining pricing power such that its EBIT margin continues to rise. GM's EBIT margins are strong enough that we may not see material improvements on that front although bullish commentary from the CFO may suggest otherwise.
GM's 2016 will be marked by new vehicle launches and a continued focus on its efficiencies that have allowed it to post such staggering growth in operating margins. I'm really thrilled with GM's progress there and it seems the good times are set to continue this year.
I mentioned capital returns as well and that is certainly an enormous piece of the puzzle here. GM returned $5.7 billion in 2015; $2.2 billion as dividends and $3.5 billion as buybacks. At a $43 billion market cap, GM's outstanding share count is significantly impacted by repurchases of that magnitude and I certainly have cited this as a reason to own GM in the past. This level of share repurchases can be a significant driver of EPS growth by itself and we saw that in practice in 2015. How much GM will ultimately purchase in 2016 and for what prices remains to be seen but it will surely be a driver of EPS growth once more and should not be overlooked.
What's absolutely fascinating is that the stock continues to get hammered but analysts are as bullish as ever, raising EPS guidance for 2016 since the earnings report came out.

GM is now trading for five times this year's earnings and under that number against 2017, ludicrous multiples that are borderline insulting. When companies reach this level of disdain from the market something is desperately wrong but in GM's case, it is certainly not the business. Normally companies with a five multiple are teetering on the edge of bankruptcy or some other special situation; GM is creating record profits and returning lots of it to shareholders.
Holding GM is challenging at this point; it's hard to watch a stock with such a favorable investment case just get pounded over and over again. But I firmly believe that once the market is over its tantrum, GM will be a great long term purchase. Its new vehicles coming in 2016 and beyond should stoke additional demand as well as pricing power that could help further increase margins. The dollar becoming weaker is still in its infancy but should that continue, it will be a serious tailwind for GM's top line in 2016. And finally, where else can you find a stock that returns ~12% of its market cap to shareholders in a single year? GM's capital returns are extraordinary and one of the biggest reasons I like it here; the fact that it is priced like it is going out of business is just a bonus. Despite how hard it is, I'm sticking to my bullish call here as GM has far too many positives; I'm not panicking and selling.
Disclosure: I am/we are long GM.
I wrote this article myself, and it expresses my own opinions. I am not receiving compensation for it (other than from Seeking Alpha). I have no business relationship with any company whose stock is mentioned in this article.