Skechers (NYSE:SKX) hit the ball out of the park in its fourth quarter 2015 report, and the stock is currently higher by 5% in afterhours trading. Based on the report itself, SKX stock should continue to trend higher in afterhours, and into the day on Thursday. The quarter was really that good, and with SKX stock well off its 52-week highs due to fears of a signifcant growth slowdown in 2016, there's a very good chance that stock gains will continue from this point forward, as Skechers proves its doubters wrong.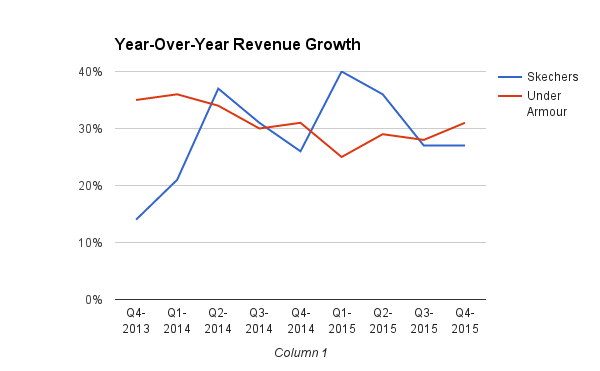 Perhaps the best illustration of Skechers's growth can be seen above. In early-mid 2015 when SKX stock soared above $50 per share, the company surpassed Under Armour (NYSE:UA) with a far superior growth rate. That growth has decelerated a bit, but as you can see, it has leveled off at a year-over-year increase in the mid-20%, very similar to that of UA. This growth is driven by both store expansion and an increase in comparable sales due to improved marketing and product assortment; 8.2% increase in domestic and a 13% increase in international comps.
The best news is that this growth is sustainable, based on what management shared about the fourth quarter and start of 2016.
First off, Skechers aims to open 330-340 new stores by the end of 2016, bringing its total to 1,650 stores. Thus, Skechers will achieve top line growth from store expansion alone. In addition to that, management noted that new products and marketing campaigns will be launched, like the "Demi Boot" from Demi Lovato.
One big reason for Skechers's resurgence is its ability to find great endorsers and then create products that fit that person's style, image, etc. that it then marketed to his/her fans. Skechers specifically named Meghan Trainor, Ringo Starr, and Brooke-Burke Charvet as having upcoming campaigns. Collectively, this should keep sales soaring.
In addition to new stores and campaigns, Skechers will piggyback the success it has already achieved in international regions like Europe and China. The former performed much better than expected in January according to management on the company's conference call and China is expected to maintain its high double digit growth, and maybe more. Last year, sales in China jumped from $86 million to $220 million year-over-year, making it a big reason for Skechers's surprise performance. Overall, international sales jumped 64.9% during the fourth quarter, driving much of the company's total growth.
All things considered, Skechers continues to move in a very bullish direction, a fact that was on full display during its fourth quarter. And not only is the company's revenue growing fast, but as is profits. In the fourth quarter, operating income jumped 65.7% to $54.7 million, in line with the company's full year growth of 67.8% and $350.8 million in operating income. What this displays is that Skechers's margins are rising in addition to its accelerated growth.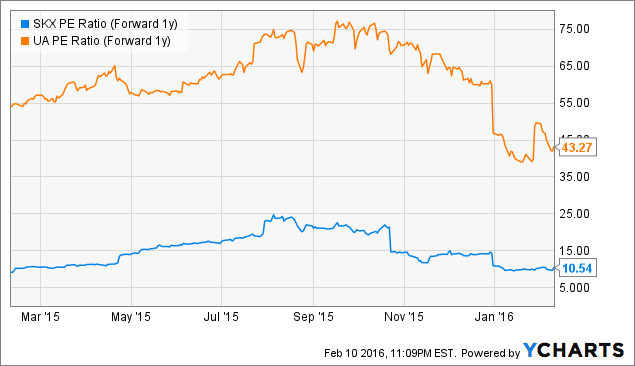 SKX PE Ratio (Forward 1y) data by YCharts
That said, investors can own a company that's growing at about the same rate as UA with margin expansion and a bullish outlook at just 25% of UA's stock multiple to earnings. This kind of deal and valuation disconnect does not come around that often, and when it does, Wall Street tends to identify it fast.
Now that investors have readjusted their expectations, and realize that 35% to 40% growth on a consistent basis is unrealistic, there's a good chance that SKX stock appreciates rather quickly from this point forward. Fact is that Skechers stock is cheap, and with it jumping higher in response to Q4 earnings, it is very possible that SKX continues to soar as a result of improved sentiment. In other words, it would be wise to buy SKX stock now.
Disclosure: I am/we are long SKX.
I wrote this article myself, and it expresses my own opinions. I am not receiving compensation for it (other than from Seeking Alpha). I have no business relationship with any company whose stock is mentioned in this article.