Over the past four months, I have been continually advising investors to stay away from National Oilwell Varco (NYSE:NOV). I had predicted that the company's stock was not an attractive entry point because of the volatility in oil prices and the company's continued reductions in investments. I repeatedly stated my opinion that the company's share price could suffer further volatility due to its business model and depressed end markets. The ongoing descent of its share price has only affirmed my opinion.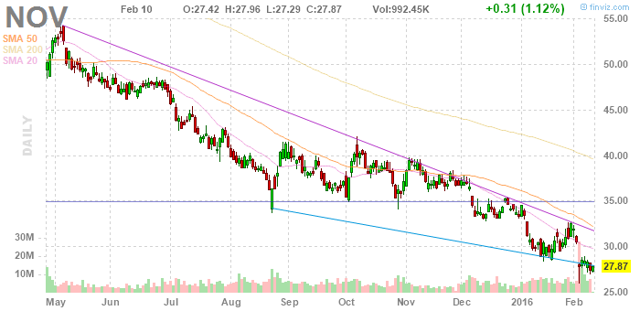 On the heels of last year's huge selloff, the latest few trading sessions have witnessed the company's stock plummeting to its lowest level in the past six years. At present, NOV's share price is trading near $28, barely above its multiyear low of $26.19 per share from February 3rd. This latest drop in share price is the result of a fresh wave of low oil prices coupled with the company's poor financial performance in the final quarter of 2015.
Here the questions arise, does NOV's share price now present a buying opportunity or will it continue its current selloff in the coming days? Does the principal of buying low apply to NOV stock? I believe it does, but only for long-term patient investors who can hold this stock for multiple years. In the short-term, National Oilwell Varco is likely to remain under pressure and its stock presents only minimal upside potential.
The company's financials are falling, and falling at a significant rate. In Q4, the company experienced significant drops in both sales and earnings. Its revenues stood around $2.72 billion in the final quarter, a decline of 18% from the third quarter of 2015 and a drop of almost 52% from the same quarter of last year. In addition, NOV's EBITDA declined sequentially by 40%, a drop of 75% from the same quarter of last year.
The results are not much different for the full year. Revenues for the year dropped to $14.76 billion, down from $21 billion in fiscal 2014. NOV posted a loss of $1.99 per share, compared with per-share earnings of $5.82 in the previous year. With the fall in earnings, its cash generating potential is also declining. For the full year, NOV generated operating cash flows of $1.3 billion with capital expenditures averaging $535 million. The company's dividends appear safe for the moment, as free cash flows are covering its dividend payments of $710 million.
What's Next?
Here's what's next for the company in 2016. I believe the year to come will be another challenging time for most oilfield services companies, including National Oilwell Varco. Amid low oil prices, most of the oil majors and E&P companies posted historic losses over the past year. These companies have been forced to reduce their investments by almost 40% in the last year alone, due to low petroleum prices and a continued bleak outlook.
However, after posting major losses in fiscal 2015, these companies have further reduced their capital investments, cutting them nearly in half for fiscal 2016. This means that oilfield services companies like National Oilwell Varco are likely to suffer a considerable drop in backlogs and revenues this year. They are expected to post even broader losses, which will impact their cash generation and, unfortunately for investors, their dividends.
In Conclusion
National Oilwell Varco's business model is directly dependent on activity from oil and gas companies. Baker Hughes has predicted a drop of nearly 30% in this industry, while I'm expecting an even greater plunge in investments for 2016. Oil majors and E&P companies are already struggling to generate enough cash for their own survival; they are making big cuts to both investments and dividends. At the same time, oil prices show no signs of stabilization, thanks to a huge excess of oil supplies.
In the latest monthly report from the EIA, oil supplies are exceeding demand far beyond initial expectations. The EIA is now predicting that oil supplies may exceed predicted consumption by 1.75M bpd in the first six months of 2016. Given the current situation, investors need to be very patient indeed, if they hope to pick NOV's stock on its big dip.
Disclosure: I/we have no positions in any stocks mentioned, and no plans to initiate any positions within the next 72 hours.
I wrote this article myself, and it expresses my own opinions. I am not receiving compensation for it (other than from Seeking Alpha). I have no business relationship with any company whose stock is mentioned in this article.