I will cut to the chase pretty quickly - investors should assess whether this is a systemic issue for global banks or something else. At current valuations of banks, the market is fully pricing in a severe balance sheet recession for the banks. When I say severe, I mean something along the lines of the Fed's CCAR severely adverse scenario.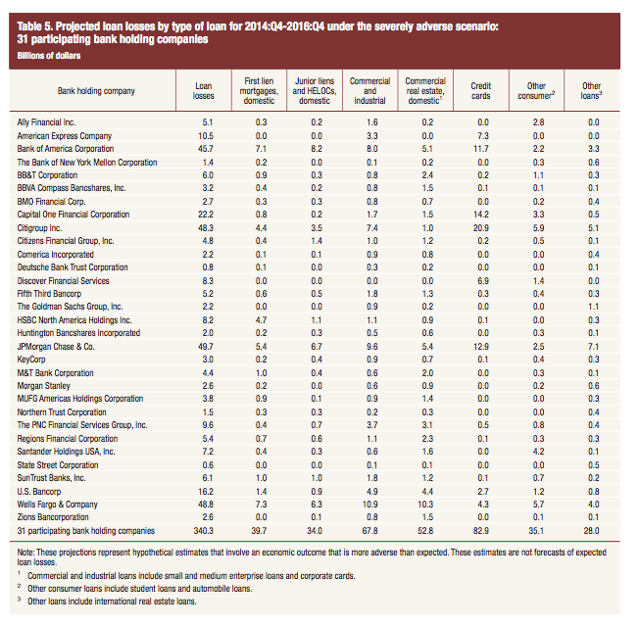 So what is freaking out the markets?
A confluence of non-specific factors (which is another way of saying no one really knows):
Oil price collapse and fear of credit losses and melt down of high yield bonds
Low and/or negative interest rates across the term structure around the world
Fears of a China hard landing
The Fed's inevitable policy error
Liquidation of stocks by sovereign wealth funds
U.S. recession and/or slow down
Other
The large U.S. banks are well-positioned to weather the storm
The U.S. banks have taken their medicine early and are operating from a position of strength - effectively all of the large U.S. banks (including Citigroup (NYSE:C), Bank of America (NYSE:BAC), Goldman Sachs (NYSE:GS), JP Morgan (NYSE:JPM), Morgan Stanley (NYSE:MS) and Wells Fargo (NYSE:WFC)) are very well-capitalized and highly liquid. The asset side of the balance sheet has also been thoroughly cleansed.
There are of course substantial earnings headwinds.
For the money-center banks, recent market volatility is not the healthy kind that drives positive trading income - both GS and MS confirmed this in the recent Credit Suisse Financial Forum which took place in sunny Florida earlier this week. Banking activities such as M&As, IPOs and debt issuances would have been delayed in these market conditions - hence, expect a horribly weak 1Q'2016 capital markets revenue environment. Not surprisingly, wealth management and private banking revenue won't be stellar either given global share markets' declines.
From a credit provisioning perspective, oil price in the 20's is not helpful either - while far from a complete disaster or an existential issue for the banks, it will likely weigh on 1Q'2016 earnings for U.S. banks.
The good news (if there are any) is that this is a temporary phenomenon and the investment banking secular trends clearly favor the U.S. banks compared with their European peers - especially the ones with large U.S. commercial banks.
Barclays' CFO, quite frankly, articulated his perspectives on competitors dynamics that confirmed the U.S. banks' dominance in investment banking:
...one thing obviously the US IBs have that the Europeans have less of is access to the US market so the biggest fee pool in the world with the biggest margins are in the US. And it's interesting, it's almost like an oligopoly in some ways; there's the bulge bracket cadre of firms and most of the fee pool goes to that bulge bracket bias towards the US banks. So in some ways the irony of it is in the US, where you've got the biggest fee pools with the biggest margins, you have the fewest competitors. When you come to Europe margins are much thinner; you do an IPO in Europe relative to the US you just earn less fees in terms of margin, and you'll have more banks that want to be on that ticket. You'll have US banks as well as European banks as well as domestics. And it's probably even worse in Asia in some ways; the margins get a little bit thinner and you've got even more fierce competition. So I think in that sense the US will always have a slight advantage just because the capital markets activity in the US is so much steeper. On top of that, those that have commercial banks in the US, of course, it sits very nicely and it's very hard for someone like Barclays to compete; we don't really have a meaningful commercial bank in the US, and it wouldn't be profitable for us to try and develop that. So I think in that regard we are just a different type of business.
What is happening across the Atlantic?
The European banks are extremely cheap - but perhaps for a very good reason. While the major European banks [such as Barclays (NYSE:BCS), Deutsche (NYSE:DB), Societe Generale (GLE), Credit Suisse and HSBC (NYSE:HSBC)] have also substantially built up their capital and liquidity buffers - they were not as proactive in adjusting their business model to deal with the post-crisis world. Furthermore they were much slower in reaching fully-phased in capital and liquidity milestones, cleaning up legacy assets and settling litigation costs.
The poster child for the state of European banking is of course DB - the following slide from its full-year results says it all.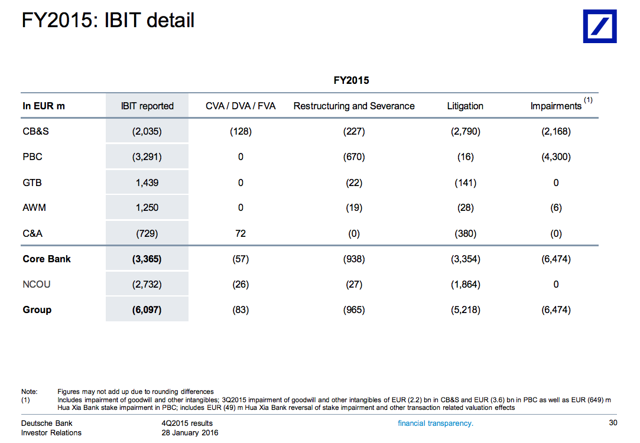 The EUR12 billion of one-offs are staggering especially given that we are full seven years post the financial crisis. DB's management guides to another restructure year in 2016.
But so far it doesn't look like a systemic financial crisis
The stock prices of banks are extremely volatile but it doesn't 'smell' like a financial stability issue. One can never be certain but so far the signs are not quite there (e.g. the central bankers are not fully in the frame trying to protect the banks or seem overly concerned - see Yellen's testimony yesterday).
If it is not a financial stability issue - then clearly this is a fantastic buying opportunity.
Rites of passage for the banks
Lloyd Blankfein of GS made an interesting point in the above-mentioned recent Credit Suisse conference. Blankfein noted that the banks are so much safer today with substantially higher capital and liquidity buffers and lower risk business models - yet, the cost of equity has not reduced to reflect that. It is still the same 10% cost of equity it used to be pre-crisis.
My view is that Wall Street needs to sail through a real crisis before the market will give it the financial safety credentials and assign a lower cost of equity to the G-SIB banks.
Final thoughts
If you are brave enough to invest in banks today - I suggest hedge your bets. Perhaps 80/20 approach with U.S. and European banks respectively. Perhaps 80% in U.S. banks simply because it is a lower risk play with still a huge upside. The other 20% in European banks since the valuations are simply insanely cheap - you can potentially double your money in 12 months.
On the other hand, If you opt to sit it out - I wouldn't hold it against you either.
My next articles will be focused on CCAR impact on the U.S. banks - if interested in topic, please don't forget to add me as a "real-time follower".
I provide independent and quality coverage of U.S., European, Asian, Canadian and Australian large-cap banks - identifying long and short opportunities. If interested in the topic, feel free to add me as a "real-time follower" or message me if interested in a specific banking name.
Disclosure: I am/we are long C, BAC, BCS, DB, GS.
I wrote this article myself, and it expresses my own opinions. I am not receiving compensation for it (other than from Seeking Alpha). I have no business relationship with any company whose stock is mentioned in this article.