Stocks moved sharply lower in early action Thursday as investors continue to contemplate guardedly upbeat comments from Federal Reserve Chair Janet Yellen peppered with her concerns that financial turmoil overseas could reach the U.S. She also didn't step back from the Fed's current policy of considering interest rate hikes.
Aside from Yellen, who testifies again today, traders were keeping a close eye early Thursday on the bond market, where 10-year Treasury yields plunged below 1.6%, a sign of continued expectations for economic weakness and of some investors seeking relatively "safer" places than the stock market to put their money. Gold-another safe haven-soared overnight, and oil continued to move lower. Yellen said U.S. financial conditions have become "less supportive of growth," and cited oil prices, weakness in overseas markets, and pressure on inflation. But she also highlighted what she said is strength in hiring, something the Fed will have to watch going forward as it looks for any sign of incipient inflation.
The Fed had gone into 2016 contemplating four rate hikes, but investors have become much less certain of that over the last few weeks. Some had hoped Yellen would discuss possible rate lowering or take future hikes off the table. Yellen did neither, and now bullish traders seem disappointed. Stocks initially rallied Wednesday as Yellen spoke, but fell by the end of the day, with the Dow Jones Industrial Average and S&P 500, in figure 1, now down four sessions in a row. The NASDAQ Composite eked out a small gain, led by rallies in Netflix and Google-parent Alphabet.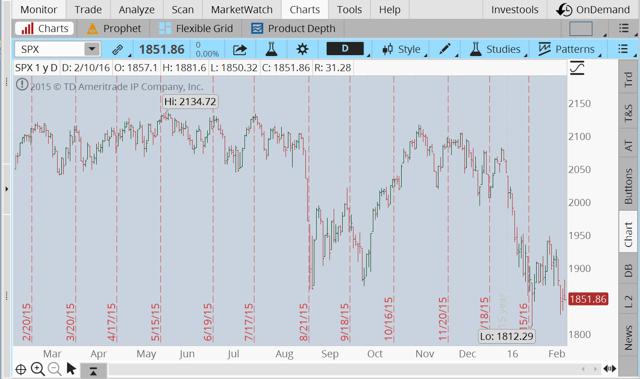 Figure 1: Same Old Tune? The S&P 500 (SPX), plotted here through Wednesday on the TD Ameritrade thinkorswim platform, posted its fourth consecutive session of losses, erasing earlier gains, with industry analysts saying investors seem compelled to sell rallies. Data source: Standard & Poor's. For illustrative purposes only. Past performance does not guarantee future results.
Post-Holiday Hangover. Hong Kong's Hang Seng index, which had been closed earlier this week for a holiday, re-opened Thursday and quickly joined the general worldwide trend toward weakness, sliding more than 3.5% to a four-year low. Japan was closed for a holiday, but markets in Europe followed Hong Kong's lead. The focus overseas was on Yellen's remarks, and on a continued plunge in European banking stocks, which on Wednesday had staged a short-lived rally. Markets in mainland China re-open Monday.
Tesla Electrifies. Shares of Tesla Motors (NASDAQ:TSLA) soared in post-market hours Wednesday despite heavy fourth-quarter losses for the company. Investors were cheered by the company's guidance, which forecast strong demand for the company's electric cars. Tesla shares, down sharply so far this year, posted double-digit gains overnight. In other earnings news, Cisco Systems (NASDAQ:CSCO) reported stronger than expected second-quarter profit, sending its shares climbing after hours.
Oil Misery Continues: U.S. oil futures fell overnight to new 12-year lows below $26.50. The complex had rallied for a short time on Wednesday after a weekly supply report showed a surprise draw in U.S. oil stocks, but then tumbled to close at three-week lows as worries persisted about U.S. and global demand. Some market watchers noted that even though the report showed U.S. oil supplies down, total oil supplies, which include products like gasoline, actually rose during the week to all-time highs, while U.S. imports fell sharply, all signs of lagging demand. Yellen's testimony about global economic weakness and a bearish oil outlook released by Goldman Sachs also played into oil's losses.

Figure 2: Economic Agenda. This week's U.S. economic report calendar. Source: Briefing.com.
TD Ameritrade, Inc., member FINRA/SIPC. TD Ameritrade is a trademark jointly owned by TD Ameritrade IP Company, Inc. and The Toronto-Dominion Bank. Commentary provided for educational purposes only. Past performance is no guarantee of future results or investment success.
Disclosure: I/we have no positions in any stocks mentioned, and no plans to initiate any positions within the next 72 hours.
I wrote this article myself, and it expresses my own opinions. I am not receiving compensation for it. I have no business relationship with any company whose stock is mentioned in this article.