ConocoPhillips (NYSE:COP) have been quite pessimistic this year as the company's performance on the stock market shows. Conoco has already lost over 30% of its value so far this year, driven by the continued decline in oil prices. What's more, the company had to cut the dividend for the first time in 25 years, reducing the yield by almost 66%, as it tries to protect itself against further downside in oil pricing.
As a result of the recent negativity regarding Conoco's performance, the stock has dropped to 52-week lows. But, in my opinion, the stock looks like a good opportunity at current levels on the back of its fundamental strength and robust asset portfolio.
Getting slightly better in a weak environment
There is no denying the fact that the steep drop in oil prices has hurt ConocoPhillips' realizations badly, especially because the company doesn't have any downstream operations that can benefit as a result of lower oil prices. In fact, Conoco's average realized price last quarter fell to just $28.54 per barrel of oil equivalent, down from an average realized price of $52.88 per barrel of oil equivalent in the same quarter last year.
However, despite the decline in the average realized price, Conoco was able to bring about a slight improvement in its gross margin in the preceding quarter, while at the same time the rate of decline in its cash flow also came down. This can be observed from the chart given below: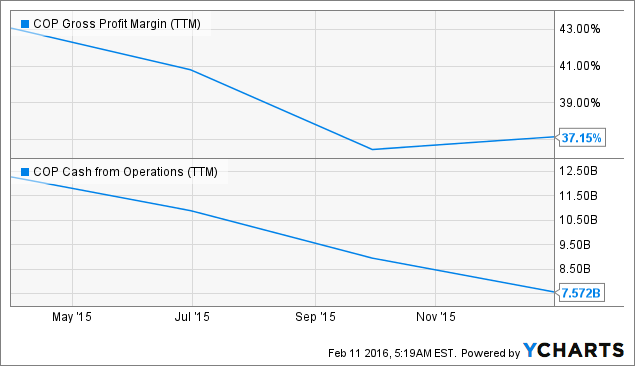 COP Gross Profit Margin (NYSE:TTM) data by YCharts
This uptick in Conoco's margin performance, along with some relief on the cash flow front, was driven by the company's focus on aggressive cost reductions. In fact, Conoco has managed to improve the efficiency of its assets and enjoys one of the lowest cost profiles in the industry in areas such as the Eagle Ford. In fact, Conoco's WTI break-even level in the Eagle Ford is slightly above $40/barrel, as shown in the chart given below, while the net present value per acre is the highest: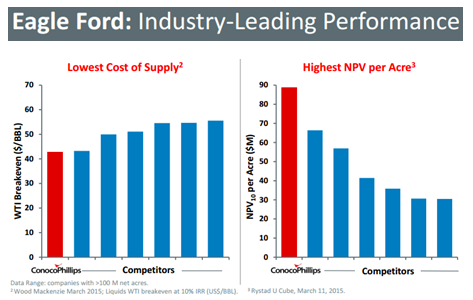 Source: ConocoPhillips
Now, I believe that Conoco has been able to lower the cost of supply in key regions such as the Eagle Ford further as it implemented aggressive cost-cutting measures last year, with more cuts on the way this year. For instance, ConocoPhillips plans to reduce its operating costs by more than $1 billion in 2016. Also, it now estimates operating costs for fiscal year 2016 to come in at $7 billion, which is lower than the earlier guidance of $7.7 billion that was announced in December 2015.
In addition, Conoco has lowered its capital expenditure forecast for 2016 significantly after a 41% decline in 2015. It now expects its capital expenditure to come in at $6.4 billion this year, reflecting a reduction of 17% from its earlier guidance of $7.7 billion. In fact, its capital expenditure is approximately $3.7 billion lower as compared to 2015 levels. The following chart illustrates the expected reduction in Conoco's cost profile this year:

Source: Conoco earnings presentation
Also, as it can be gleaned from the chart above, Conoco's production levels this year will be more or less in line with last year. This indicates that Conoco's low-cost asset base will come in handy and allow it to maintain its production at very low costs.
Can Conoco really improve the cash flow?
As mentioned at the beginning of the article, Conoco reduced its dividend by more than 66%. Along with the cost-cutting moves outlined above, the company expects to generate a positive impact on its cash flow and liquidity this year. As shown in the chart below, Conoco generated $7.6 billion in cash from operations last year, but its cash position declined due to the dividend and capital investments: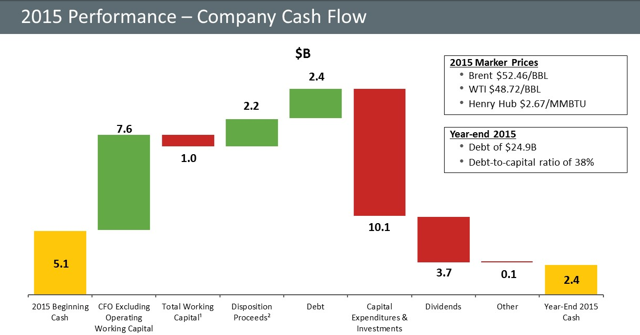 Source: Conoco earnings presentation
Now, as the company has reduced the dividend by 66%, its outlay on the same should be around $1.2 billion, leading to savings of $2.5 billion. Additionally, since Conoco will spend $3.7 billion less on capex this year, it will be able to boost its cash position by at least $6 billion in 2016. Concurrently, the savings of $1 billion in operating costs indicate that Conoco can boost liquidity by $7 billion in 2016, which will allow it to mitigate any decline in the operating cash flow due to the drop in oil prices.
Improving oil fundamentals might be a tailwind
In effect, Conoco has prepared itself for a low oil price environment this year as its operating cash flow in 2015 had halved from year-ago levels as oil prices dropped over 40%. Now, so far this year, the Brent oil price has barely managed to cross $35 per barrel, which is why Conoco has made a pre-emptive move to protect its liquidity.
But, the possibility of an improvement in the oil scenario cannot be ruled out either, especially as the demand-supply balance seems to be getting better. According to the EIA, the inventory situation in the global crude oil market is expected to get better this year. The EIA expects an increase of 0.7 million barrels of oil equivalent per day in inventory this year after an increase of 1.9 million barrels of oil equivalent per day in 2015.
This decline in inventory will be driven by higher demand for crude oil, while at the same time, supply will decline on the back of a massive scaling back in infrastructure investments. The following chart shows that the oil market is expected to achieve balance in the coming few quarters as inventories have come down of late, and the trend is expected to continue.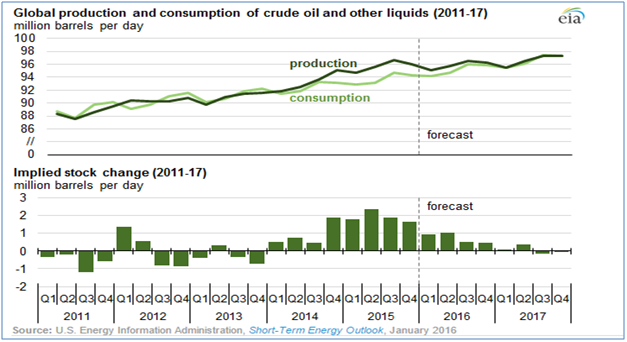 Source: EIA
Conclusion
ConocoPhillips is playing a conservative game by lowering its dividend and capital expenses drastically this year as it aims to protect itself against further downside in oil pricing. This is a smart move that will allow Conoco to keep its finances stable. More importantly, the recent decline in oil inventories is set to continue going forward as production and consumption come closer to each other, setting the way for better prices. Hence, taking advantage of the steep decline in Conoco's shares looks like a good idea.
Disclosure: I/we have no positions in any stocks mentioned, and no plans to initiate any positions within the next 72 hours.
I wrote this article myself, and it expresses my own opinions. I am not receiving compensation for it (other than from Seeking Alpha). I have no business relationship with any company whose stock is mentioned in this article.