Introduction:
Rapid7 (NASDAQ:RPD) reported fourth quarter results after the market closed yesterday, beating top- and bottom- line estimates by analysts. Long-term holders of RPD have every reason to be disappointed by the share price performance of RPD, which has corrected by over 60% from their closing price on the first day of listing about six months ago and is now more than 37% lower than their listing price of $16. I think the sell-down can be attributed to two main reasons: 1) cyber security sector sell down, and 2) global sell down resulting in a loss of appetite for high risk, high multiple stocks. Despite this, I continue to think RPD is a standout performer amongst the rest of the cyber security names that have collectively taken a hit. Their stronger than industry top-line growth rate is testament to this, but if there is one lesson we learn from the likes of Amazon (NASDAQ:AMZN), it is that the market rewards you for achieving bottom-line expansion more than top-line growth. I continue to remain bullish on RPD, but continue to keep a close eye on their bottom-line.
Rapid Acceleration In Top-line growth
RPD reported their fourth quarter results after the market closed on Wednesday, beating analyst's estimates for top- and bottom-line. For the full year, top-line grew by 50% from a year ago, which is even faster than the 28% they managed to achieve in 2014. Whilst investors in RPD have reason to be upset with the share price performance of RPD in the last six months, I think the $0.05 earnings beat is a positive as they reported a narrower than expected loss of $0.31. This shows their ability to manage costs despite being at the growth stage of the cycle.
Path to Profitability remain on track
Regular followers of RPD will recall that RPD's path to profitability has long been my concern. In my initiation report on RPD last year, I talked about the importance of showing investor's a clear path to profitability in order to attract a higher valuation multiple from investors.
These are the lessons I gleaned from looking at other high-growth and high-multiple stocks in the market. AMZN is a case in point. From the years 2011 to 2014, the revenue of AMZN grew by a compounded 22.8%, the shares of AMZN however, only increased by 60+% during the period. When AMZN announced unexpected positive earnings in the second quarter of 2015 after years of reporting earnings losses, their shares jumped over 60% in less than six months. Notice the stark difference.
I think the above illustrate that whilst high revenue growth is important, positive earnings is even more important. And high-growth companies who can maintain top-line growth and reign in costs will see investors reward them through an expansion in valuation multiples assigned.
This is why I am reasonably assured by the guidance issued by RPD for the full year 2016, which sees them guiding a narrower loss of $0.97 - $0.88 from the $1.46 and $2.32 loss in 2015 and 2014 respectively. I think the market seems to like the guidance too, with RPD trading up 9.2% in the after-hours. Nonetheless, I think RPD will have to do more in terms of cost management in order to attract sustained interest in their counter. The good news is that management appears to have paid heed to this and have performed better than expected. The challenge moving forward is, whether they can sustain this.
Key Operating Metrics: Valuations
I think the most apt valuation methodology to value RPD is the Price to Sales (trailing) valuation methodology, which is currently at 3.2x vs. the industry's 24.3x.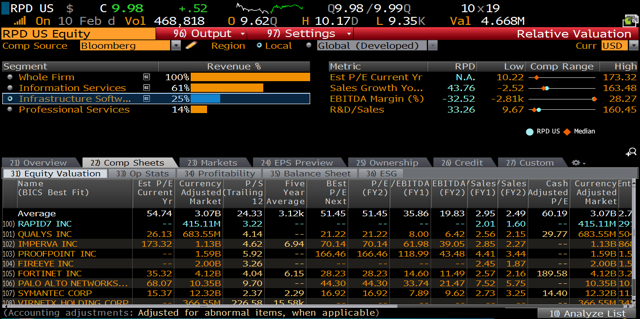 Source: Bloomberg
I think the steeper than peers valuation discount is unjustified at this point given their history of beating performance (beating earnings three out of three times) estimates by the market since their listing in July last year.
Considerations
I think the main consideration at this point is, given the global sell down in equity markets around the world, do investors still have appetite for risky high multiple stocks like RPD? I think the answer at this point is no. The global uncertainty is best seen in my view by the strong rally in gold prices this year. On a year-to-date basis, gold is already up 10%. I think this flight to safety mode might keep counters like RPD depressed for a while.
Conclusion
RPD's strong history of beating market expectations and guidance for a narrower loss in 2016 bodes well for the long-term future of the company. I think the global sell down coupled with a loss of interest in cyber security stocks by investors could keep RPD depressed for the time being. Nonetheless, I think the fundamentals of RPD remain sound and the fundamentals of the business have not deteriorated despite the market sell-off. I remain long RPD and will accumulate on dips.
Disclosure: I am/we are long RPD, HACK.
I wrote this article myself, and it expresses my own opinions. I am not receiving compensation for it (other than from Seeking Alpha). I have no business relationship with any company whose stock is mentioned in this article.