Introduction
This is part of a series of quarterly reviews that analyze the performance and portfolio characteristics of interesting equity managers running either public (mutual funds) or private pooled investment vehicles (hedge funds) that are not accessible by retail investors. Our aim is to provide readers:
An analysis of the manager's return and risk characteristics
An analysis of the manager's top portfolio holdings
An opinion on whether readers should replicate their portfolio
All analysis is based on a clone portfolio of the manager's top 10 disclosed holdings, which allows readers to replicate the portfolio with ease if desired. It may not a reflection of the manager's actual investment performance. That said, we expect some clone portfolios to outperform the manager's actual portfolio over time, due to the following factors:
No Fee Drag: Absence of management fees (high base fees + performance fees in some cases). Investors can buy the stocks directly to access the manager's stock-picking skill.
Higher Concentration: Managers typically over-diversify. Returns from the best ideas are usually diluted by a long tail of lower quality ideas. We focus only on the Top 10 holdings.
Equal-Weighting: Managers may have good stockpicking skills, but can be terrible at sizing ideas correctly. Our clone portfolios are equally-weighted so all ideas have an impact on returns.
Lower Trading: Managers typically add/trim positions on the margin too often. Quarterly re-balancing in line with 13-F releases reinforces a buy-and-hold discipline and reduces costs.
Manager Brief
| | |
| --- | --- |
| Company Name: | AltaRock Partners |
| Location: | Beverly, MA |
| Year Established: | 2002 |
| Investment Style: | Value |
| Lead Portfolio Manager: | Mark Massey |
| Number of Employees: | 3 |
| 13-F AUM: | $491m |
We discovered AltaRock while we were looking for managers invested in TransDigm Group (NYSE:TDG), a "compounder" we wrote about recently. AltaRock has been around for some time, but have only started filing 13-Fs in 2014. According to BeyondProxy, the manager has compounded capital at 12% p.a. since its inception, outperforming the S&P 500 by 5% p.a. The manager runs a concentrated book - owning 5-10 businesses at a time. This means its 13-F filing should be highly representative of the actual portfolio.
For more information on compounders, please see our introductory article here.
Performance Review (based on clone portfolio)
We only have 12 data points for AltaRock through the end of January 2016, which is not meaningful for performance evaluation. During this short time frame, the portfolio has underperformed the S&P 500 by ~4%. However, we know that the manager has delivered alpha historically based on the article on BeyondProxy.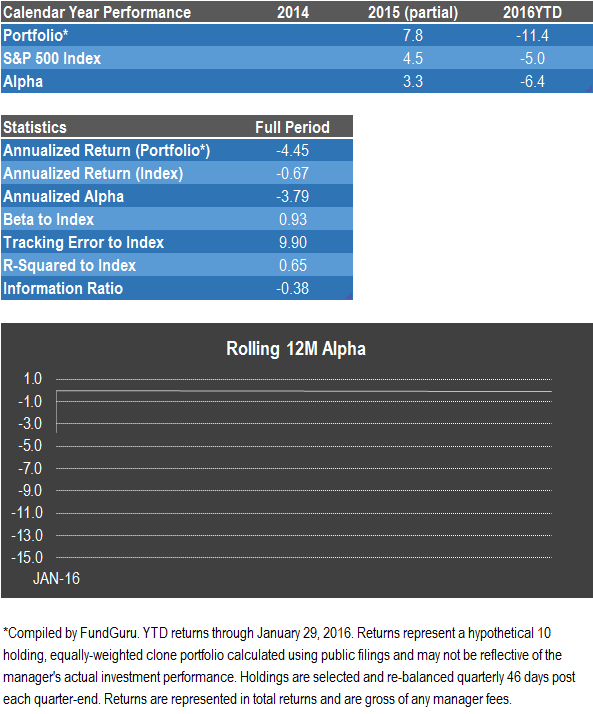 Portfolio Analysis
As AltaRock invests only in a few names, there are only 8 holdings in our clone portfolio. This means individual companies occupy a 12.5% weight each. Higher concentration brings higher short-term volatility.
In line with AltaRock's preference for wide-moat businesses, the portfolio appears to be packed full of these so-called compounders: MasterCare (NYSE:MA), Moody's (NYSE:MCO) and Visa (NYSE:V) to name a few. These companies all occupy leading market positions in their respective industries and have grown their earnings consistently.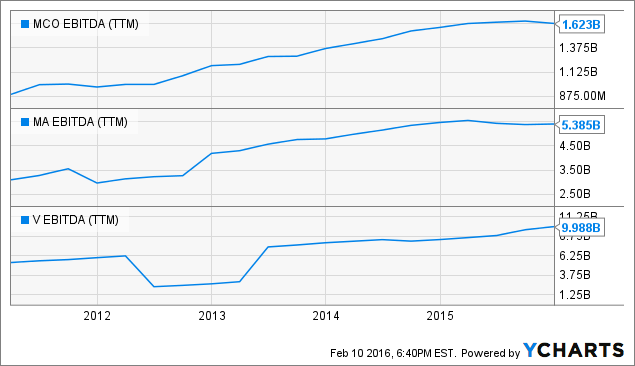 MCO EBITDA (TTM) data by YCharts
AltaRock's portfolio appeared to be in ramp-up mode over the past few quarters, with top positions being topped up regularly (see cells in green, which highlights a QoQ increase of >10%).
The portfolio as a whole is slightly more expensive than the market, a reflection of the premium valuation of the businesses they hold. ROE overall is negative due to Charter (NASDAQ:CHTR) and Liberty Global (NASDAQ:LBTYK) both having negative ROEs, as they have negative bottom-line growth. This is a feature of the cable industry where profitability is low and competition in high. CHTR is waiting for regulatory approval to acquire Time Warner Cable (TWC), a deal we expect to be approved soon.
Let's take a look at the performance of individual names over this 1 year period: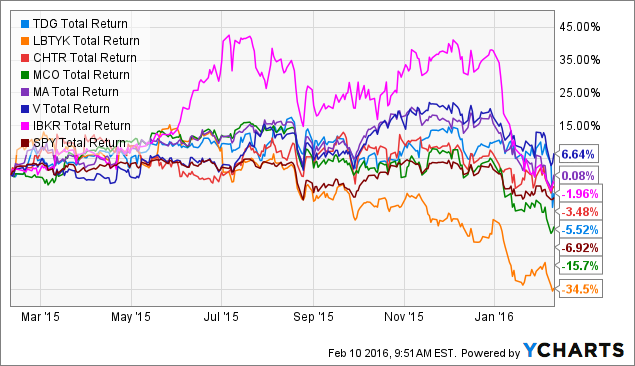 Liberty Global and Moody's appears to have been the main culprits over this trailing 1 year period, while Visa and MasterCare have performed well. Lou Simpson's SQ Advisors also owns Liberty, see our analysis of the manager here.
TransDigm, AltaRock's largest position plunged in February. Interactive Brokers (NASDAQ:IBKR) have also been hit recently as part of the broader sector sell-off in anything financial or "rate-hike" related. IBKR is a more growthy name that occupies a cost leadership position in the institutional brokerage market.
Liberty (NASDAQ:LILAK) is a new tracking stock for Liberty Global's operations in Latin America and the Caribbean. It has performed poorly of late and could be worth a look. There is a good article on SA for this relatively unknown company.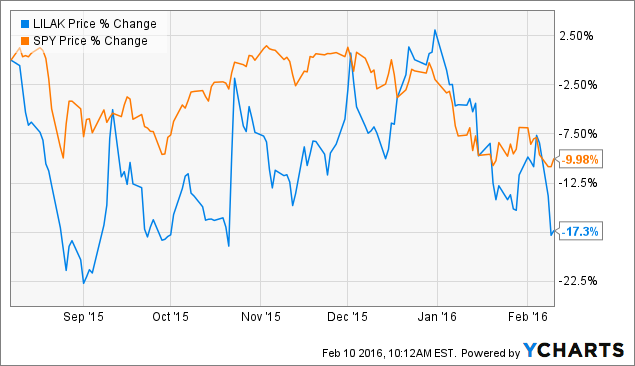 LILAK data by YCharts
Our Take
Without doubt, AltaRock owns a portfolio of compounders, in line with its philosophy of investing in wide-moat businesses. Many of these companies have taken a beating during the recent market decline, which we think is unwarranted. It will be interesting to see how this manager fares over the next few quarters.
Interested in following more alpha? Take a look at other articles we've published in this series:
Disclosure: I am/we are long TDG, LBTYK.
I wrote this article myself, and it expresses my own opinions. I am not receiving compensation for it (other than from Seeking Alpha). I have no business relationship with any company whose stock is mentioned in this article.