The UK reconsiders its membership in the European Union
By Sean Connery, Portfolio Manager. Posted on Expert Investment Views: Invesco US Blog.
The United Kingdom's (UK) Prime Minister, David Cameron, has promised to hold a referendum by 2017 to decide whether the UK will remain in the European Union (NYSEARCA:EU). What has brought the UK to this point and what are the major arguments for and against EU membership?
Against EU. EU membership has long been a political issue in the UK and was a key campaign issue in the 2015 general election. Those who argue against membership focus on issues of immigration, its strain on the UK's social infrastructure, the high financial cost of EU membership, and limits on the UK's ability to forge trade agreements with non-EU nations independently of the EU.
For EU. Proponents of EU membership point to the ease of trade and travel within the EU - i.e., no tariffs or immigration restrictions. Proponents argue that a British exit from the EU, a "Brexit," could usher in significant political and economic uncertainty, potentially thwarting growth and threatening the status of the UK as a major financial center.
Recent polls show that the vote is likely to be close. Ahead of the vote, Prime Minister Cameron is seeking to renegotiate the terms of the UK's membership in the EU. Talks are ongoing and major discussions are set to take place during the EU Summit Feb. 18 and 19. More palatable terms of membership could convince undecided voters that continued EU membership is the best way forward for the UK.
Invesco Fixed Income's (IFI) view
IFI expects the referendum to be held between June and October of this year, ahead of the 2017 deadline.
IFI expects renegotiated terms of EU membership to be viewed positively by voters generally, providing support to the "remain" vote.
Recent sterling depreciation may be due to perceived Brexit risk. If Prime Minister Cameron can seal an acceptable "deal" from his EU counterparts at the February EU summit, IFI would expect sterling to strengthen into the referendum vote. Positive sentiment going into the EU referendum could cause UK gilts (government bonds) to underperform German bunds and US Treasuries, with the 10-year part of the curve likely to lead the way, in our view.
The referendum's implications may reach beyond the UK. A Brexit could resonate among nationalist parties and euroskeptic movements in other parts of the EU. Similar initiatives could raise the question of continued membership among other non-eurozone states.
What we will be watching
We believe it is important that the referendum is held while consumer confidence is elevated, as there appears to be a strong relationship between the level of consumer confidence and the likelihood of voters opting to remain in the EU, as seen below.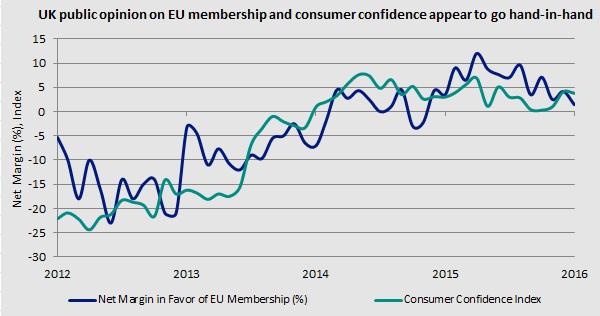 Source: YouGov and Citi Research, GFK UK Consumer Confidence Indicator, United Kingdom, Jan. 31, 2012 to Jan. 31, 2016
We believe the UK will choose to remain in the EU. However, risks to our view center around a decline in consumer confidence that could cause voters to become more inward looking and derail sentiment toward membership (possibly on the back of falling house prices or other global concerns such terrorism threats or an escalation in the migrant crisis). Any of these developments could have a significant effect on voting intentions, in our view.
Important information
The GFK UK Consumer Confidence Indicator (Consumer Confidence Index) measures overall consumer confidence in the UK.
Issuers of sovereign debt or the governmental authorities that control repayment may be unable or unwilling to repay principal or interest when due, and a security may have limited recourse in the event of default. Without debt holder approval, some governmental debtors may be able to reschedule or restructure their debt payments or declare moratoria on payments.
The information provided is for educational purposes only and does not constitute a recommendation of the suitability of any investment strategy for a particular investor. Invesco does not provide tax advice. The tax information contained herein is general and is not exhaustive by nature. Federal and state tax laws are complex and constantly changing. Investors should always consult their own legal or tax professional for information concerning their individual situation. The opinions expressed are those of the authors, are based on current market conditions and are subject to change without notice. These opinions may differ from those of other Invesco investment professionals.
| | | |
| --- | --- | --- |
| NOT FDIC INSURED | MAY LOSE VALUE | NO BANK GUARANTEE |
All data provided by Invesco unless otherwise noted.
Invesco Distributors, Inc. is the US distributor for Invesco Ltd.'s retail products and collective trust funds. Invesco Advisers, Inc. and other affiliated investment advisers mentioned provide investment advisory services and do not sell securities. Invesco Unit Investment Trusts are distributed by the sponsor, Invesco Capital Markets, Inc., and broker-dealers including Invesco Distributors, Inc. PowerShares® is a registered trademark of Invesco PowerShares Capital Management LLC (Invesco PowerShares). Each entity is an indirect, wholly owned subsidiary of Invesco Ltd.
©2016 Invesco Ltd. All rights reserved.
With or without EU by Invesco US Blog