Income investors typically view real estate investment trusts, or REITs, favorably because of their slow-and-steady nature. REITs raise capital, invest in real estate properties, and then collect rents which allow them to invest in additional properties. Under normal circumstances, this creates a steady "snowball effect" that produces reliable, albeit modest, growth from year to year.
But in the past year, HCP (NYSE:HCP) has been anything but normal. The company is being dragged down by the prospect of rising interest rates, as well as escalating fears regarding its core tenant HCR ManorCare. Things took a big turn for the worse when HCP stock fell nearly 20% on February 9 after reporting quarterly earnings. The sell-off didn't stop there - HCP opened down another 5% the following day.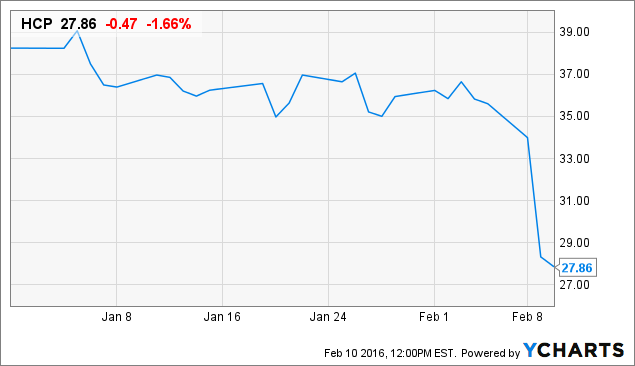 For investors who closely follow the company, there wasn't much in the earnings report and conference call that warranted such a massive sell-off. HCP reduced its 2016 outlook based largely on the ManorCare situation. But the outright panic that has sent HCP from $35 to $26 in two days seems overdone. Investors are glossing over the fact that HCP raised its dividend for the 31st year in a row.
That's why I added to my position in HCP this morning at $26.78 per share.
Why I'm Not Panicking About ManorCare
The trouble stems from what is going on with ManorCare. Last year, ManorCare was charged with submitting false Medicare claims for services that, according to the Department of Justice, should not have been reimbursed because they were either not covered by the skilled nursing benefit or were not medically necessary. Judging by the price action since earnings, it seems clear that investors are in full-blown panic mode.
Investors are right to be concerned. ManorCare is HCP's largest tenant and by itself represents approximately 23% of revenue. And, it's likely that HCP will incur a significant financial penalty once all is said and done. HCP took an impairment charge in excess of $800 million in the fourth quarter, which clearly spooked investors. But the reason I'm not worried is because HCP has taken steps to raise capital to withstand the financial penalties, and I'm confident the company will come through this situation in relatively good shape.
This has weighed on HCP's stock, but the company has taken quick and aggressive action to prepare for any financial penalties as well as reduce its dependency on ManorCare. Last year, HCP sold 50 HCR ManorCare non-strategic assets with expected proceeds of $350 million. HCP also entered into an $847 million acquisition with Brookdale Senior Living (NYSE:BKD), a provider of private-pay senior housing, to reduce its reliance on ManorCare. It's also a good sign that the company can still raise capital in the debt markets at attractive rates. HCP raised $3 billion from financing and capital recycling activities, including $2.3 billion of debt at a blended rate of just 3.5%. This will help the company prepare for higher interest rates.
Let Dividends Be Your Guide
Another reason why I'm not panicking is because HCP just raised its dividend. To me, dividend increases are one of the most powerful ways management can signal its confidence in the future of the business. What happens to the stock price in the short-term is often a function of psychology, and investors tend to sell first and ask questions later. But HCP has now raised its dividend for 31 years in a row, making it the only REIT included on the prestigious Dividend Aristocrat list. That leads me to believe this is a company that has seen its fair share of turbulent times before, and it has kept increasing dividends like clockwork.
At the price I added to my position, HCP yields 8%. Even though the dividend increase was less than 2%, with such a high starting yield, I don't need HCP to be a huge dividend grower to generate a sizable yield on cost. By reinvesting dividends, even if dividend growth remains at 2% over the next five years, my yield on cost based on today's purchase will be 12.8%.
Of course, the linchpin for this argument is that the dividend will not be cut. Due to the collapse in share price, it seems clear the market is not convinced in the sustainability of the payout. But again, I feel this panic is overblown. HCP grew its adjusted FFO by 4% to $3.16 per share in 2015. Even when using HCP's 2016 forecast which calls for $2.77 per share in FFO at the midpoint of the guidance, the forward dividend payout ratio is a manageable 83%.
I'm Adding More HCP
HCP stock trades for 10 times its 2016 expected FFO, and the stock yields 8%. The dividend yield has spiked to levels not seen since the financial crisis, which shows how panicked investors are right now.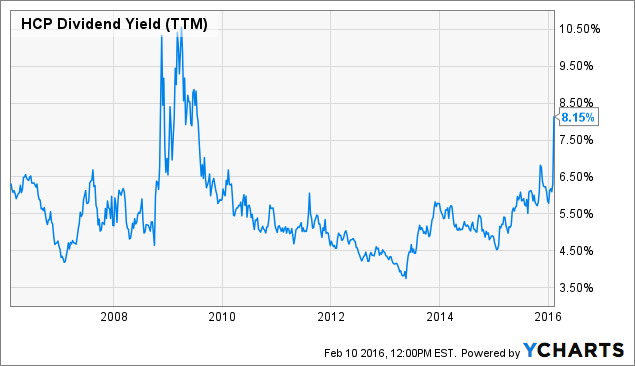 Investors are ignoring the fact that HCP can still cover its dividend with FFO, and the company's future growth will be fueled by an undeniable demographic shift. The aging population should provide the healthcare industry a strong long-term tailwind. There are millions of people entering retirement every year, and as the general population ages, it will result in higher demand for healthcare.
HCP is set up very well to capitalize on this, and sooner or later the situation with ManorCare will be resolved. As a result, I'm happy to add to my position while everyone else rushes for the exits.
Disclaimer: This article represents the opinion of the author, who is not a licensed financial advisor. This article is intended for informational and educational purposes only, and should not be construed as investment advice to any particular individual. Readers should perform their own due diligence before making any investment decisions.
Disclosure: I am/we are long HCP.
I wrote this article myself, and it expresses my own opinions. I am not receiving compensation for it (other than from Seeking Alpha). I have no business relationship with any company whose stock is mentioned in this article.