The stock market has been everything but stable over the past few weeks. US indices have had midday fluctuations of over 100 points, usually beginning and ending in negative territory. Some may attribute this to the fluctuation of oil, as it is highly correlated (see figure below) but I'm not.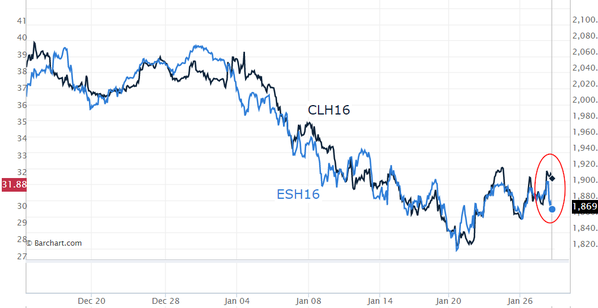 In order to truly understand the market sell-off we must detail how oil is directly causing market moves. There are two possible explanations for the sell-off. First, sovereign wealth funds of oil-dependent countries like Saudi Arabia and the UAE are liquidating their assets to limit losses from the global oil glut. They are specifically liquidating US assets because the US is currently the least pressured market and these countries are using these liquidated assets to keep their current PEG ratios and pad their FX reserves. Second, low oil prices and decreased manufacturing are pushing the US dollar index higher while overall global demand for other economies has been putting more pressure on emerging economies such as China.
Let's start with sovereign wealth funds. (hereafter "SWFs"). According to David Rosenberg of the Toronto Globe and Mail, seven oil-dependent countries control $4 trillion of US assets, or 54% of the total global count. These countries include Saudi Arabia, Norway, UAE, and others. Saudi Arabia has shed 15% of its foreign exchange holdings since 2014 while Norway, the world's largest SWF (~$900 billion), is on the brink of doing the same. Norway's economy is incredibly dependent upon its rich oil reserves. According to Norway's 2015 National Budget, 30% of the State's total income since 2000 has been generated from petroleum activities. This government oil revenue goes entirely into Norway's SWF, according to Extractive Industries Transparency Initiative. Over 55% of Norway's petroleum revenue comes from the State's 79% tax rate on the income of extractive oil companies. With it now being more economical to keep oil in the ground than to extract, Norway's revenue is taking a significant hit. The fund saw losses of ~5% in the last few months of 2015, the largest losses since its -8.8% loss in 2011.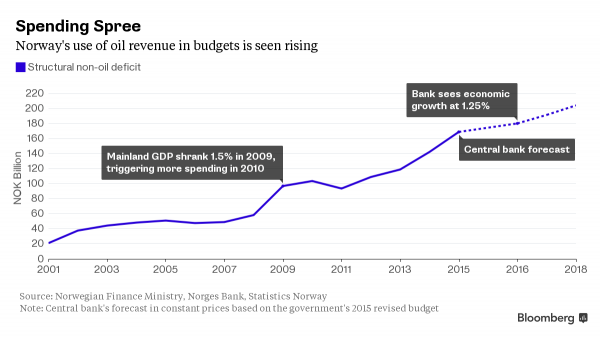 According to Rosenberg, Norway has already sold $1.1 billion of its equity holdings. At the same time, Abu Dhabi reportedly sold $300 million of its $3.6 billion stake in US equities. Other oil-dependent countries are following suit as $19 billion has been drawn out of the US equities market in just the 3rd quarter of 2015, according to eVestment, with even more expected in 2016.
While this is happening, the US dollar index (DXY) is getting increasingly stronger compared to other currencies, especially those of emerging markets. With most other currencies at a very low value, SWF's are liquidating their dollars, a logical move for any investor looking for the most liquidity.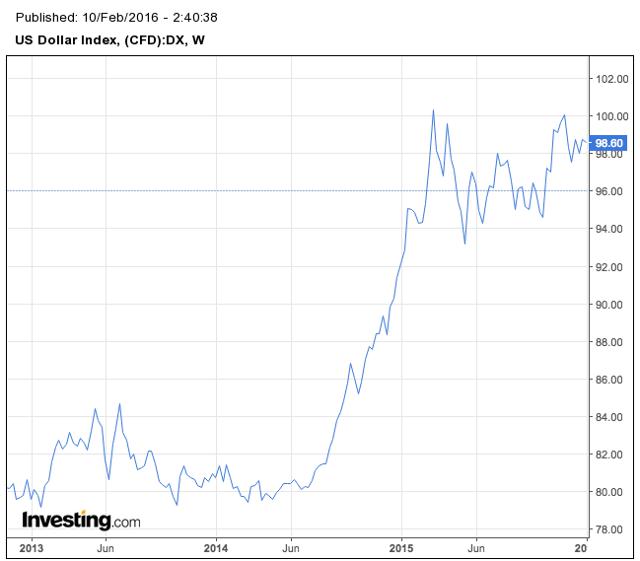 Additionally, despite the fact that the US economy has proven itself to be a service economy, it appears that a strong dollar is having its effect even outside of the manufacturing sector. As it turns out, the services industry has taken a huge hit, as services such as consulting, engineering, and even financial services are done abroad and are charged with US dollars. If the US dollar is holding strong because of the strength of the US economy, perhaps the market should double-take whether services strength can maintain its course.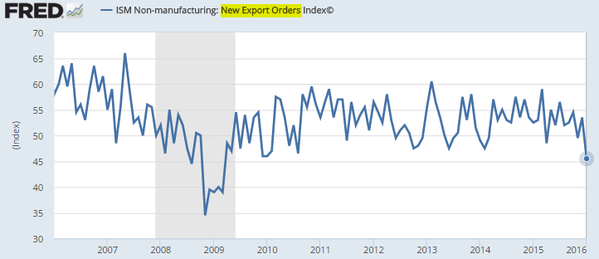 As seen below, the top sector that oil-dependent SWF's invest in is the Finance industry.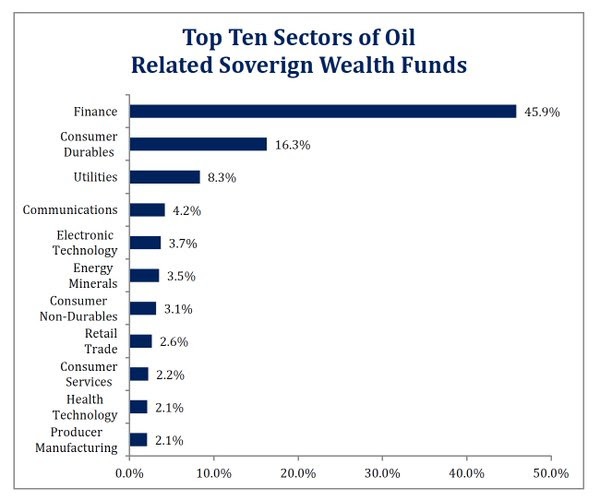 This is worrying both investors and the Federal Reserve, so much so that there is now a 14% chance that the Fed lowers the interest rate after just raising it 25 basis points in December. To give you an idea, as of February 5th the chance of the Fed lowering interest rates was 0 and a March rate hike was 10%. As of February 11th the chance of the Fed cutting interest rates in March is 4% and rate hike is 0.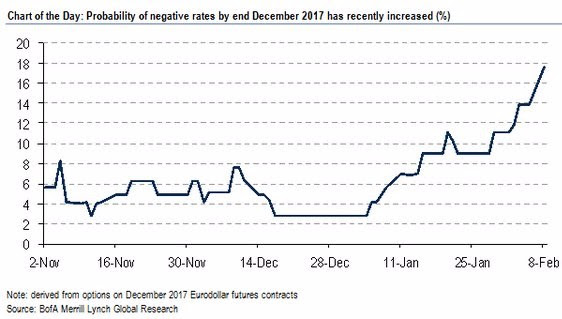 What is likely to happen is that the dollar will slowly come back to a normal level and our economy will show its strength. As contrary as it sounds, SWF's selling their stake in US assets could actually be a good thing for the US economy in the long run. We'll have to wait to find out.
Disclosure: I/we have no positions in any stocks mentioned, and no plans to initiate any positions within the next 72 hours.
I wrote this article myself, and it expresses my own opinions. I am not receiving compensation for it (other than from Seeking Alpha). I have no business relationship with any company whose stock is mentioned in this article.