The enthusiasts for Peabody Energy (NYSE:BTU) are in a bit of a frenzy about how the company plans to address debt. Excellent work is being presented in SeekingAlpha covering various scenarios. However, the context for these ruminations is that the BTU share price has almost halved (again) from $6.67 at the start of 2016 to $3.36 now. While the fall was in part due to Arch Coal filing for bankruptcy and a pretty mad start to the year, my take on this is that there are other major factors involved with the savaging of coal stocks. Indeed some readers have asked in response to optimistic SeekingAlpha articles "Are we missing something?" I think the authors of enthusiastic articles on BTU are indeed overlooking the elephant in the room.
There is a still a lot of bravado about the agreement reached in Paris in December 2015 by 195 countries to end fossil fuel emissions. Some regard it as a bit of a joke, while other authors on SeekingAlpha, including prolific author Courage and Conviction, act as if Paris didn't happen.
It is very important for investors to make their judgments about this matter because, although coal was not mentioned in the Paris agreement, if the goals agreed to get implemented, this will signal the demise of the coal industry.
What the Paris agreement means in terms of exploitable assets
Fossil fuel giant Engie (that is switching to solar PV) has summarized conclusions reached at the Paris conference.
Two key conclusions of relevance to this article are :
· It confirms the prime objective of containing global temperature increase to below 2°C relative to preindustrial levels, and calls for the most energetic efforts to be made to contain the rise to 1.5°C
· In terms of reduction, the 'global emissions ceiling' must be reached 'in the shortest-possible time', with countries targeting emissions neutrality in the second half of the century. The agreement invites all countries to publish national strategies detailing the methods they intend to use in order to deliver on their commitments.
In the light of the above, the accompanying Figure is riveting as it encapsulates what the Paris conference was facing. Only the most optimistic observers consider there is any chance of containing temperature rise to 1.5C, as at current levels of burning fossil fuels we have less than 10 years of consumption to have a 50% chance of limiting warming to 1.5C. Even to contain CO2 emissions to 2C temperature rise means we have less than 30 years of current consumption of fossil fuels to have a 50% chance of achieving that goal.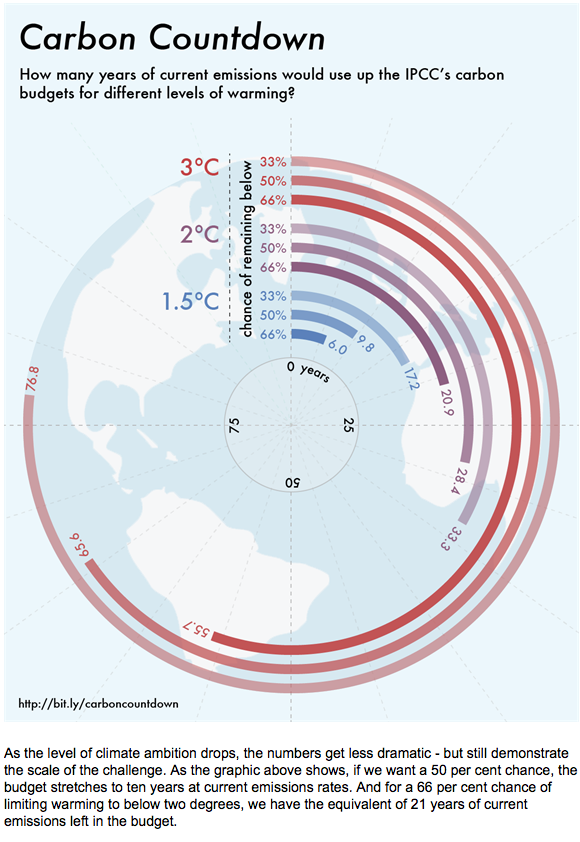 Much commentary about climate issues in the US seems to focus on disbelief that anything will change from the dominant fossil fuel paradigm. In contradiction to this stance, on the other hand there is acknowledgement that the US is taking concrete steps towards decarbonizing, especially in winding down the coal industry. However this tends to be seen as a parochial fight about US politics and how badly the Obama administration is behaving towards the coal industry. There is no sense that the Obama administration is just contributing its efforts towards a global commitment to address climate change.
For investors in any fossil fuel stocks it is vital to make a decision about whether the Paris commitment to limit CO2 emissions to result in less than 2C (goal of 1.5C) temperature rise is a genuine commitment. If so, then immediate and substantial steps need to be taken urgently.
So is there a sense of new urgency to decarbonize since December?
My review of recent announcements suggests that in fact there is a lot of evidence that the change is happening and in fact accelerating. Here are a few straws in the wind that support my thesis:
Evidence of action post-Paris
China
Last week China announced allocation of $4.56 billion over 3 years to close 4,300 old and inefficient coal mines (currently China has 11,000 coal mines), cut coal production by 700 million tons and redeploy 1 million workers. This is a strong statement about China's plans to cut smog and greenhouse gas emissions and is consistent with a serious intent about the Paris agreement. New coal mine approvals are also banned for the next 3 years. Conversely China continues to dramatically expand its renewable energy investment in solar PV, wind and hydro power.
China decreased its coal consumption in 2014 and this decrease accelerated in 2015. The predictions are that this fall will continue in 2016. More damaging to BTU is that China's coal imports fell more than 30% in 2015. China is clearly doing two things : i) reducing coal consumption in its energy mix; ii) using local coal production rather than imported coal.
India
India is always a challenge to make sense of, but recent news suggests that, just as has happened in China, the move against coal is now becoming visible. Growth of newly installed thermal capacity was 12.48% in 2012, 8.99% in 2014 and 8.78% in 2015. A recent report indicates that a senior official from the country's largest power producer claims that the pipeline of new thermal projects is drying up, with no new plants scheduled to come on stream in 2016. This official claims that 10GW of delayed thermal projects might come on stream in 2018. If this is true, it represents an extraordinary turnaround. It is clear that substantial coal stockpiles have built up in 2015 through expansion of local production.
Recent announcements from major fossil fuel companies Adani Enterprises and Reliance Power are consistent with urgent action as proposed in Paris. These companies refer to Indian PM Modi's goals of transforming the energy economy through decentralized investment in renewable energy, especially solar PV.
Adani Enterprises announced in India (the Australian Adani group is trying to be positive) that it has frozen investment in the Australian Carmichael coal mine until world coal prices show a clear recovery. This means $4.1 billion of coal investment is on hold while Adani considers and starts to execute on $16 billion of solar investments, including a massive $650 million 648MW solar PV project in Tamil Nadu next month. Adani is increasingly looking like it is transforming into a renewable energy company. Indeed to rub salt into the wound, Adani has announced interest in a major solar PV project in Queensland, where it isn't building the big coal mine.
Reliance Power has, after 5 years trying to attract finance, announced plans to abandon the 4GW Krishnapatnam "Ultra-Mega Power Project" in Andra Pradesh. Last year Reliance announced that it wanted to sell 3 coal mines in Indonesia as it contemplates a move into solar PV power.
The astonishing statistic for India is that coal imports fell 28% year on year in January 2016, and this was on top of 49% fall in November and 34% in December (year on year). This is a dramatic turnaround from 5 years of 20-30% annual growth.
Vietnam
Vietnam is important as this is one of the major South East Asian countries that the IEA is relying upon for expansion of coal demand.
The IEA has acknowledged reality in terms of global 2015 coal figures, but by projecting that things will slowly improve in 2016 and 2017, one assumes that the IEA is still of the view that coal will recover. Nevertheless, the IEA is at last mentioning the importance of climate policy, although in their analysis this seems limited to affecting European and US coal markets. However, a major aspect of the IEA projected recovery assumes dramatic growth of coal in SE Asia. A report written in 2015 that suggests that coal will increase its penetration to 50% of electricity production by 2040 and renewable energy to decrease from 26% to 21% is eccentric to say the least. It is of concern that the IEA has done no modeling concerning the 1.5C goal.
Vietnam's Prime Minister signaled very recently a reduced role for coal power and expanded role for renewable energy (referring to international agreements to reduce greenhouse gas emissions), in direct contradiction of the IEA report. PM Dung said the following: "The sector should protect the environment effectively, review development plans of all coal-fired power plants, build no more plants and gradually replace coal by gas while following strictly international commitments on cutting emission and promoting the development of renewable energy." Paris is being taken seriously in SE Asia.
The battle heats up in the US
There is lots of complexity in the last ditch stand of the coal states and the US coal industry, the latest being that the Supreme Court has called an unprecedented stay on President Obama's signature Clean Air Act policy framework to control emissions (especially from the coal industry) through EPA regulation.
It will be interesting to see what happens next, as a number of states are well advanced in implementing the proposed new EPA regulations. While this is news just in and so it is too early to see how this will play out, it is doubtful that the states paying attention to the new EPA regulations will stop what are clearly long term plans. We may see the US divided on this, but the consequences of going against international action are not trivial.
I doubt that unprecedented action by 5 conservative judges to play politics is going to have an impact. The fact that the announcement had no detectable effect on coal stocks today suggests that the market doesn't think it will change things: BTU, down 0.6%; Cloud Peak Energy (CLD) up 2%; Consol Energy (CNX) down 4.25%; Coal ETF (KOL) down 2%.
Meanwhile the US government has placed a moratorium on exploitation of new coal developments on government land and it will review environmental costs of existing leases. Since coal from government lands accounts for ~40% of US coal exploitation, this policy could have a major impact down the track.
The above actions are taking place in the context of coal's share of US electricity generation at a historical low of 34% in 2015, down from 39% in 2014; this number is projected to fall below 30% by 2020. And much of the decrease was structural in that it came with closure of old plants (14GW capacity in 2015 alone) at a time of negligible new coal plant construction.
Germany
The country that more than any other began the process of switching to renewable energy early when it was costly, is worth looking at to see how it is addressing the Paris agreement to decarbonize. A recent discussion paper from Agora Energiewende lays out some principles for reaching a consensus to phase out all coal power (both hard coal and lignite) by 2040.
The proposal aims to achieve consensus and then, just has been done for exit from nuclear power, the agreement reached should be enshrined in law. Agora Energiewende argues that without clearly mandated processes there will be costly instability. Their proposal not only covers exit from coal and cleanup, but also addresses restructuring in the lignite coal regions. The Agora Council is a broad based group of key political (both state and federal), EU, Labor unions, Environmental organizations, grid networks, power intensive companies, renewable energy sector, energy industry and scientists.
Of course this is just the beginning of a process, but for investors a key take home message is that only one month after conclusion of the Paris meeting, in Germany there are concrete proposals for implementing the exit from fossil fuels.
Australia "talking the talk", but not "walking the walk"
Of course there always has to be an outlier and Australia continues to take that role. Notwithstanding that Australia signed up for the Paris emissions reductions (including supporting the goal for 1.5C temperature rise), downunder coal is still "good for humanity" and government has recently relaxed environmental regulations on a number of coal mines. It is however a lonely stance, more aligned to the intransigent US coal industry than to the realities of the Paris agreement. The Australian policy is clearly still a carbon expansion program.
However, two areas are worth watching for change in attitude in Australia, which might force political acknowledgement that things are changing.
i) Major Australian coal projects by Chinese (Shenhua: $A1 billion Watermark coal project, Liverpool Plains NSW) and Indian (Adani, $multibillion Carmichael coal mines, Galilee Basin, Queensland) companies now seem doubtful, although in Australia both companies still claim to be proceeding with their respective developments. Back home both China and India are rapidly moving to cut back coal imports.
Australian governments, both state and federal, continue to try to help get these projects going.
ii) Signs of the large scale renewable energy drought breaking.
Canada seems to be in a similar situation to Australia, with the new Trudeau government accepting the importance of emissions reductions and being constructive at the Paris meeting, yet still struggling with taking action. The fossil fuel lobby is possibly strongest in Australia and Canada, so resistance is not unexpected.
Actions by the US coal industry
Meanwhile the leading US public coal company, Peabody Energy continues to execute on a plan that is all about survival until recovery comes. It is spending precious resources on last ditch legal battles with the government. There is no sign that it accepts that the industry is in long term decline. Their website still states "Coal has been the fastest-growing major fuel for the past decade. Demand is projected to continue to grow, surpassing oil as the world's largest energy source in the coming years", notwithstanding that this statement is demonstrably untrue in 2016.
So as far as BTU is concerned it is all about freeing up cash to stay solvent in the near term (i.e. avoid bankruptcy in 2016). Two sales of properties are in train.
While the focus of BTU is on getting much needed cash, there are other ways of looking at these sales as harbingers of the future for coal.
The sale of its stake in the Prairie State Energy Campus sets a value on that facility that may have implications for its future. The BTU stake is to be sold for $57 million, 23% of its original value and a loss of $189 million. This brings into question the value of the "$5 billion" plant. Is it now worth $1.1 billion, far less than what is owed? The municipalities that own major stakes in Prairie State Energy have the plant on their books at the $5 billion valuation. Could there be solvency implications for the municipalities? IEEFA gives some reasons why BTU may have got a favorable deal in the transaction, so $57 million might be a very good price.
In the US there are indications that the SEC is getting more serious about forcing disclosure of risks due to avoiding mention of climate related issues.
Economic benefits of the switch to renewables
Perhaps the most intriguing statistics since Paris are that decarbonization will actually increase economic benefits. This shows the dramatic changes that are happening in the cost structure of implementing renewable energy and concomitant increases in employment and welfare (health and wellbeing improvements) and environmental improvements. IRENA released a comprehensive report in January, which is worth reviewing for those who have a view that renewable energy implementation is expensive.
Doubling global renewable energy to 36% of total final energy consumption by 2030 (with coal imports down 50%) leads to 1.1% increased in global GDP ($US1.3 trillion) compared with business as usual. The detailed global report also summarizes other studies on renewable energy deployment in USA, UK, Germany, Japan, Saudi Arabia, Mexico, Ireland, European Union and Chile.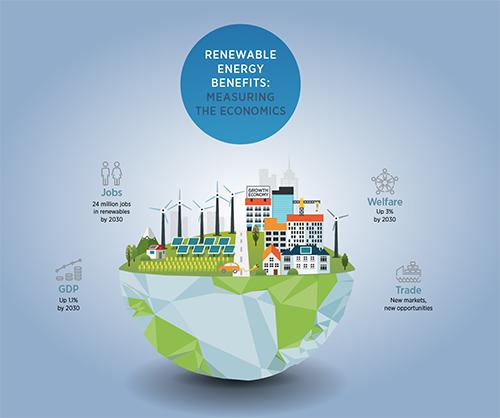 Source IRENA
A very recent paper in Nature Climate Change shows that the US could produce 78% reductions in CO2 emissions by 2030 without increasing the cost of electricity. Staying with coal would lead to 37% higher CO2 emissions, which is incompatible with Paris climate commitments.
How feasible is the switch?
Both solar PV and wind power installations are on an exponential trajectory and already this trajectory is making a big impact on new power builds.
In the US in 2015, renewable energy accounted for almost two-thirds of new capacity (16.5GW), with 8.0GW new wind capacity, 2.0GW solar and just 3MW of new coal capacity according to the Federal Energy Regulatory Commission's (FERC) Office of energy projects.
Figures for Australia in 2015 indicate 1.3GW of coal capacity retired and 1.7GW of new solar PV and wind capacity, with Australian household rooftop solar PV reaching 5GW (9% of Australia's 56GW of electricity generation capacity).
Perhaps the most striking way to view this is a graph that shows the cost of build and solar PV installations globally. Note that a feature of exponential expansion means that the current dramatic rise over the past 5 years to 65GW installed in 2015, will quickly become a speck on the graph as the installation ramps up. For example China alone will probably have more than twice the current global installation of solar PV by 2020.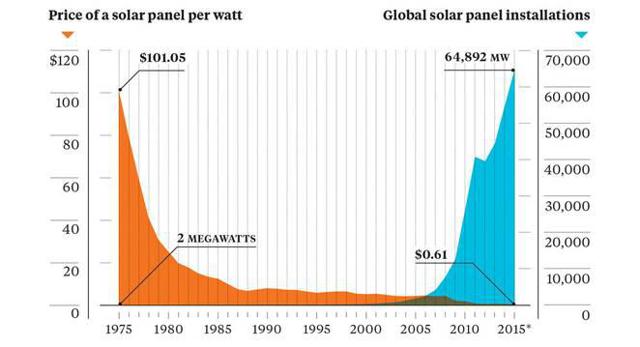 Source : Earth Policy Institute/Bloomberg
Conclusion
I've been saying for some time now that investment in coal (and BTU in particular) is a high risk game that might benefit some who are agile, but mostly the issue now is one of who will be left holding the baby when the ship goes down. Investment is not just about the details, at a time of major structural change the context is important. The data presented here indicates that around the world there is a sense of urgency about responding to the Paris climate agreement. The writing is on the wall, ignore it at your peril.
Editor's Note: This article covers one or more microcap stocks. Please be aware of the risks associated with these stocks.