Earlier this week, when we examined the potential impact of the Federal Reserve Chairwoman's testimony before Congress, we anticipated a negative result. However, that was based on the expectation for professionalism and diplomacy (read non-committal responses) about the possibility of a softening of Fed monetary tightening plans. Unfortunately, because of intensifying publicity around a nuance to this year's stress testing for banks, congressional members have instead repeatedly asked Chair Yellen about the possibility of negative interest rate policy action by the Fed. It is my view that professionalism and diplomacy should have been pushed aside at that moment, and the Fed Chair should have clearly stated that while it was being studied due to its use in other major regions of the world, it would not be appropriate now (and possibly ever) for the U.S. and is highly unlikely. However, Fed Chair Yellen's diplomatic responses to questions about negative rates have effectively scared the heck out of the market about exactly what might require the Fed to dramatically reverse course. Exactly what does the Fed know or see that concerns it? The Fed now has a black swan wreaking havoc to financial markets to deal with, and it is a shame that it is of its own making.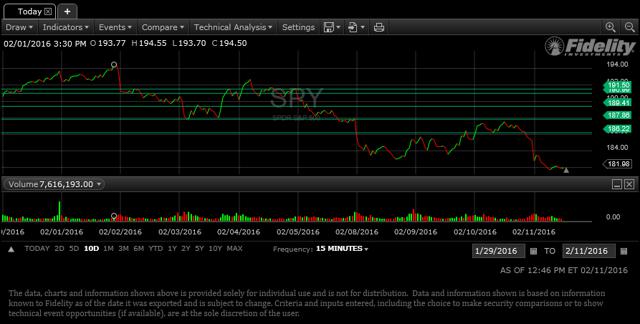 SPY Chart at Fidelity.com
This chart illustrates a downturn in stocks and the SPDR S&P 500 (NYSE: SPY) that coincides with the Federal Reserve demand to large banks to consider a scenario including negative interest rates in their stress testing process.
Negative Interest Rates?!!!
That's the reaction we all had, because until it came up, the market was worried the Fed would stubbornly raise interest rates four times this year. If the Fed suddenly saw negative interest rates as a possibility, then what sort of adverse scenario did it think could cause it? In other words, everyone started wondering exactly what terrifying circumstance the Fed might be seeing.
In its announced requirements for this year's stress testing, the Fed asked large banks to consider a severely adverse scenario as usual. Unfortunately, it felt like the adverse scenario had a greater chance than usual of happening this time given the mention of potentially dramatic action on interest rates. Quoting the Fed, "The severely adverse scenario is characterized by a severe global recession, accompanied by a period of heightened corporate financial stress and negative yields for short-term U.S. Treasury securities." It's a stress test, so it examines scary scenarios by definition, but when you are already spooked it does not take much to terrify you.
Playing on Our Worst Fears
Investors had already been worrying about the real monster manifesting in the economy and taking the place of the monster in the closet, or uncertainty about the impact of abruptly declining oil prices. Volatility, mostly on the downside, has defined the year-to-date thanks to a slowing China, disrupted Europe and mixed situation in the U.S. with energy and manufacturing in recession. And the most recent service sector measurement and retail sales data showed potential spread of weakness to the broader economy.
| | |
| --- | --- |
| Security Sector | 02-11-16 1:45 PM ET |
| SPDR S&P 500 | -1.7% |
| SPDR Dow Jones (NYSE: DIA) | -2.1% |
| PowerShares QQQ (NASDAQ: QQQ) | -0.8% |
| iShares Russell 2000 (NYSE: IWM) | -1.2% |
| Vanguard Total Stock Market (NYSE: VTI) | -1.7% |
| Financial Select Sector SPDR (NYSE: XLF) | -3.0% |
| Technology Select Sector SPDR (NASDAQ: XLK) | -0.9% |
| Energy Select Sector SPDR (NYSE: XLE) | -2.7% |
| Health Care Select Sector SPDR (NYSE: XLV) | -2.0% |
| Consumer Discretionary Select Sector SPDR (NYSE: XLY) | -0.7% |
| Consumer Staples Select Sector SPDR (NYSE: XLP) | -0.9% |
| Utilities Select Sector SPDR (NYSE: XLU) | -1.3% |
| Materials Select Sector SPDR (NYSE: XLB) | -2.5% |
| Industrial Select Sector SPDR (NYSE: XLI) | -2.7% |
| iPath S&P 500 VIX ST Futures (NYSE: VXX) | +7.8% |
| SPDR Gold Trust (NYSE: GLD) | +4.4% |
| United States Oil (NYSE: USO) | -2.0% |
I believe the Fed's highlighting of the extraordinary easing measure of negative interest rate policy is behind the turmoil depicted within this table of sector securities. These are big negative moves across sectors of stocks, led downward by the most cyclical of the bunch. The only gains seen here are in safe havens like gold and volatility instruments.
It's an unnecessary black swan event that I believe will eventually be exposed for its unlikelihood. Economic data has been concerning, but it has not been recessionary, at least not yet. Expectations for the next quarter are still pretty positive, and the important housing sector is doing just fine. I expect that as other Fed members speak publicly, the negative interest rate scare will fade. This is probably creating an opportunity for investors, as some stocks and sectors have been severely impacted by what really is at this point just a scenario being presented as a precaution to prepare banks for the worst. I cover the markets closely and publish regularly, and invite relative interests to follow my financial column here at Seeking Alpha.
Disclosure: I/we have no positions in any stocks mentioned, and no plans to initiate any positions within the next 72 hours.
I wrote this article myself, and it expresses my own opinions. I am not receiving compensation for it (other than from Seeking Alpha). I have no business relationship with any company whose stock is mentioned in this article.